Sebastian Wussler (The founder of Chefstalk), a man of the internet from the first hour, explains to us how he grew his 1M community for chefs with social media (and a very original way of doing so).
I will take you back to when ChefsTalk started. In the year 2006, a completely different landscape as that we know now. Imagine no Facebook, Instagram, and no WhatsApp. There were basically no mobile apps. I grew up in a restaurant, a family business since 1968 in the middle of nowhere in the Black Forest in Germany. Back then it was very hard to reach new guests for the restaurant.
Our idea was to make a standalone platform where the guest could interact with the restaurants. Back in 2011, Twitter just got famous. So, our users would go to a restaurant, take pictures and share them on the platform with the chef and restaurant directly. Then a guy came to us and said 'why don't you make a platform from professionals to professionals?'. So that's how we shifted from B2C to B2B. But the problem was; how to spread the word? And how to get chefs to use our platform? Also, it was very hard to explain to a chef what social media is and for them to see the importance of it.
Then I had a crazy idea. I thought to myself, what's the easiest way to catch a chef? With a pretty woman. We created a fictional character on Facebook and Twitter who would reach out to all the chefs on Facebook and Twitter. Olive was approaching the chefs, a beautiful, pretty, fictional female character. It was a stupid idea, but it worked out pretty well. Saying "Hi, I'm Olive and I just started this platform Chefstalk for professionals etc".
The first formula was amazing; user-generated content, photos, video, recipes, insights about possible events, and what is happening in the industry. To grow our base, we gave these chefs rewards in the form of shoutouts on our channel, which helped them grow faster.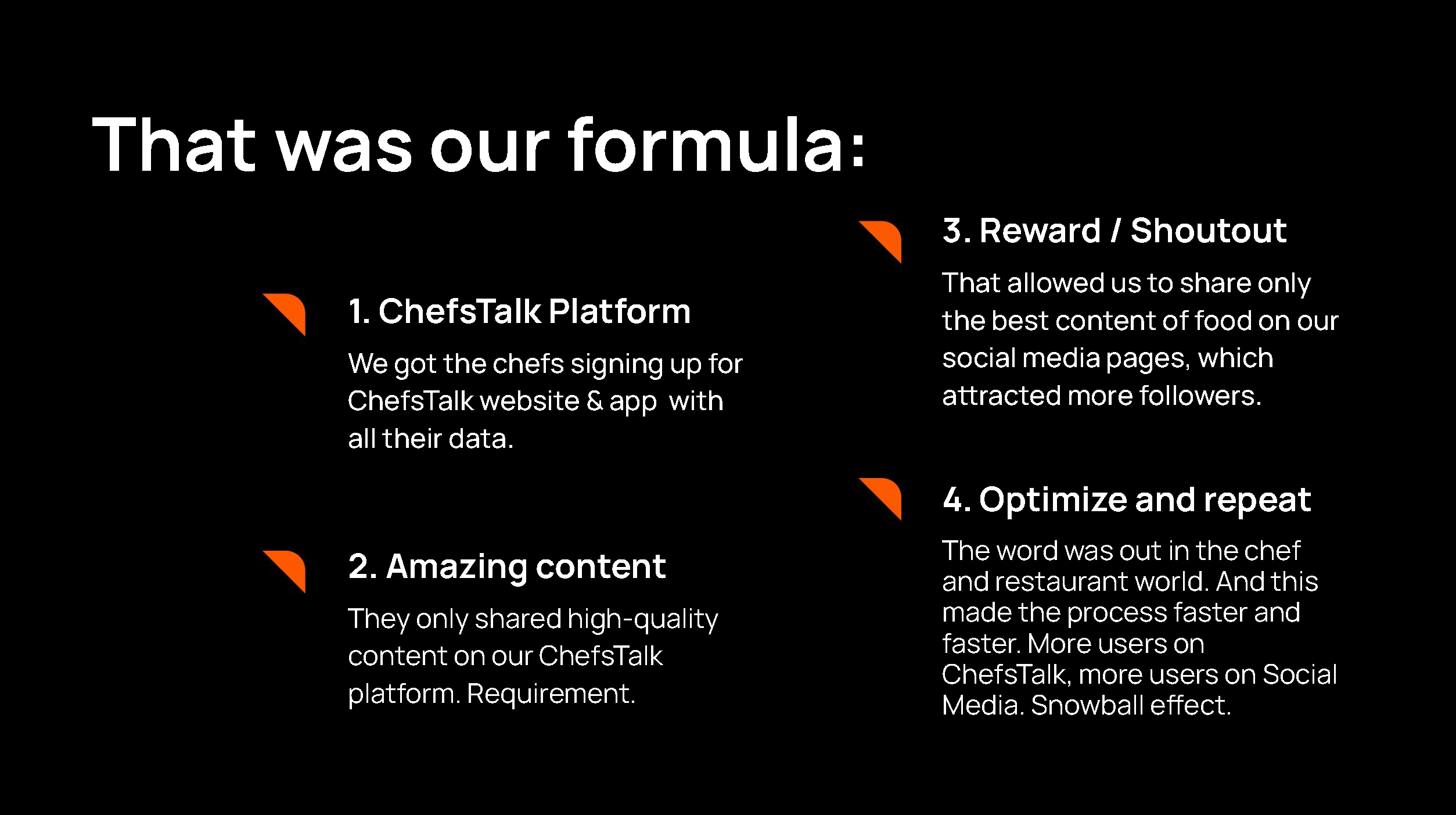 Social media nowadays & in the future
All social media platforms right now are changing up their algorithms, so organic reach becomes harder. Your reach depends on what kind of content you share. Sometimes the more professional a picture looks, the fewer impressions you will get. If it's not 100% perfect it will always perform better than a studio shot.
How restaurants benefit from social media:
Building client loyalty

Create new sales channels

Always connected

Getting discovered, hyped, and loved
The future of social media will be totally different, I think. It will become a more business platform, and meaningful, adding more value to their users. It won't only be about killing time, with funny videos and memes anymore. And the users want to be more independent, not only rely on a few platforms. Don't rely on one single platform and being authentic, would be my tip to restaurateurs.