Thanks to the integration with Instagram Shopping, restaurants can now sell products via Instagram. This free channel is an excellent way to showcase your takeaway to your biggest fans and boost your revenue.
Every month, around 130 million Instagrammers tap on shopping posts to see product tags. Showing the potential of this feature. Yet to try Instagram Shopping? Be inspired by these beautiful Instagram Shops!
Before we go to the examples, we talked to Alex Vrees, e-commerce expert and co-founder of creative agency Baldadig. We spoke to him about the benefits of Instagram Shopping for restaurants:
"It's difficult to sell products on Instagram if you want to do it with the old-fashioned 'link in bio'. Guests are unlikely to buy because they have to take many steps to get to their purchase. Instagram Shopping changes the game. By offering your products in your Instagram Shop and tagging them in your posts, the first steps of the purchase remain on Instagram. It's as easy as pie
If you want to take it a step further, you can also run ads within Instagram with your most popular posts and tag your products in them. This way, you reach a large audience with posts that have proven successful in the past."
We have listed five inspirational Instagram shops for you:
1. TEDS - Amsterdam, Utrecht, Den Haag, Haarlem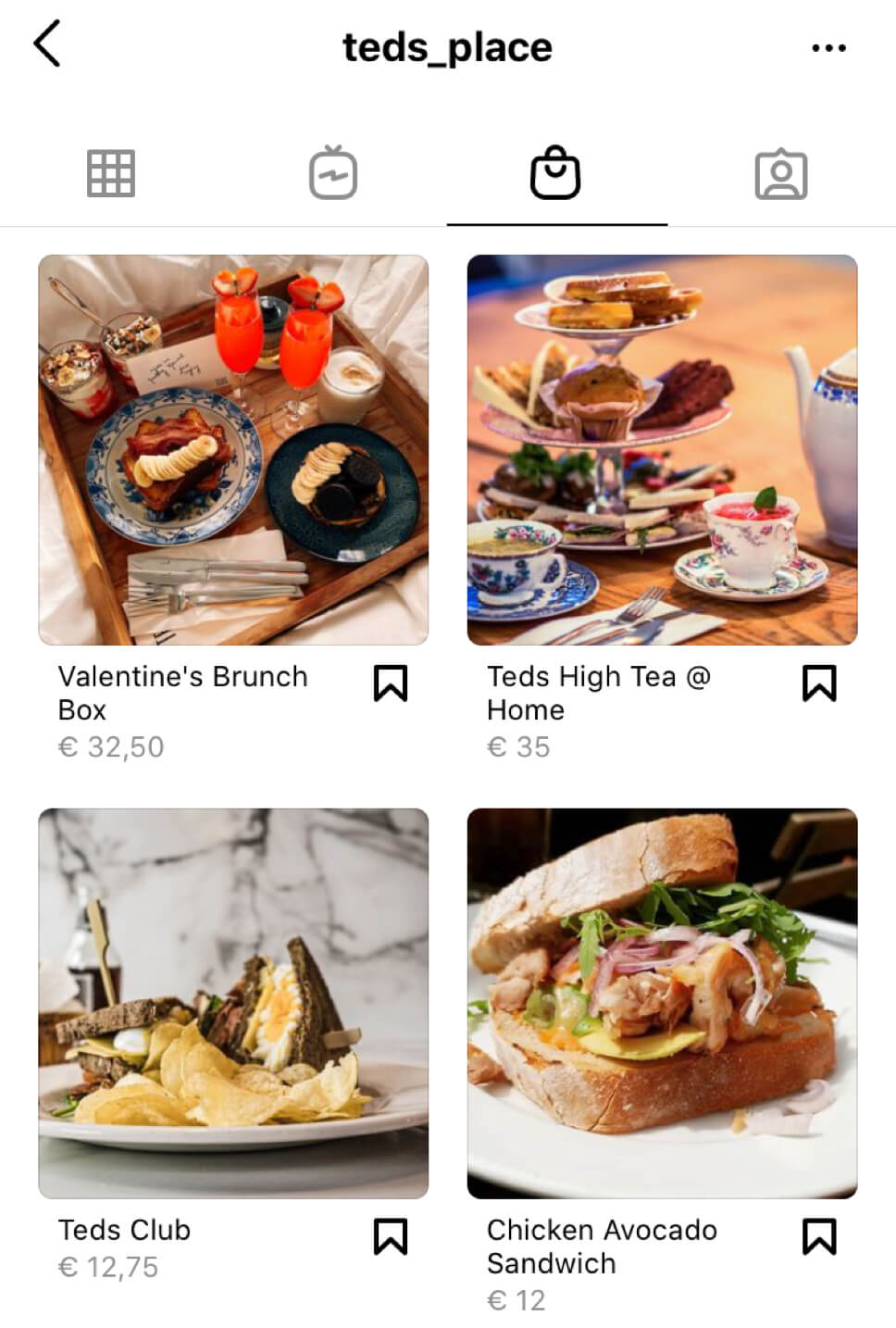 TEDS has a varied selection of products in their Instagram Shop. It doesn't have to be too complicated. You can put your entire menu into the Instagram Shop, from a luxurious high tea to a club sandwich, you can make it as crazy as you want. Be inspired by the variety in TEDS' shop.
2. Restaurant Dijk9 - Eindhoven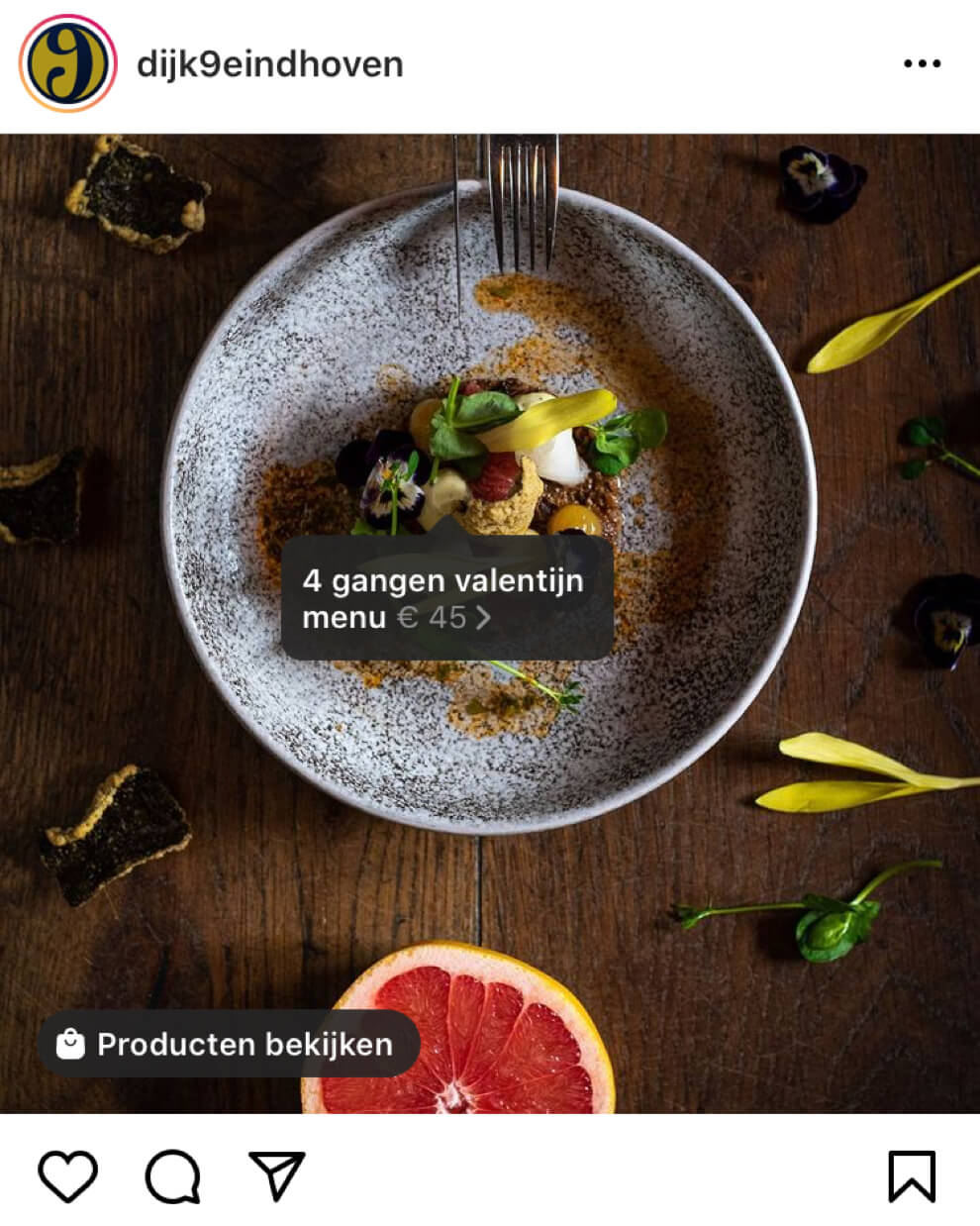 Looking to offer something unique? How about offering a themed menu. For example, restaurant Dijk9 offered a romantic 4-course menu during Valentine's Day, but what about an Easter breakfast, Christmas dinner, or something nice for Mother's Day? There are Plenty of days in the year to go crazy!
Want to set up your own Instagram Shop right away? Check out this guide.
3. Mangiare - Rotterdam

Mangiare in Rotterdam is taking a different approach. They offer a packed lunch with fresh bread and juice on Instagram. These types of packages are also suitable to put in your Instagram Shop. Not everyone is looking for an extensive menu.
4. Restaurant Crijns - Bladel
Don't have any professional photos of your menu? No worries! Check out this visual from Restaurant Crijns for their Valentine box. If you cannot take this yourself, you can also download great visuals from a website. Check out Unsplash; you will find a lot of beautiful and free photos there.
5. Restaurant St. Tropez - Deventer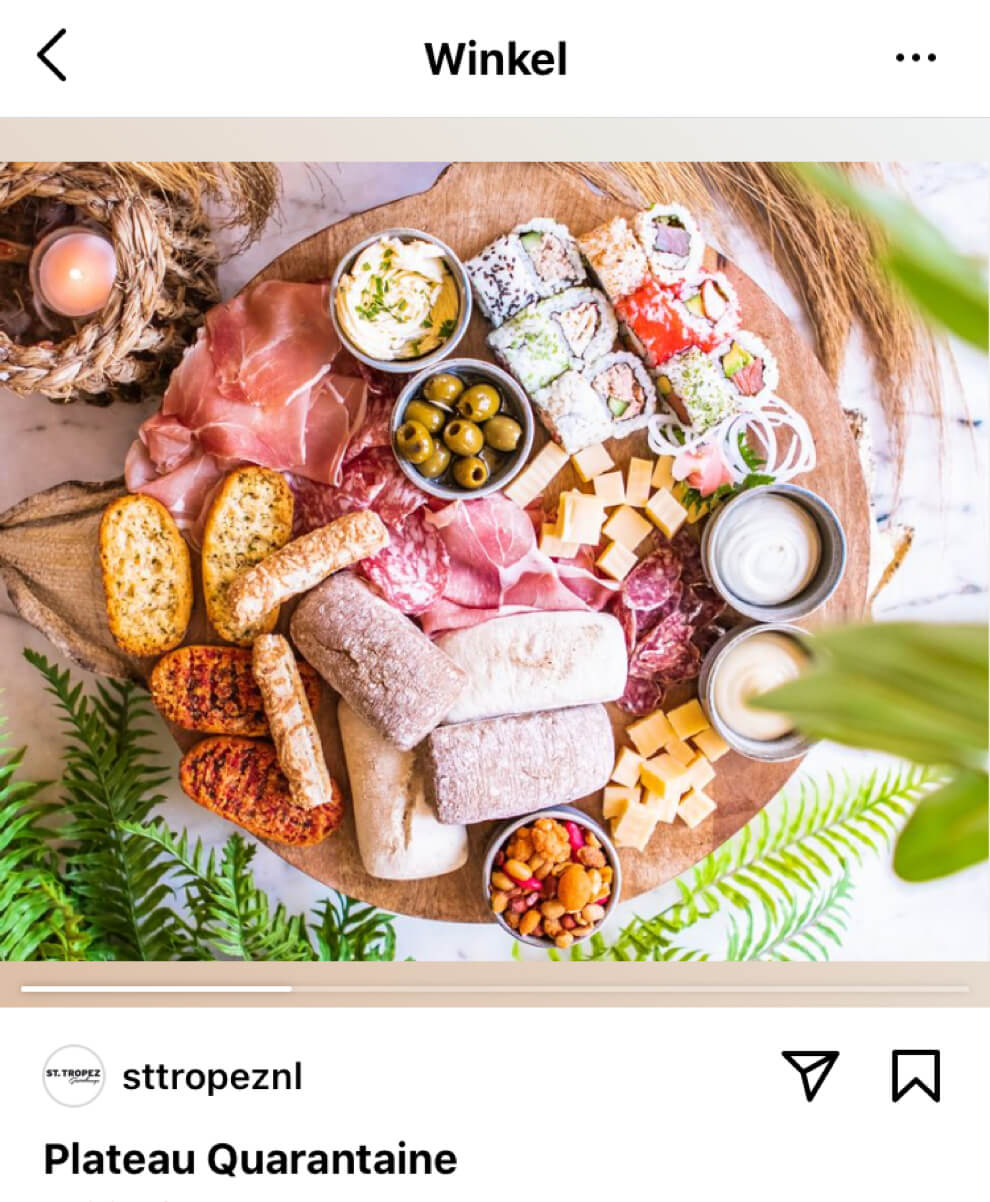 Something that always does well as a takeaway product is a snack platter. At St Tropez, they know that all too well. They offer a box on Instagram filled with everything you need for a perfect evening. The box can be expanded with wine or a cocktail from their webshop, handy to generate just that little bit of extra turnover.
What's Next