3 pros of Reserve with Google for potential guests
3 min read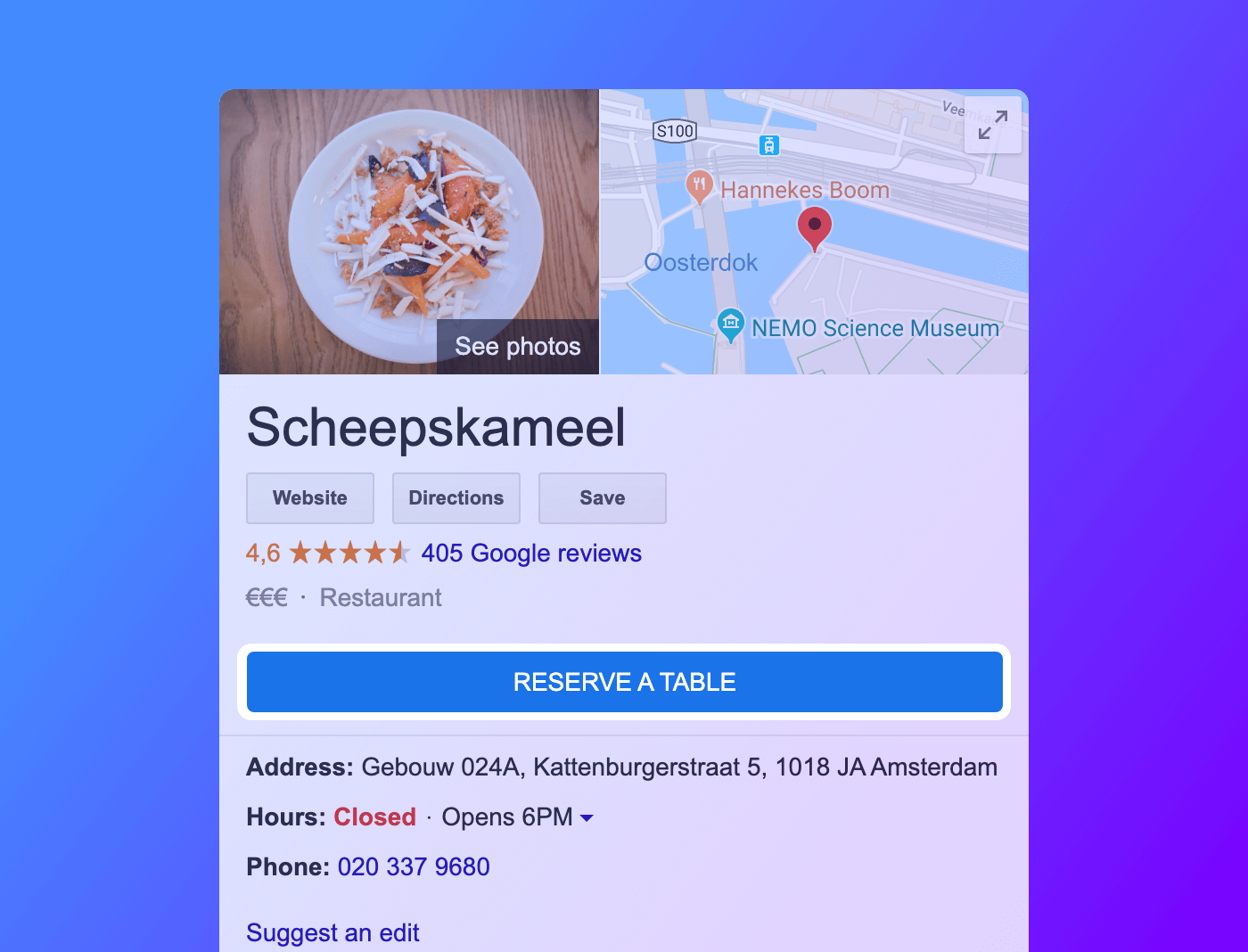 Making table reservations directly in the Google search results
Letting guests book tables directly in Google gets more guests into your restaurant without any additional commission fees or marketing efforts.
Reserve with Google gets your restaurant more table reservations
Your restaurant stays away from platforms with commission fees
No additional effort needed in terms of marketing to gain new customers
Reservations straight from Google
Back in 2017, Reserve with Google was initially launched in the US with an emphasis on wellness spas, beauty salons, and gyms. Once it was proven successful, the platform has been rolled out globally and extended to all kinds of other sectors. Applying the reservation feature to the restaurant business was a logical step.
If you are a restaurant owner, most of your customers use Google and Google Maps to look for your restaurant. Currently, after they find your restaurant, they must switch from the Google results to your website in order to reserve a table. With the new Reserve by Google feature they do not need to leave Google anymore and can book a table at your restaurant straight away.
The reservation procedure in Google is fast, intuitive and easy for your customers
With a single tap
Google uses the available information of the person looking at your restaurant. In case the person has a Google profile, the right name, phone number, and email address will be filled in automatically. This not only makes it easier and quicker for potential guests but also avoids the problem of incorrect personal information when someone makes a reservation over the phone.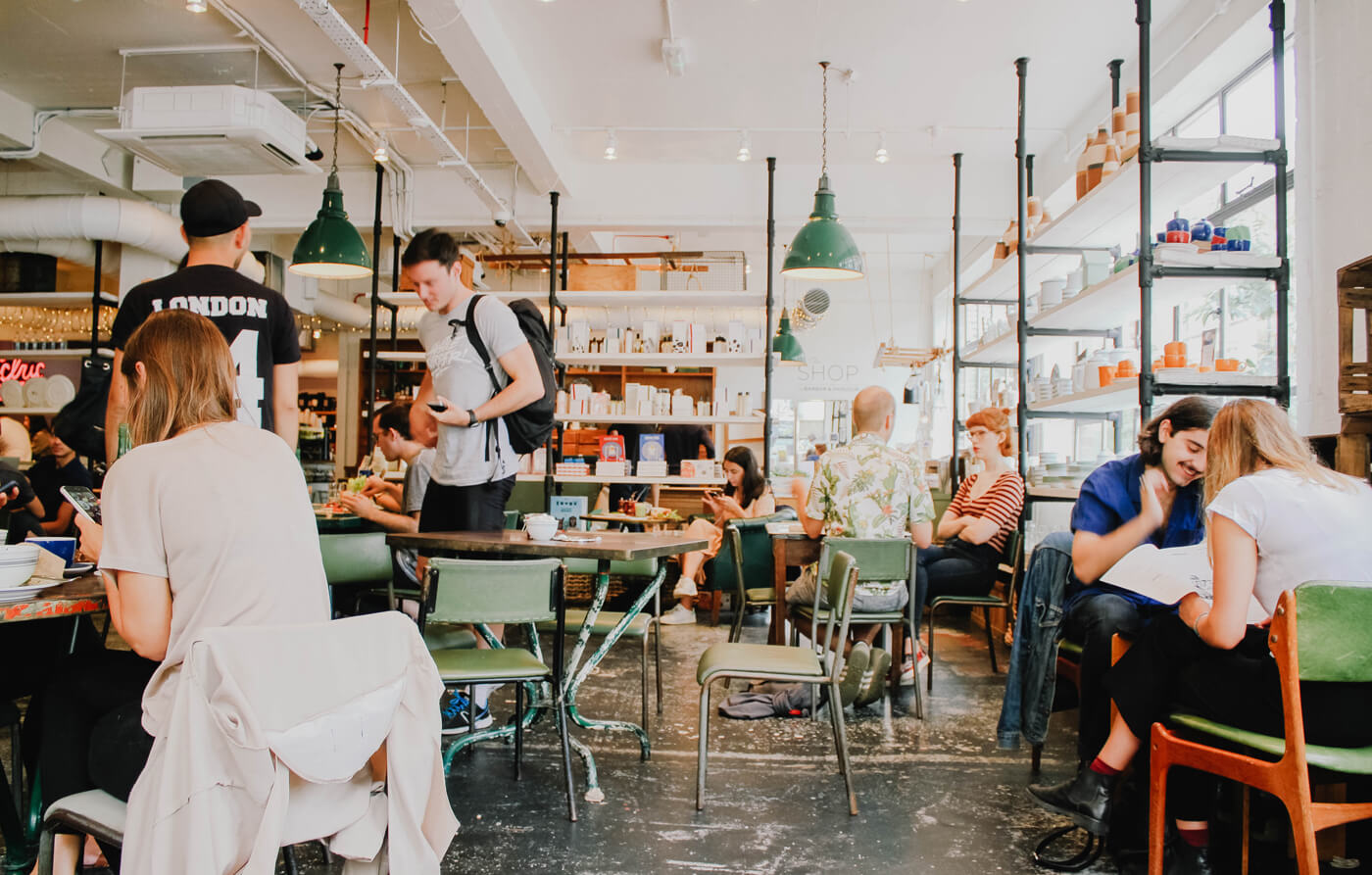 Especially for Millennials, the possibility to make an online reservation is necessary. A recent 2019 survey from bankmycell.com showed that 81% of Millennials need to find the courage to use their phone to actually make calls. If your restaurant does not offer online reservations, you take the risk to lose potential guests. There is a significant chance that they will take their business and money to another restaurant which offers the possibility to make online reservations.
24/7, in all languages, on any device
Reserve with Google gives customers the possibility to book a table 24/7, which is a great benefit. As Ethan Anderson, the CEO of MyTime, a booking system for beauty salons and gyms, has clarified, 40% of reservations placed through Google are made outside opening hours. These reservations would not have been possible by phone at that specific hour. Customers would have to wait for opening hours the next day to make the reservation. There is a chance to lose these customers to a competing restaurant. Why take that chance?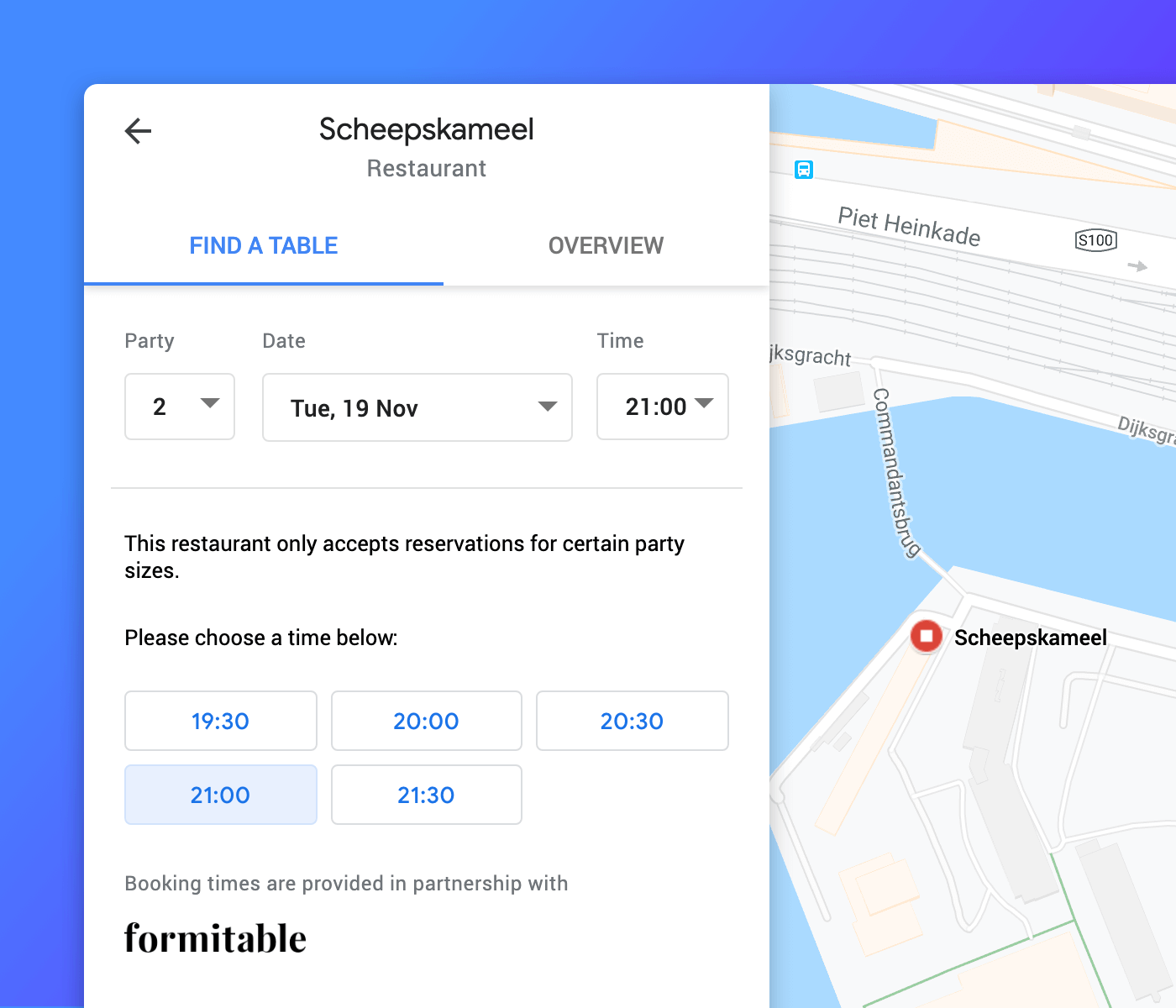 Making a reservation directly in Google for Scheepskameel in Amsterdam
Since the Reserve with Google functionality is fully embedded into the Google platform it solves two very practical issues for reservations - the language barrier and responsiveness on mobile devices.
Guests see the complete reservation interaction in their preferred language as the feature is integrated into Google. There is no need for you to translate anything into other languages.
The integration in Google also means responsiveness for all kinds of different devices. The service is always available and displayed properly on screen, no matter what smartphone, tablet or laptop you are using.
Own identity and data
Google respects the fact that guests want to reserve a table at your restaurant. All automated confirmation emails after the reservation are being sent to the guest with you -the restaurant- as main the sender. You can customize the image and text of these automated emails to better fit your restaurant identity.
With Google, you receive the contact information your guest has provided, so you can contact them later. This could be very valuable for your marketing and increasing loyalty with your guests.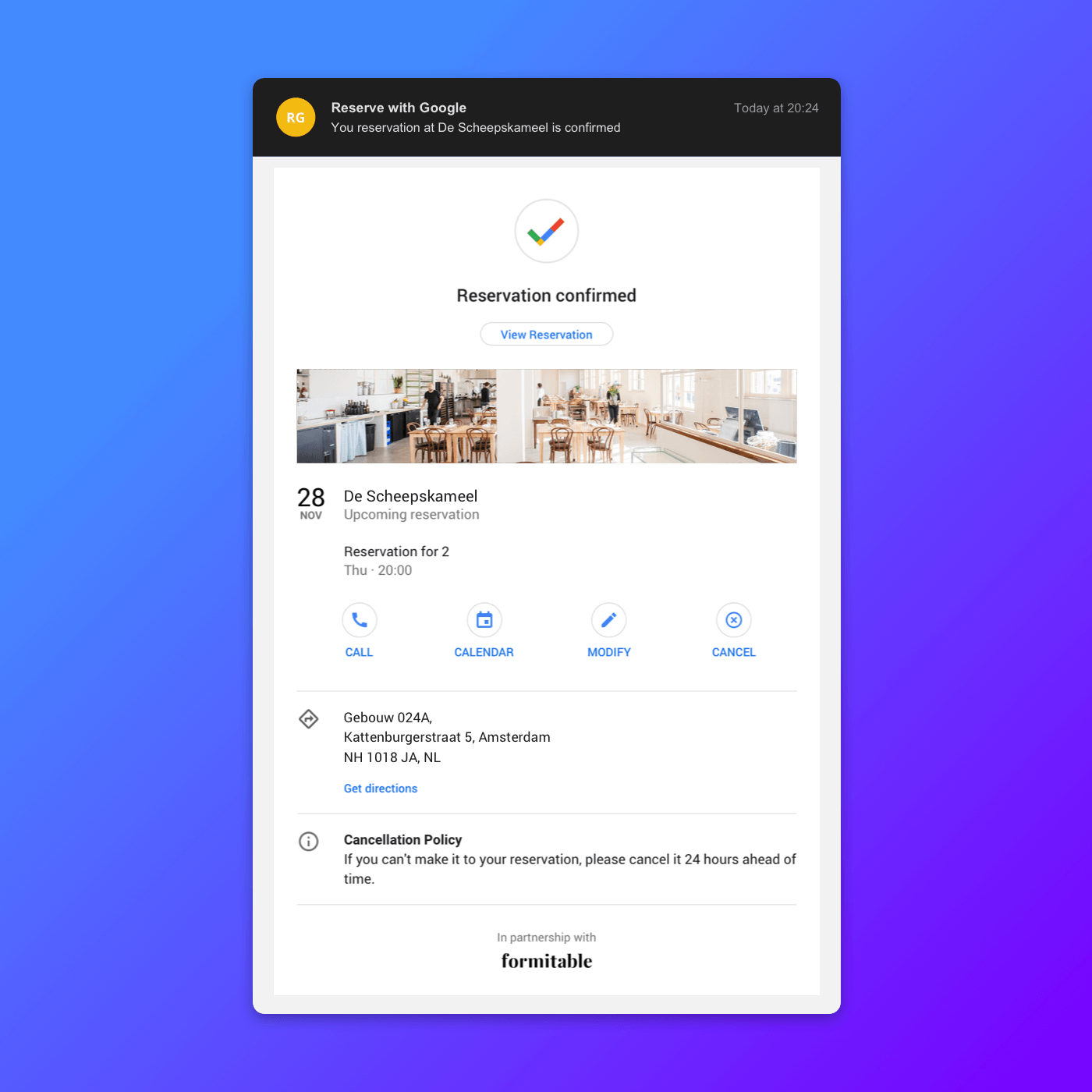 Example of a confirmation email through Google; modern design with personalized content
Realtime integration
The possibility to activate Reserve with Google is now available for Formitable clients without commission fees. Based on the availability, reservations through Google will be placed automatically in your online agenda. Guests are able to modify or cancel their reservations themselves.