Google Posts are a huge opportunity to increase your online visibility. Up-to-date business information on Google is essential because most guests look for information on restaurants via Google Search. With Google Posts, you will be right at the spot where the decision-making happens, and you will be able to impact the guest's process.
NB: Before you're able to offer products on Google, you need to create a Google My Business account.
What are Google Posts?
Google wants to provide visitors with the most relevant information and, with this in mind, give the companies themselves a platform to showcase what they have to offer. Google Posts is an ideal channel to give visitors a taste of your business without the need to go to your website. Let's find out why it's so important.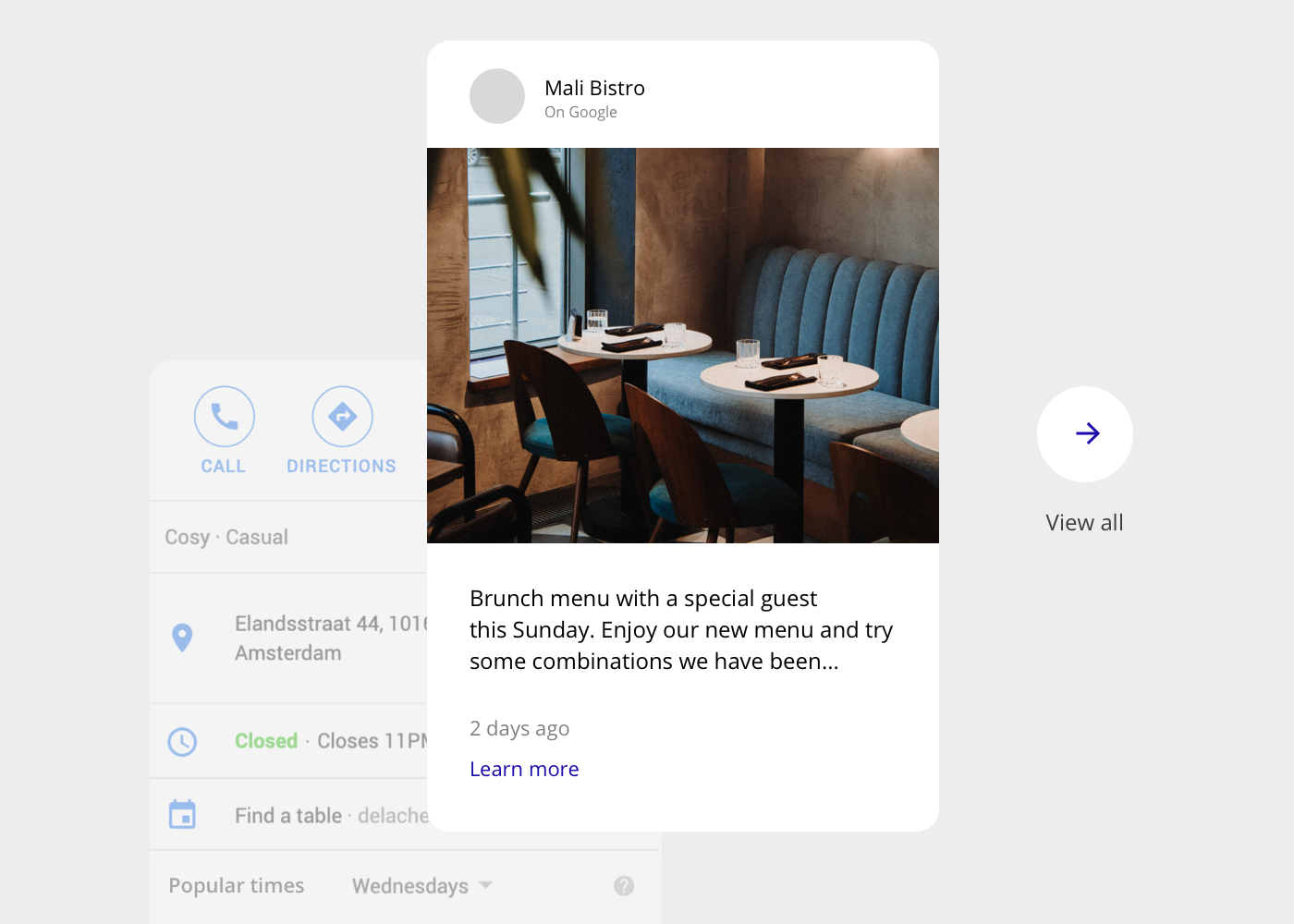 Why should you use Google Posts?
1. Rank higher on Google
Google will love you for using your Google My Business account. Google tracks engagement, so your post's clicks and views will give a signal to Google that your content is relevant. Posting consistently will help you build local authority for your local listing. This should lead to a better Google ranking. Make the posts stand out for your viewers with attractive and high-quality images, and don't forget to add a solid call to action. Note that Google Posts expire after a week.

2. More reservations
When guests are looking for a restaurant, there's a great chance they use Google Search. It is extremely easy to make a Google Post, in just a few clicks (literally), you will have a Google Post live.
For example, you could write a post about your new menu, special offers, or an event you're hosting. Guests will click on the call-to-action button, and this will lead to a dedicated page on your website which will generate more reservations.
3. Performance insights
If you use the Formitable integration, your post performance data are located in your Formitable dashboard. In a clear overview, you can track your views, orders, website visits, and revenue from the post. Measuring your posts' performance is crucial to see which posts score best and how to optimize your future posts for more traction.
What's next?
Get a Google My Business account in 3 steps