Promo Codes are making a comeback. You've probably seen them on multiple food apps to trigger you to order takeaway or groceries. But let's spin this around to your restaurant! You can actually make Promo Codes pretty cool and personalize them for your guests while promoting the experiences you offer. We've lined up some inspiration & ideas for you to start with Promo Codes.
It doesn't have to be a discount, give a glass of bubbles instead 🥂

You might raise your eyebrows when hearing of Promo Codes, looking back to the days full of restaurant deals and Groupon actions. But honestly, you can use them however you'd like and give them your touch. You don't have to make it a discount if that's not your style. Make it fun and create a code for a complimentary glass of champagne, for example, with code TCHINTCHIN.
Positive review? Encourage the next visit 💃
Your guests can be your biggest fans and accelerators of growth for your restaurant. When they make the effort to leave a great review, it triggers the possibility of other guests coming and visiting your restaurant. To thank them for the amazing review, you can send them a promo code for a free dessert, for example, with a personal message. After all, you have all guest contact details already in their Guest Profiles.
TIP: Besides, don't forget to react to your restaurant's reviews. 80% of diners choose restaurants that respond to reviews; it encourages loyalty and drives new customers.
Bend negative reviews into positive vibes 💯

A bad review; we all dread them, and it can be devastating for your review score. But we're all learning every day, so let's make up for their bad experience. You can send them a Promo Code as a saving grace. And bend that negative experience over in a positive one, you'll be very sure they'll tell their friends. Send a discount code for a coffee or dessert on the house, for instance.
Trigger urgency and create action 🚀
The Holidays are on their way, and it's a great time to play into them. With a limited-time promotion code, you'll create a sense of urgency. Offer the promo code temporarily on the pop-up on your website to motivate your website visitors to book a table at your restaurant or order a takeaway menu. Check how FuLu Mandarijn did it. They combined the segmentation feature to filter out the people that ordered takeaway the past six months to surprise them with a €5 discount code for Black Friday.
TIP: To stay on top of the mind of your followers, you can add a (temporary) code in your Instagram Stories or Post. This way, you will engage your followers and grow your likeability. You could, for example, let your followers know there is a 24-hour 10% discount on the Wine Box with code TASTE10.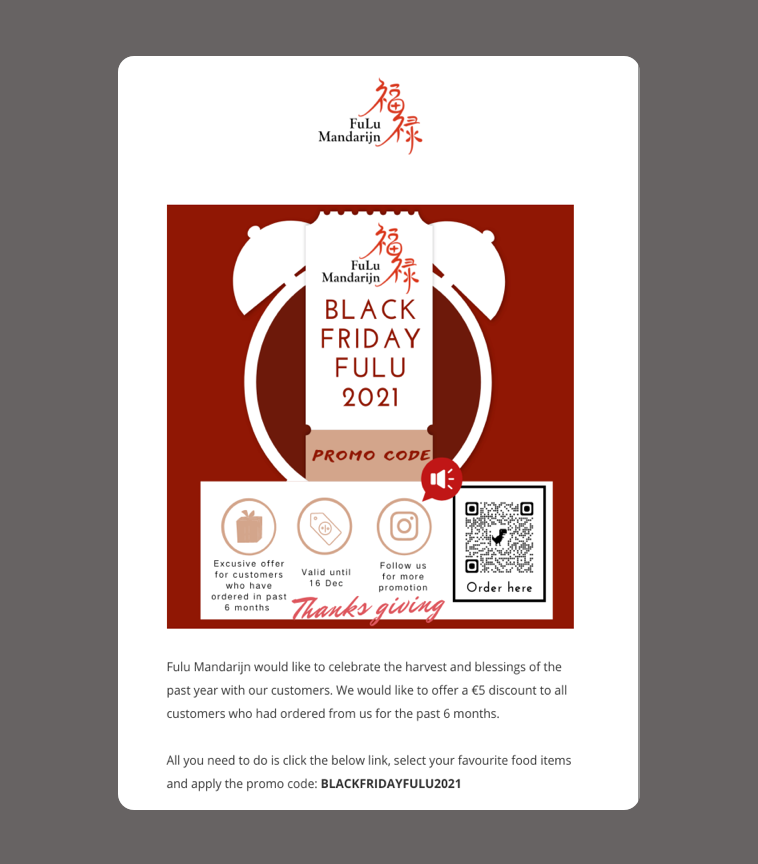 Seasons are reasons! 🎅

Reasons for clever marketing we mean. Seasonal occasions are the times that people like to treat themselves. We have a handful of these, to name a few: Easter, Father's Day, Mother's Day, the start of summer, Christmas, etc. These are the times to spark your guests' interest with a cool Promo Code such as a fixed discount on a food box. Post it on your social media channels in the style of the occasion itself, and potential guests will share it with their friends when making plans.
Turn your loyal guests into your micro-influencers 💙
Influencer marketing, we're seeing it everywhere these days. Why not hop on the influencer bandwagon yourself? It's not only for big commercial brands. Spin it into your style and create your community of loyal regulars posting about your restaurant. You can stimulate them to become your community of micro-influencer by letting them post personalized Promo Codes for their friends and family. In return make them feel part of your community by rewarding them or organizing a special event where they can bring a plus 1.
You can also partner up with a professional influencer with a more significant reach. Maybe you already know an influencer that is a regular at your place. Invite (food) influencers to try your menu and post about it with a dedicated promo code to promote your restaurant. Take inspiration from HelloFresh. We've all seen the promotion codes fly by, and yes, they do work!
You can apply Promo Codes to whichever product you are offering and to the time frame you decide. In your Formitable Dashboard, you can track all the reservations made with the codes, this way; you'll have a perfect overview of how the code worked and what you got out of it.