David Caron is only twenty-one years old when he co-founded Café Caron. The popular family restaurant is open since 2017. The front of the house is his responsibility. Because of their success, his focus is now shifting. "Luckily, we were able to build a great team. If we had to do everything ourselves, it would not benefit our guests experience."
David Caron is only twenty-one years old when he co-founded Café Caron. The popular family restaurant is open since 2017. The front of the house is his responsibility. Because of their success, his focus is now shifting. "Luckily, we were able to build a great team. If we had to do everything ourselves, it would not benefit our guests experience."
What do you like about this job?
The reason I once fell for this is the romantic idea behind it. I do not experience that every night, but I do often. It is the ambience of people who come together, to eat together, with beautiful food on the table and with attention to the wines. I learned that very much from my father Alain. There must be attention for products and attention for consuming it together. That is the most important thing of the experience. All things around it must be good to make being together perfect.
Although I did not grow up together with my brother Tom, we really understand each other on this subject. Sometimes there are people who do not know exactly what we are talking about. It is also difficult to describe. But for Tom and me it is very clear that we do everything in the spirit of being together perfectly. It is how Alain raised us at home.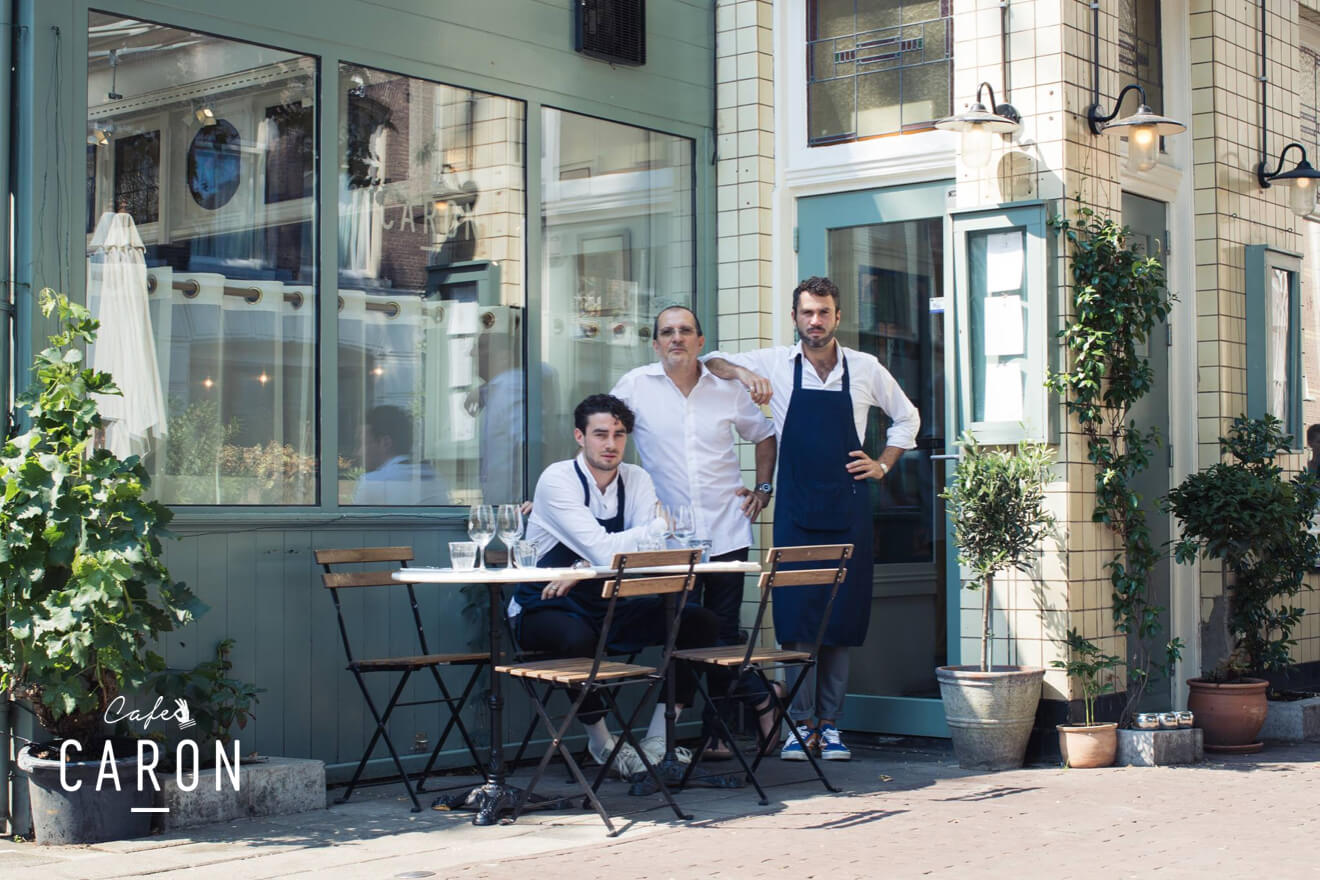 Café Caron is the family restaurant of Alain Caron and his sons David and Tom. A place in the heart of Amsterdam where you always feel at home, even if you don't know anyone
You were only twenty-one when you opened the restaurant in 2017. How can you have your own restaurant at such a young age?
I finished high school but didn't go to college. I felt no pressure for that coming from my parents. When I finished the HAVO I didn't need a year of traveling. So I immediately went to work. At Spaghetteria. A place where I worked from the age of 14. Starting as a dishwasher and later serving tables. When I finished school I told the owners: I would like to work with you a little more.
The first Spaghetteria was a huge success and those guys were working on a second location. When we started there it was a big mess. There were two broken sheds with holes in the ground. We found a contractor who wanted to renovate it. With the four of us - the two owners, the manager and I, we did a lot of renovation work as well. We had really built something beautiful. After two years I became a manager. I was twenty.
When they opened a third location I helped again with the renovation and gathered a team. This was also the moment that we ourselves had found a location to do something with Tom and Alain.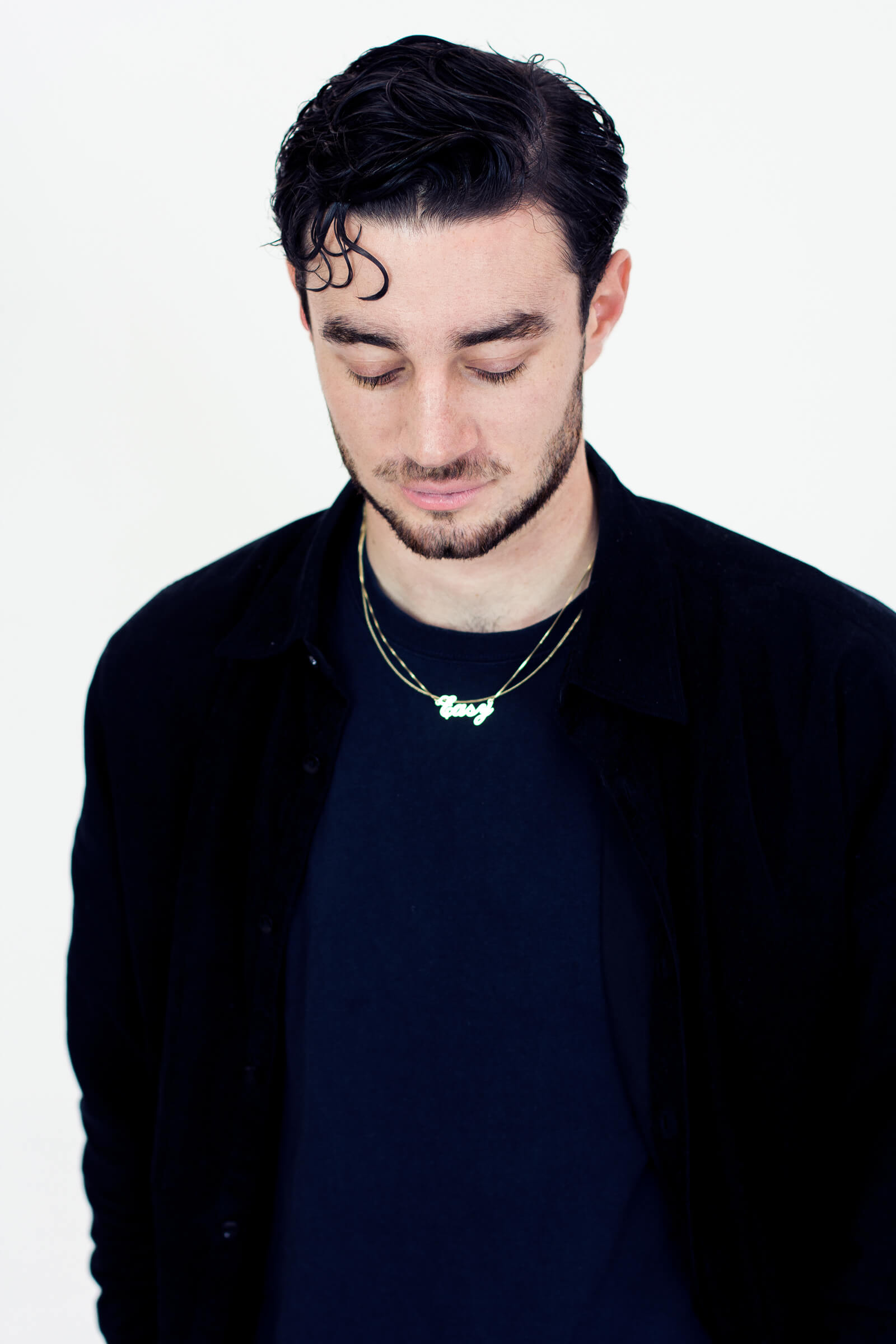 What was your defining moment
After two renovations you start thinking: what can I do with this? I kept a notebook with ideas for restaurants and bars. Then I asked Tom. On my own, it had never happened. But Tom is extremely entrepreneurial. He had the idea of opening a restaurant for years, but did not want to do it on his own. He needed my experience and the time I wanted to invest in it.
So you started doing what you had done before: building something from scratch.
Well, not entirely from scratch. There was something at first. But then we decided to do the demolition work ourselves. And that got a bit out of control. You run into things, such as removing a wall or raising a floor. You want it to be as close as you can to what you have in mind. We really took everything out. Suddenly there was nothing left. I loved that demolition work and renovating work. And now I am really happy with it as well. Only in retrospect, we might not have had to do it all ourselves. Tom hurt his back badly and I myself have had a cold for six months, because of all the dust I had in my lungs.
What is your division of roles?
Tom is responsible for the back-office. I do the front of house. Alain has the name and it is his kitchen. Together with our chef Roel Paping he gives creative interpretation to the kitchen. Roel has the final responsibility.
We now have a manager here. Tom and I are working together on a new project (Petit Caron, ed.). We still work on the floor, but not every day from 10 in the morning until 1 at night - like we did in the beginning.
Tom and I found out that we like the entrepreneurship the most. For anything else, the wines, the kitchen, the service, there are always people who can do that better than we do. The manager is better in managing than me. He is older and more experienced. So it's better he does it. For the wines we now have two guys who know more about wine than we do. But they do everything in the spirit of Café Caron and the things we have come up with.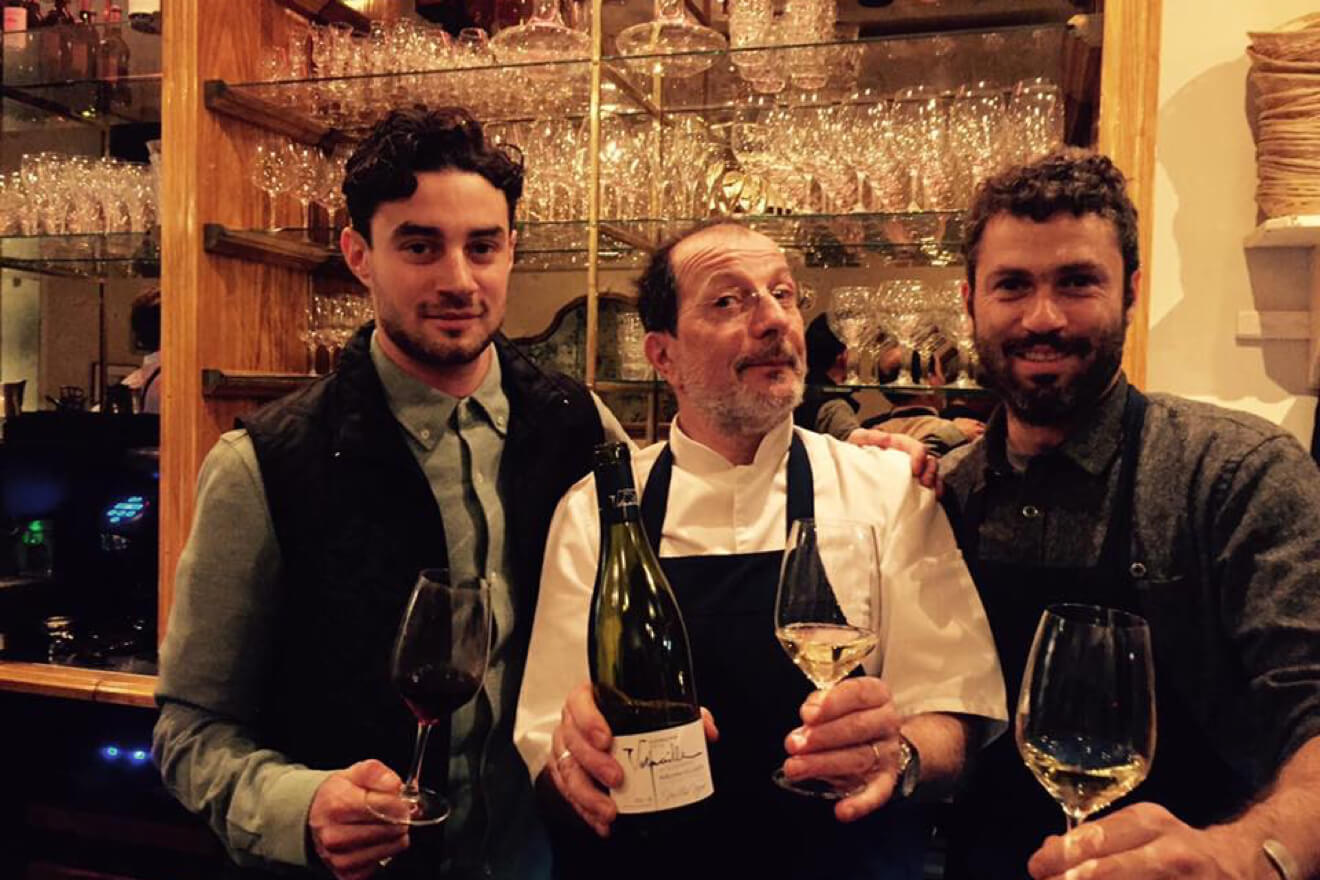 Petit Caron: Not far from the café we are going to do the bar area of ​​Café Caron again. It's called Petit Caron. You don't go out to to eat here. You come here for drinks. It is not a wine bar, but we do have a very good wine list. It just seems fun to do something where the focus is on drinks.
That is an interesting process. At your age you are already taking things slower on the day to day operation, so you are able to look at the restaurant more conceptually and from the business side.
Tom has fifteen years of entrepreneurship experience. He said from the beginning: you must be able to delegate. We can do this now because we have success. Luckily, we were able to build a great team. If we had to do everything ourselves, it would not benefit our guests experience.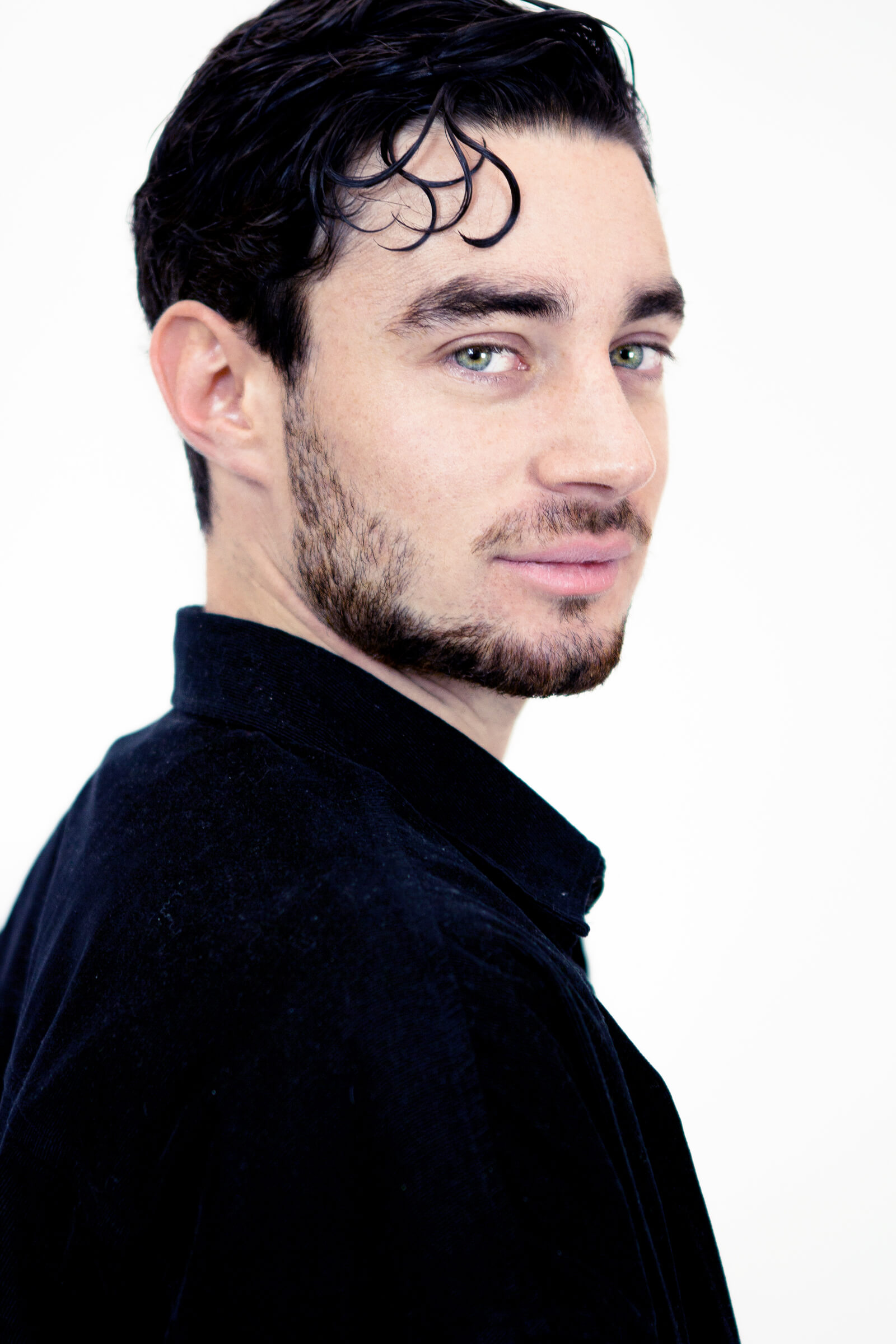 If you look at Café Caron now, what is the success factor?
The ambience. That is exactly how we wished it would be. And the mixed crowd. If I now read our business plan it is exactly how we envisioned our audience. We serve guests from the age of twenty to ninety. From all over country - but mostly from Amsterdam and specifically from our neighborhood. Just like we had in mind. Furthermore, a few tourists who happen to pass by and people from abroad who Alain knows. It is really a mix. There are guests who walk in for a glass of wine and a small snack, but also guests who book a month in advance and come to eat with the whole family. That all goes very well together at Café Caron.
What I like most is that there are many friends and regulars who keep coming back. Not necessarily the people we already knew, but also the people we met at Café Caron. Guests become acquaintances. Most of them have my phone number and they call me to ask if they can come and eat tonight.
What David says about Formitable
The reservation system is perfect for our restaurant. With Couverts we were able to accept a maximum of 50 guest. Now we can take on 75 guests online on a Friday night, without even looking at it and without anything going wrong. Exactly what we want. We do not want to work with two shifts, that doesn't work for our restaurant. But now we can still double tables, without losing with the ambience.
Switching was super easy. I was pleasantly surprised by the thoughtful service and aftercare. When we opened our second restaurant we knew where to go!