Dennis Huwaë is chef and co-owner of restaurant Daalder. After a career at several Michelin starred restaurants he is now writing his own success story. Gault Millau awarded him a the most talented chef of 2018. What is on the agenda for the coming years?
Dennis Huwaë is chef and co-owner of restaurant Daalder. After a career at several Michelin starred restaurants he is now writing his own success story. Gault Millau awarded him a the most talented chef of 2018. What is on the agenda for the coming years?
Thomas Groot said that you have convinced him to go work at Ciel Bleu. You are buddies from the past.
Yes, from way back. I grew up with Tom from the age of eight. He is a true friend.
He also mentioned that it is difficult to maintain relationships in this line of work, but that he continues to invest in this relationship.
He is family. I love the guy.
Tom also has a brother. I was very close with both of them. At one point he told me to have a look at Okura hotel. That was on a Saturday in a club. We had too much to drink. The day after we went to Okura to check it out. He did not even work there himself, he just heard about it. That Sunday morning we ran into the general manager. Or, in fact, he immediately picked us out. We did not belong there, of course. I was eighteen years old, had long hair and a gold necklace. But the man gave us a tour and connected with us.
Afterwards Tom's brother has set-up a meeting for me. I spent six and a half years there.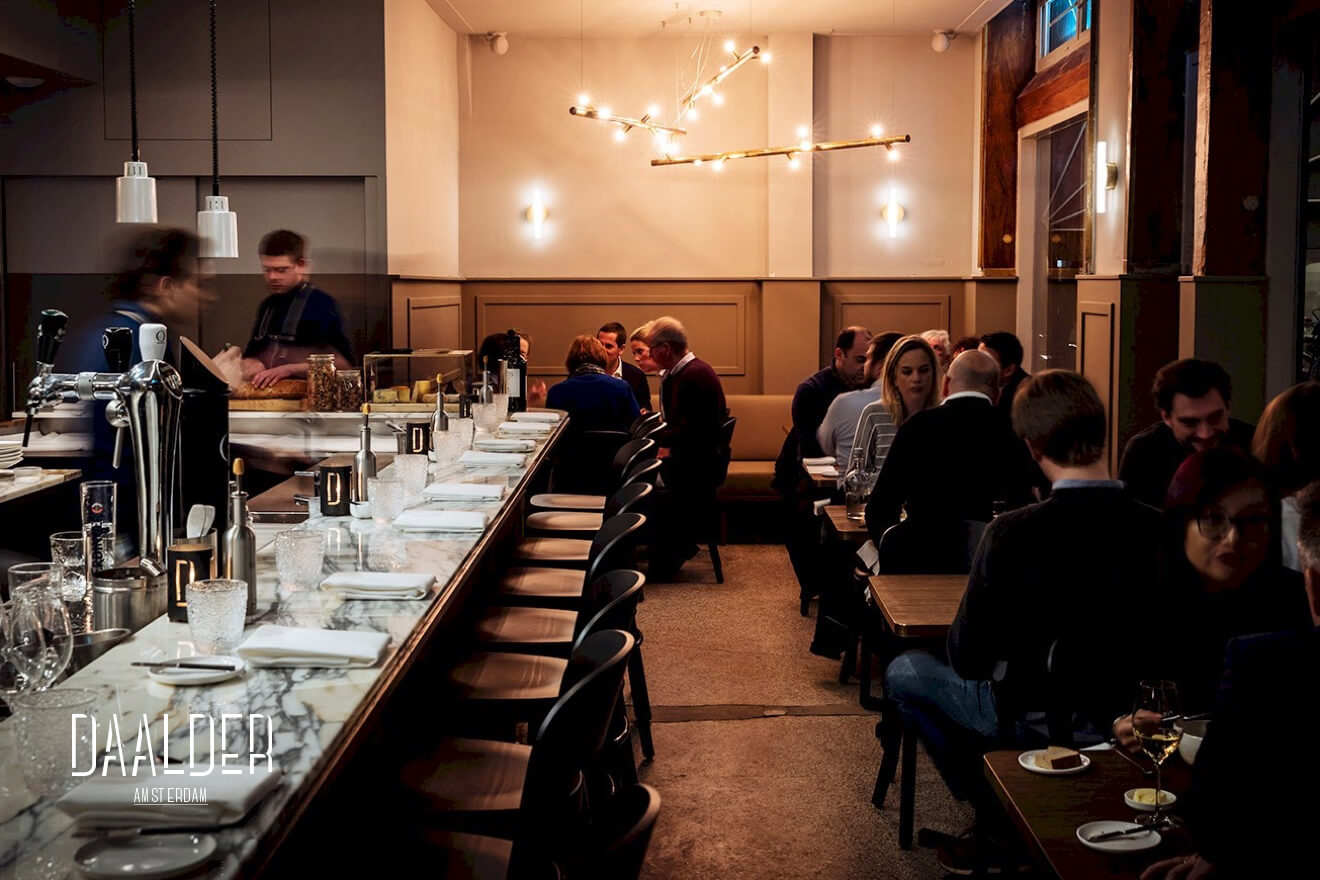 Dennis has taken restaurant Daalder to the next level. In order to involve his guests even more, he arranged the restaurant so that they can now watch the cooking from their seats at the bar.
Was that your first job in hospitality?
That was McDonalds. Behind customs at Schiphol. That was a great time. I went there with all my friends. We had a very close group. Yes, flipping Big Macs. It was big fun.
After McDonalds I worked at a number of other restaurants in Amsterdam. I ended up at De Brakke Grond. One of the owners had a two-starred restaurant in Belgium, 't Laurierblad. What I really liked was that this guy came into the kitchen in his suit, with his Rolex on, just to make a few dishes and stayed perfectly clean. We were always filthy and had stains on our chef's jackets. He stayed completely clean - and I thought: what a master. I just have to do an internship there. I got it and it was amazing. That has really made an impression. For me it was real cooking.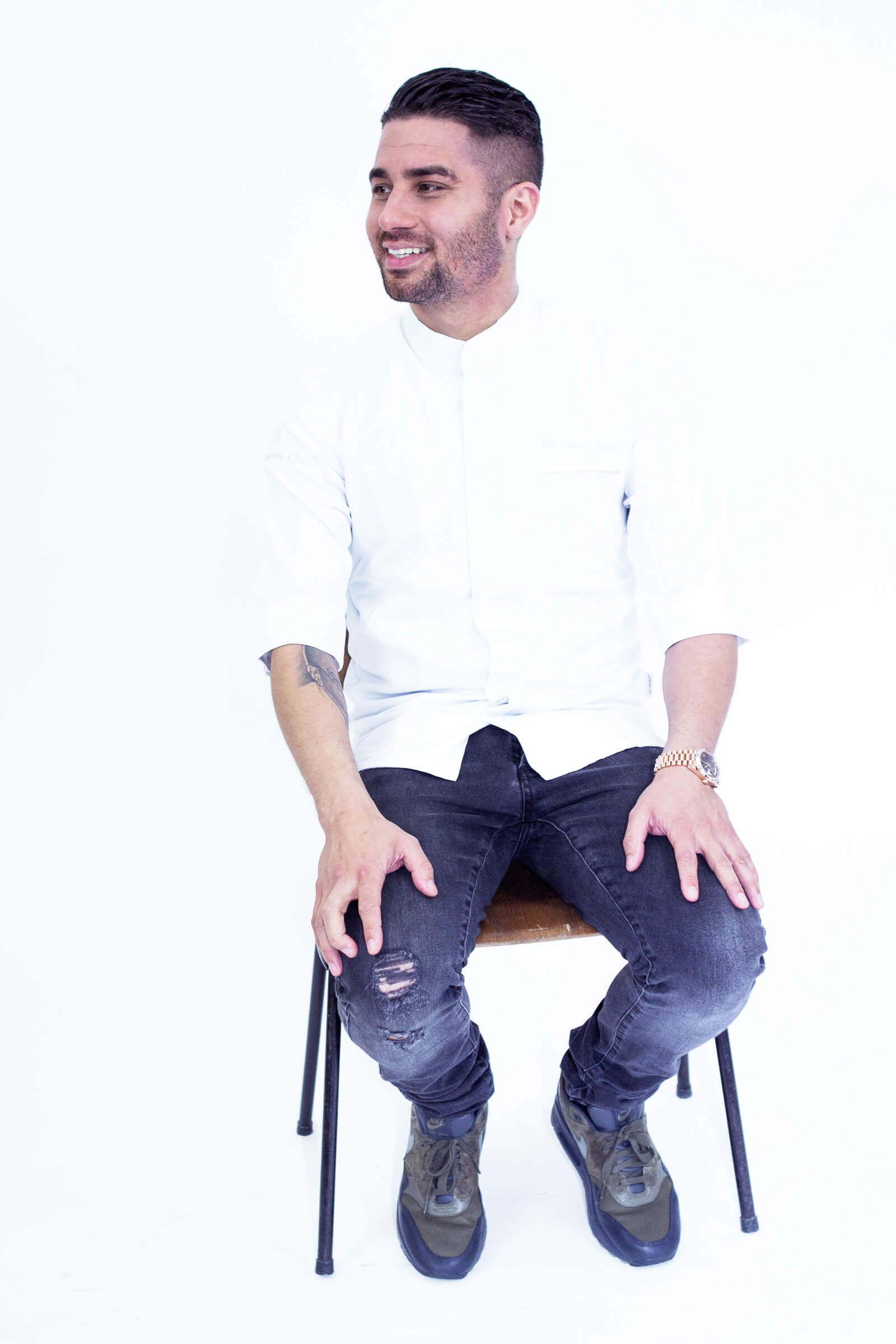 "When I walk the streets of Amsterdam, I find inspiration everywhere. I use everything I do in cooking. You need all the input you can get, on the street or in a cooking store, to create new things. Because otherwise you stand still - where you actually have to keep going"
Your next step was Okura. How was it there?
Okura is really a kind of family business. Everybody knows each other. And everyone helps each other. But it was hard as well. I wanted to stop a thousand times. If you had done something bad they would let you peel potatoes for a week. I can handle that. But you can't disrespect each other. I don't like name calling. I don't do that to anyone.
You stayed for six and a half years.
Because I wanted to be the best. I don't want to lose. There is no number two.
After Ciel Bleu I went to Brouwerskolkje. I applied for the job five times and they rejected me five times. At that time I did some work for chef Robert Kranenborg. I asked him to help me. He set me up with just one phone call. I was not allowed to start immediately, but had to do an internship for a week. Then it went really fast. After a month of work, they offered me the job as kitchen chef.
When I left Brouwerskolkje, they offered me to become a chef at &Samhoud Places. I did that for five years.
In 2016 I started at restaurant Daalder. Nobody understood this move. But it was time for the next step. I received a lot of offers, but it would be the same work environment I had already been in. That would mean going for a safe option. I don't want safe. I want all-in.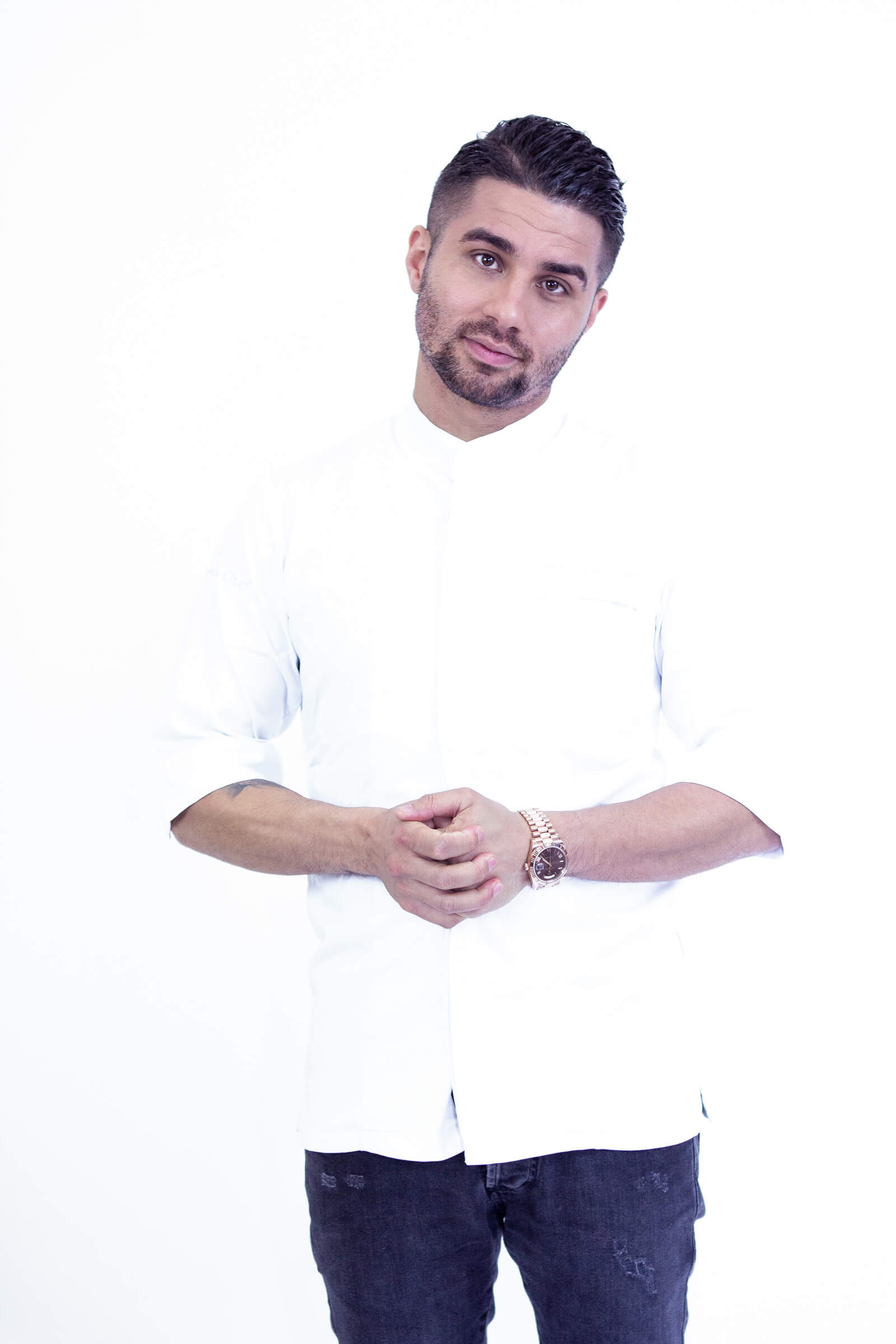 At Daalder you have a business partner. How does that work?
We share responsibilities. We communicate a lot. We talk about things we like, but also what we don't like. The nice things and the bad things. I really like that. We call each other constantly. Because I have to be able to talk with someone. I need him for business. We have a good working relationship.
How did you experience your role as an entrepreneur?
The first six month at Daalder were hard. Revenue. The number of guests. Reviews you get. Those things keep me up at night. I have always wanted to work in a healthy business and now I want to have a healthy business myself.
How far do you look into the future?
Until 2020. You have to make sure that you get what you want. You are the only one who can do that. And you have to plan that. The most important thing is that at the end of 2020 I have a perfect restaurant. The most beautiful restaurant in the Netherlands. For me this means that everyone feels at home. That everyone feels special and welcome.
What Dennis says about Formitable
First, we started charging down payments for group bookings. Then, we felt comfortable starting charging down payments for weekends bookings. Now, all bookings at Daalder are prepaid. At the end of the month, these choices add up to great results.