Leveraging the experience economy can help you to get more paying guests into your restaurant. Learn from 5 successful restaurants and apply 5 key trends in the industry to increase your number of guests.
Leveraging the experience economy can help you to get more paying guests into your restaurant. Learn from 5 successful restaurants and apply 5 key trends in the industry to increase your number of guests.
Lion Noir -

Working clear shifts

help to optimize your restaurant's table yield
BAK - Pre-paid tickets for

seasonal events

guarantee revenue
John Dory - A

Chef's table

is the ultimate experience for your guests
Ron Gastrobar -

Early bird deals

boost your restaurant's slow hours
Daalder -

Group packages

with down-payments make group requests easier to handle
The experience economy keeps on growing and it's not expected slow down any time soon. The new generation of consumers is more willing to pay for an experience than for material goods. While it started with millennials, the experience trend swapped over to all other age groups as well. This is great news for restaurants that offer memorable dining experiences.
Do you own a restaurant that does not just want to serve food but create a dining experience? Other successful restaurants are applying 5 key trends in the industry to make the most out of the experience industry. It helps them to get more guests into their restaurants.
For most guests, the experience of 'going out for dinner' already starts online when searching for the restaurant's website. Search engine Google now even lets guests reserve tables directly from search results. Every website visitor that you can turn into a paying guest will help with your restaurant's top line. As profit margins for restaurants are incredibly narrow, everything that helps to increase the bottom line is usually welcome.
Below are 5 key trends based on how successful restaurants turn website visitors into paying guests.
5 key trends successful restaurants use
1. Working shifts to optimize table yield
You can optimize the restaurant's profit without disappointing guests by inviting guests for an early shift and informing them about the end-time of their booking.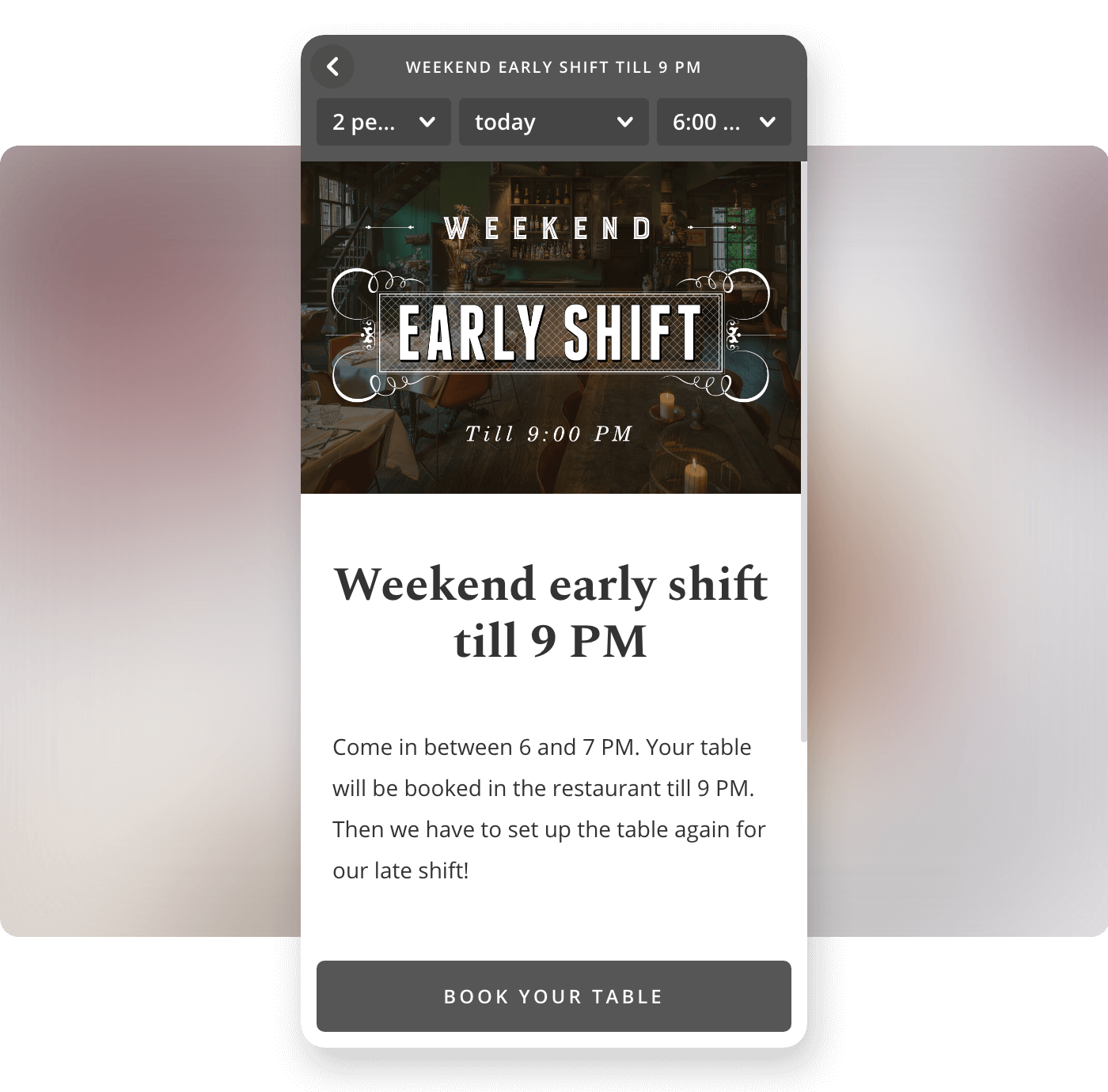 Lion Noir is a modern French restaurant with a lounge, cocktail bar and hidden garden in the heart of Amsterdam. They are using shifts to make sure they can set-up the tables in their restaurant twice a night - an early shift and a late shift.
Let's say your waiter has to tell a group of guests that they need to get up and clear the table for the following group, this will probably make them feel quite unwelcome. It might be the only thing they remember from your restaurant. You can be quite sure they will not return in the near future.
As a restaurateur, you want to optimize the yield of your tables and ensure your house is fully booked all day round. By simply telling your guest beforehand what end time they can expect, you can prevent them feeling disappointed.
2. Pre-paid tickets for seasonal events to guarantee revenue
There is always a holiday or special event around the corner. Selling tickets for special menus in advance can help to avoid costly no-shows and empty tables on those important days.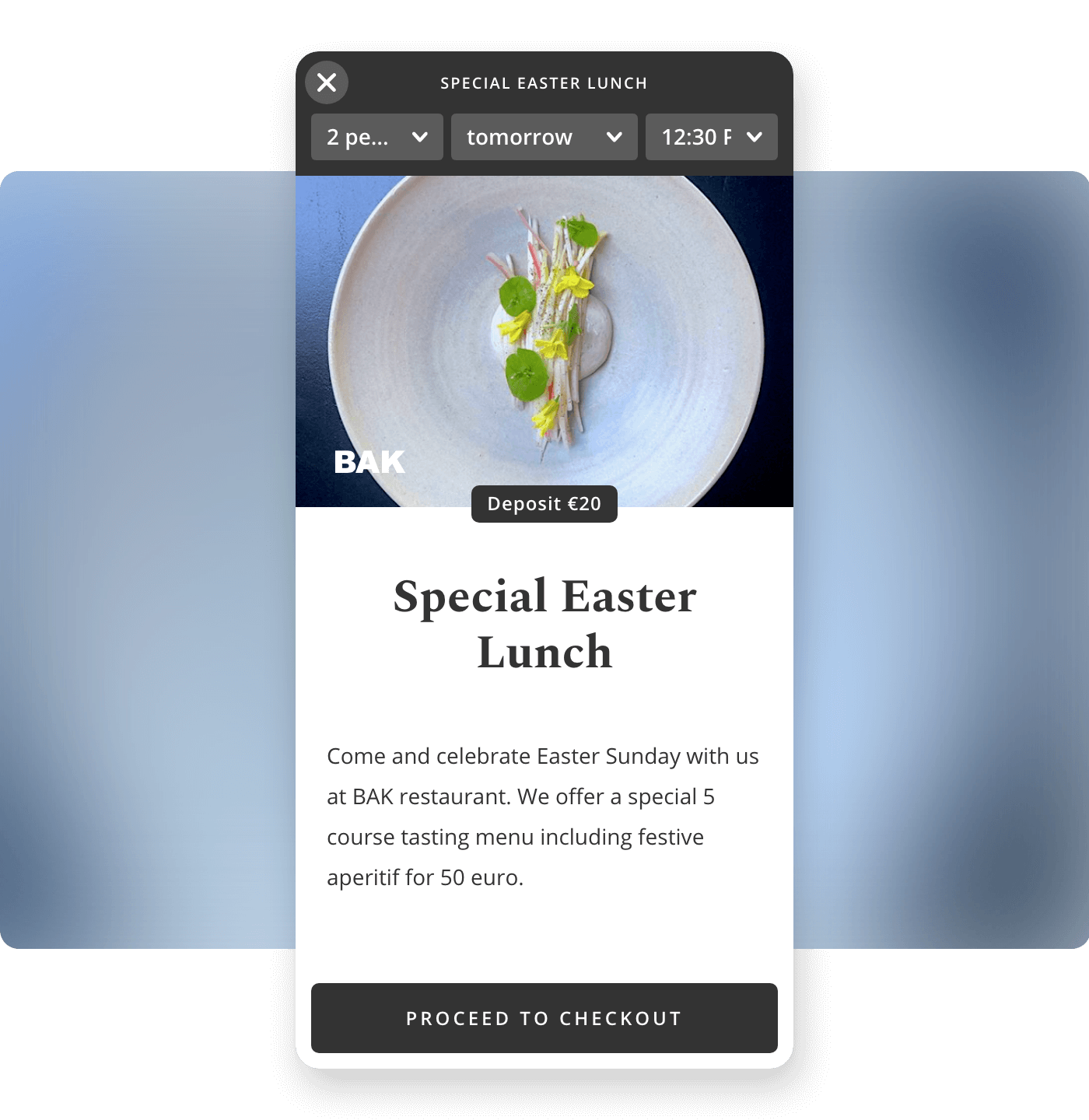 BAK is a fine-dining restaurant in an unobtrusive warehouse overlooking the water in the former timber port of Amsterdam. They sold tickets for their special tasting menu to encourage guests to celebrate Easter Sunday with them.
Regardless whether it is Christmas, Valentines Day or a local jazz band is playing at your restaurant, you want to ensure that all tables are filled. No-shows can be even more frustrating on these special days, since walk-ins are not expected. That's why more and more restaurants sell tickets upfront. It has proven to be a safe way for restaurants to ensure that people will actually show up at their special event.
Pre-paid tickets might seem like a big step for your restaurant, but the restaurants that have dared to try it barely ever look back. Modern consumers are already used to paying online for music, sporting, and other events on a regular basis. Introducing pre-paid tickets at your restaurant can be hugely beneficial to converting more website visitors into paying guests.
3. Chef's table as the ultimate guest experience
Offer an exclusive experience for a selected crowd in a special part of the restaurant. A unique product that makes guests feel truly special.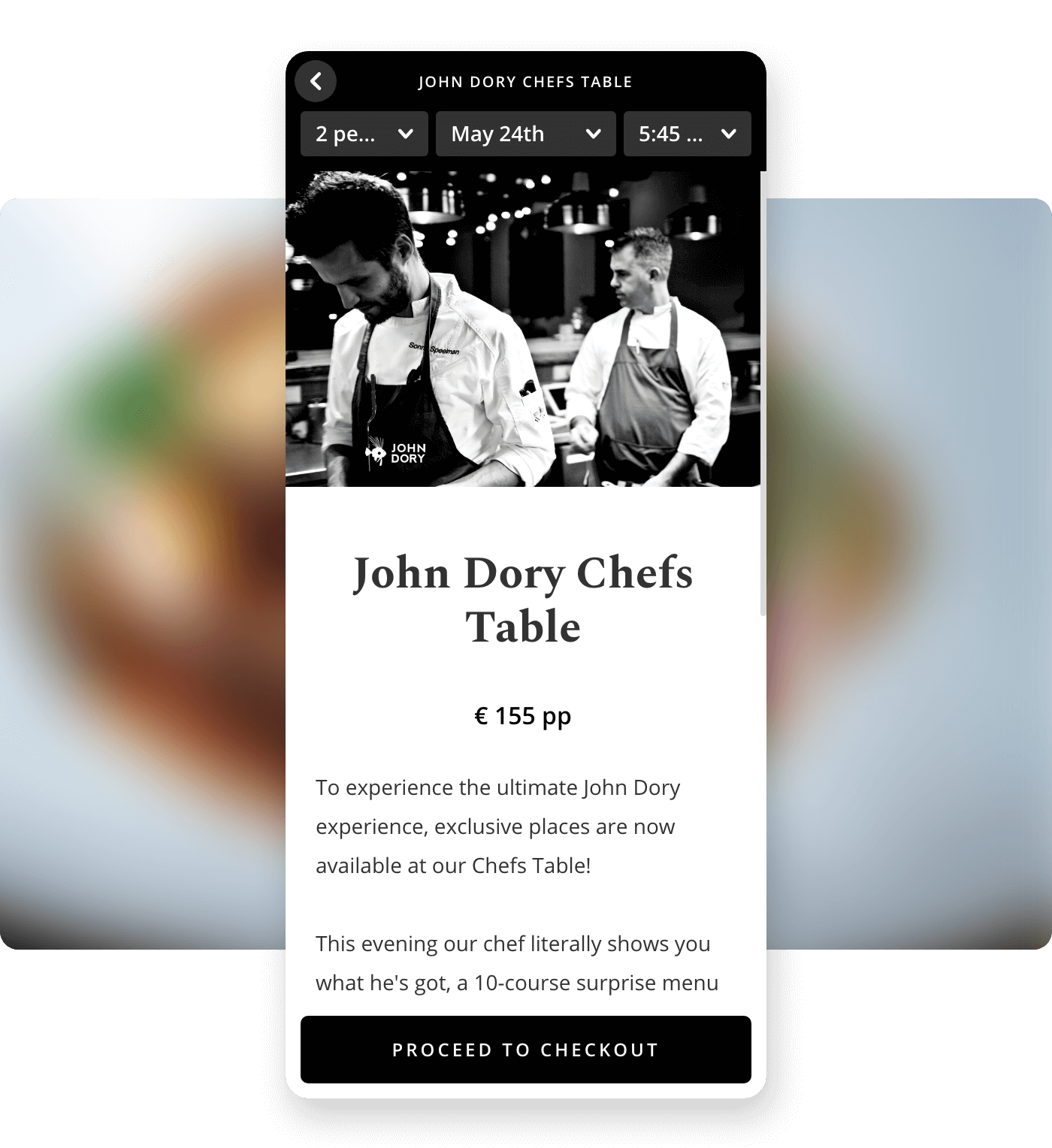 John Dory calls itself 'Fishtronomy', serving inventive seafood dishes with fish sourced from Dutch waters in an old canalside Amsterdam warehouse built in 1680. They offer guests an evening with exclusive seats at the chef's table - the ultimate John Dory experience.
The popular Netflix show pushed the concept of a Chef's Table into mainstream media and brought fine dining to the attention of an even wider audience. In the past, the Chef's table was exclusively reserved for special guests and VIPs. Nowadays, we see more and more restaurants offer this intimate and personal approach to fine dining.
Seeing and hearing what is happening in the kitchen, while your skillful chefs prepare dishes to perfection. For many guests, your Chef's table will be the ultimate gastronomic experience.
4. Early bird deals boost slow hours
Early bird promotions are a great way to make sure each table is booked twice, or even three times a night.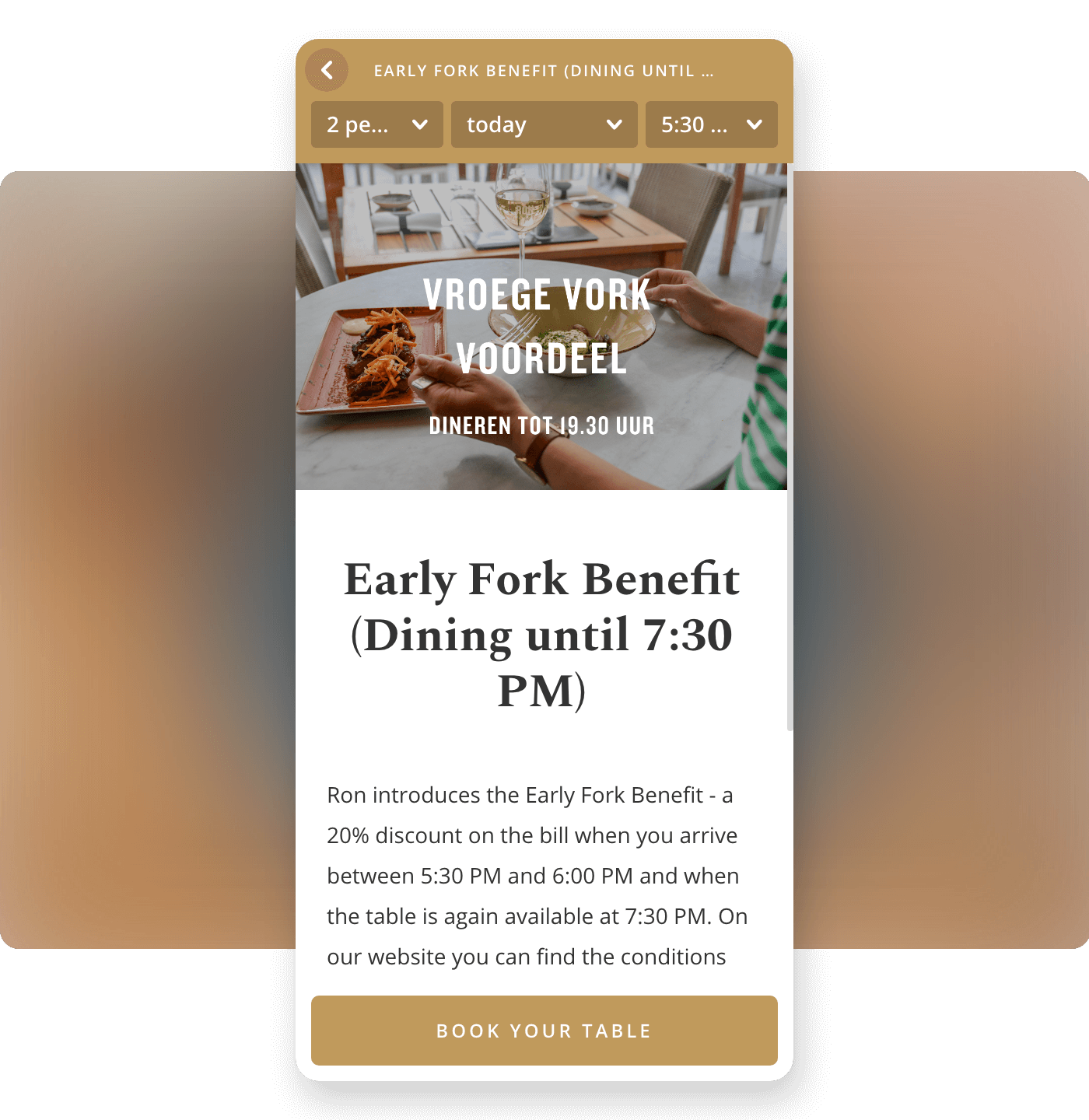 Ron Gastrobar is a former Amsterdam luxury 2-Michelin-starred restaurant turned into a chic (Michelin-starred) gastropub, delivering top class cuisine in an urban, hip, and lively ambiance. Chef Ron Blaauw offers early guests the 'Early Fork Benefit': They get a 20% discount if they dine in the first two hours that the restaurant is open.
Every restaurant has peak hours, usually, these are the times where everyone wants to lunch or dine. Although you can not change the times when people want to eat, more and more restaurants are encouraging guests to either eat a little earlier or visit on off-peak weekdays. It not only results in more even customer flow but also increases the chances that a table is booked several times a night.
Most probably your restaurant has regular times where it is less busy. Early Bird discounts, Lunch Deals or High Teas are a great way to encourage your guests to visit you in these slow hours.
5. Group packages with down-payments for ease and security
Letting guests know what is being offered for groups and asking them for a down-payment to guarantee them showing up.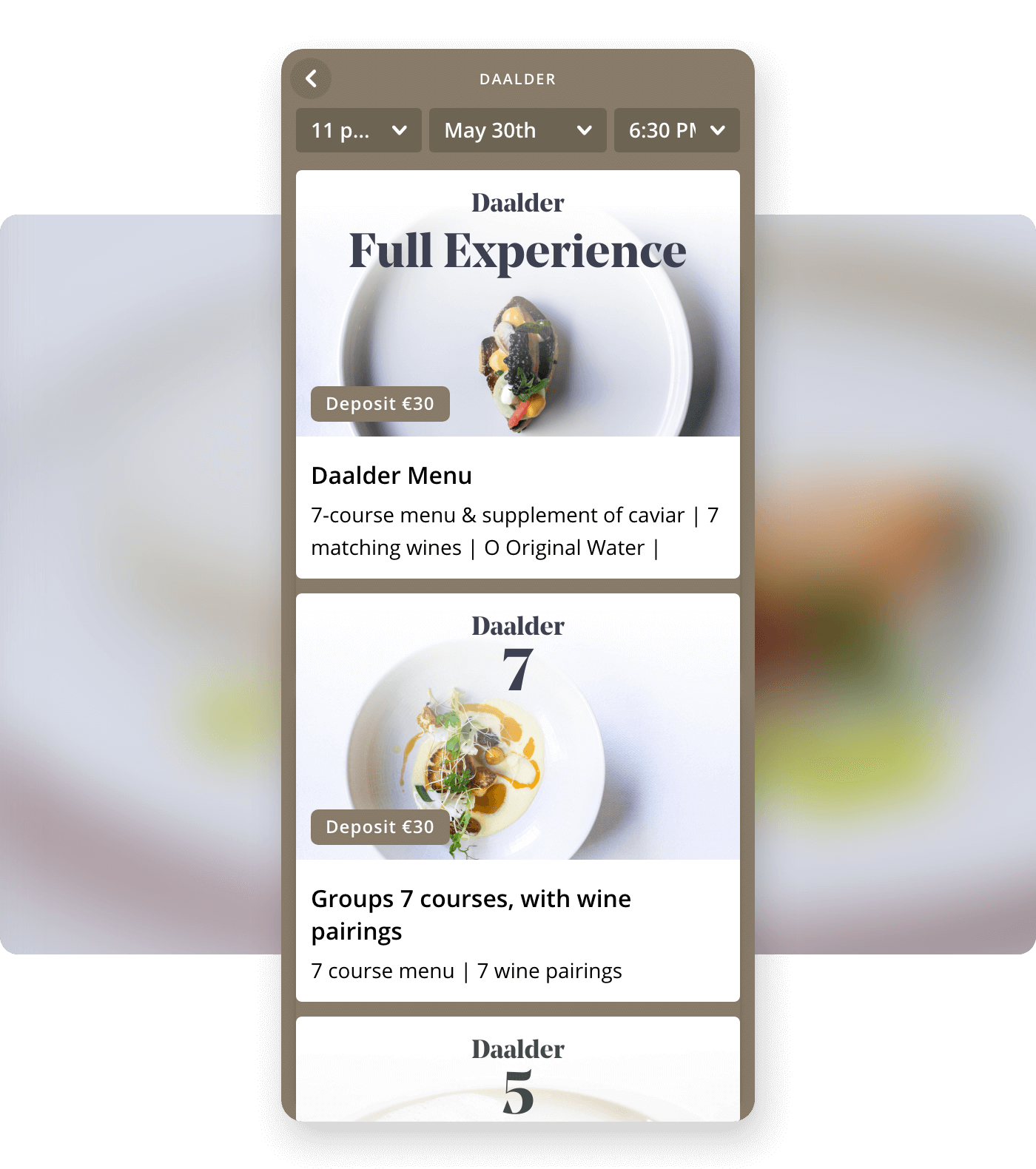 In Amsterdam restaurant Daalder, Chef Dennis Huwaë crafts creative haute cuisine that looks like edible art. For groups of up to 11 persons, Daalder offers a 5 and 7-course menu with according wine pairings. A deposit of €30 per person is required to make the reservation, which will ultimately be deducted from the check. If guests can not make it, they get a refund until 2 days before their reservation.
Group requests can cost a lot of time to handle and there is a high risk of the group not showing up. In many cases groups of guests place reservations at two or three restaurants to keep their options open for the night. As most restaurateurs know, they often then cancel last minute or forgot to cancel at all. There is a growing trend among restaurants to ask guests for a down-payment.
By asking your guests for a deposit, your guests are making a more binding commitment. This drastically reduces the chance that they will flake on your restaurant. On the one hand, it is safe for your guest because they know there will be a tabler reserved for them. On the other hand, it is safe for your restaurant because you know that your table will be filled.
DENNIS HUWAË - CHEF AND CO-OWNER OF DAALDER:
"First, we started charging down payments for group bookings. Now, all bookings at Daalder are prepaid."
Trends that are changing the European restaurant industry
More and more restaurants are leveraging these key trends to make sure that website visitors become paying guests. Working shifts, holiday events, a chef's table, early bird deals and group packages with down-payments can all help to get more guests into your restaurant.
Ask yourself: Is your restaurant ready to embrace the experience economy?