Nowadays all kinds of restaurants are using deposits and prepayments for events and special menus. Prepayments help your restaurant to generate cash flow, reduce no-shows and save time. They help you to focus on your actual work - running a restaurant and creating a dining experience.
To give you some inspiration for your own restaurant, we have collected 50 examples of restaurants that use prepayments.
Most important insights for your restaurant:
Deposits and prepayments are

not just for fine-dining restaurants

anymore
Payments can be used for everything from regular lunch reservations, to special menus, and one-off events
Prices range from a casual € 7,50 deposit up to € 250

prepaid all-inclusive Michelin-starred dinners
When in doubt, use the

average deposit price of € 25
Small side-note: The featured restaurant events and menus are meant for inspiration. Not all of them are still being sold.
Here is an overview of 50 examples how other restaurants use prepayments
1. 4-courses group menu
Restaurant NAZKA, Amsterdam
2. Beer Tasting Dinner
Restaurant Jacob's Kitchen, Diemen
3. Book a bed - Futuristic Dinner
Restaurant Supperclub, Amsterdam
4. Boozy dim Sum-day
Ron Gastrobar Oriental, Amsterdam
5. Brunch menu
Restaurant De Vergulden Eenhoorn, Amsterdam
6. Chef Sergi Arola on 22/07
Café Caron, Amsterdam
7. Chef Syrco Bakker dinner
Restaurant Kasteel Kerckebosch, Zeist
8. Chef's Table "All Out"
Restaurant Bougainville, Amsterdam
9. Culinary boat trip
Restaurant In den Doofpot, Leiden
10. Daalder Reservation
Restaurant Daalder, Amsterdam
11. Dinner Package #3
Restaurant De Biertuin Prinsengracht, Amsterdam
12. Dinner reservation
Restaurant 212, Amsterdam
13. Early Enjoyer - High Wine No. 2
Vindom Wine Bar, Oldenzaal
14. Emotion dinner: Gratitude
Restaurant &moshik, Amsterdam
15. ESCOBAR Latin Bistro by Fernando Paez Magro
Restaurant Escobar, Amsterdam
16. Fête de la Jungle - 3 years - Group Dinner
Bar Botanique, Amsterdam
17. Christmas 4-course lunch
Restaurant Tante Kee, Kaag
18. Group menu 4-courses
Café de Paris, Amsterdam
19. Groups 15-course menu
Restaurant Wolf Atelier, Amsterdam
20. Groups dinner
Bar Alt, Amsterdam
21. Groups lunch at MOS
Restaurant MOS, Amsterdam
22. Groups menu #2
Restaurant Bickers a/d Werf, Amsterdam
23. Guerilla Cuisine
Saris & Sobecki, Eindhoven
24. Happy Happy New Year!
Restaurant Happyhappyjoyjoy West, Amsterdam
25. High Harrie & Toon-tasting on Sunday
Restaurant Tussen Harrie & Toon, Ledeacker
26. IFTAR - Breaking the Ramadan fast
Restaurant Ortam BBQ Rijnhaven, Rotterdam
27. King's day
Restaurant Envy, Amsterdam
28. Leftovers menu
Restaurant De Loohoeve, Schoonloo
29. Let Us Feed You
Restaurant 101 Gowrie, Amsterdam
30. Menu d 'Amour
Restaurant Bistrot Neuf, Amsterdam
31. Menu Gastronomico 4-courses
Da Pietro Ristorante Italiano, Elburg
32. Movie At The Lake
Restaurant Lake House Rotterdam, Bergschenhoek
33. New Years Eve
Restaurant Auberge Jean & Marie, Amsterdam
34. Opulence Revealed by Rémy Martin
Cocktail bar "A Bar", Amsterdam
35. Pizza Party
Restaurant Huis van Iemand Anders, Amsterdam
36. Pre-Theater menu
Amstel Brasserie, Amsterdam
37. Private Dining
Restaurant Aan de Poel, Amstelveen
38. Reservations | Maastricht Vrijthof
Corner Bakery - Maastricht, Maastricht
39. Saturday Lunch Vuurtoreneiland
Restaurant Vuurtoreneiland, Amsterdam
40. Valentine's menu
Razmataz, Amsterdam
41. Special dish: Bistecca alla Fiorentina 1.4 kg
Restaurant Cucina Casalinga, Amsterdam
42. Special Easter Lunch
Restaurant BAK, Amsterdam
43. Speed ​​Lunch
Restaurant Barça, Amsterdam
44. Spring pop up
Restaurant 4850, Amsterdam
45. Sublime Afternoon Wine & Food
Brasserie Sublime, Waalwijk
46. Tasting: South Africa
Wine café Rayleigh & Ramsay Overtoom, Amsterdam
47. The beginning
Restaurant De Nieuwe Winkel, Nijmegen
48. The Whiskey Club
Restaurant Juniper & Kin, Amsterdam
49. Valentine's menu
Brasserie de Gempemolen, Sint-Joris-Winge
50. Wine tasting: Bavette meats Oranje
Boutique restaurant Bavette, Maasland
Not only for fine-dining restaurants anymore
Even though prepayments were first introduced in fine-dining restaurants, they can be used in countless ways:
Regular lunch and dinner bookings
Special days like Valentine's, Father's Day, Christmas and New Year's
Exclusive dining events, Chef's tables, private dining and showcasing a particular chef
Tasting menu's with several courses
Restaurant openings, concerts, boat trips, beer and wine tastings
Reduced prices for package deals
Responding to local and cultural events; Dutch King's day and Iftar - the evening meal with which Muslims end their daily Ramadan fast at sunset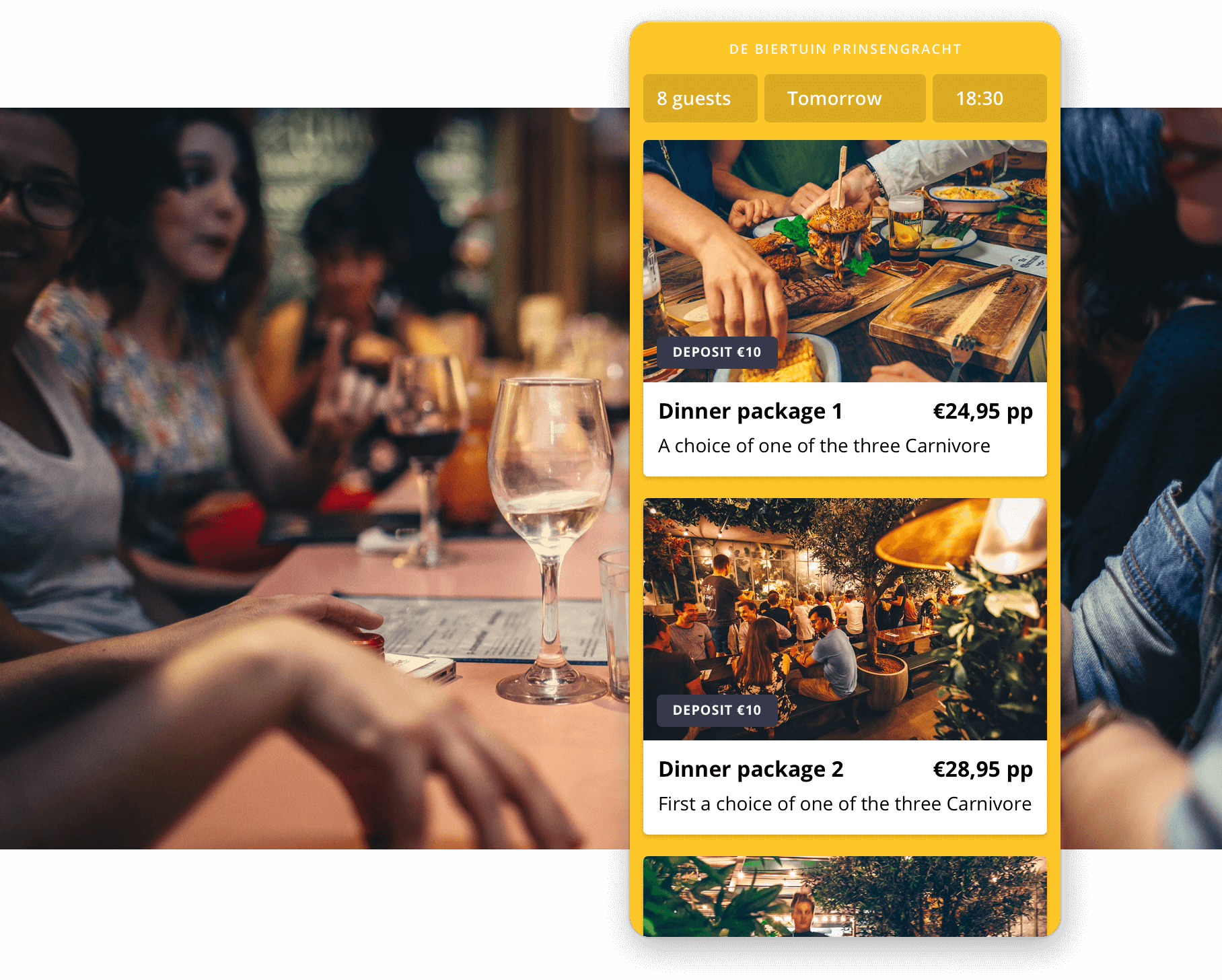 Prepayments prevent no-shows, generate cash flow and save you time
Why do more and more restaurants use prepayments like deposits and tickets? Primarily, because they help to stop no-shows. By paying beforehand, guests make a commitment to your restaurant.
Tickets are also a great way to generate positive cash flow. Selling tickets before your restaurants opening can help you to get a flying start. This is exactly what Restaurant De Nieuwe Winkel did with their opening.
Offering tickets for your restaurant online can also free up your valuable time. Guests can easily book and pay online. Instead of calling and emailing with guests multiple times to schedule a single reservation, you can focus on running a restaurant.
How hospitable is it to ask for a restaurant reservation deposit?
Not too long ago it was unthinkable that a casual restaurant would work with deposits. Still, not everyone thinks that it fits with the hospitality we expect from a restaurant. For a lot of restaurants, however, it has become a well-known problem that the number of guests not valuing their reservation has increased in recent years.
Asking for a deposit helps in dealing with this in a transparent and flexible way. The deposit amount will be deducted from the final bill in the restaurant. If the guest can't make it on the date of the reservation and cancels within the agreed time frame, the deposit will be refunded.
For the guest it feels nice to be charged a smaller amount on the day itself, as they partly paid already. For the restaurateur it is nice that cancellations (almost) always come in on time. A win-win for everyone.
What is the right price for a restaurant prepayment?
The prices in the examples range from a €7,50 deposit for a groups brunch to a €250 prepaid 7-course "All out" Chef's Table dinner arrangement in a Michelin-starred restaurant. If you are in doubt, just use the average deposit price of €25.
Start creating your own prepaid restaurant events with Formitable
With Formitable you can easily create tickets and prepayments for the events in your restaurant.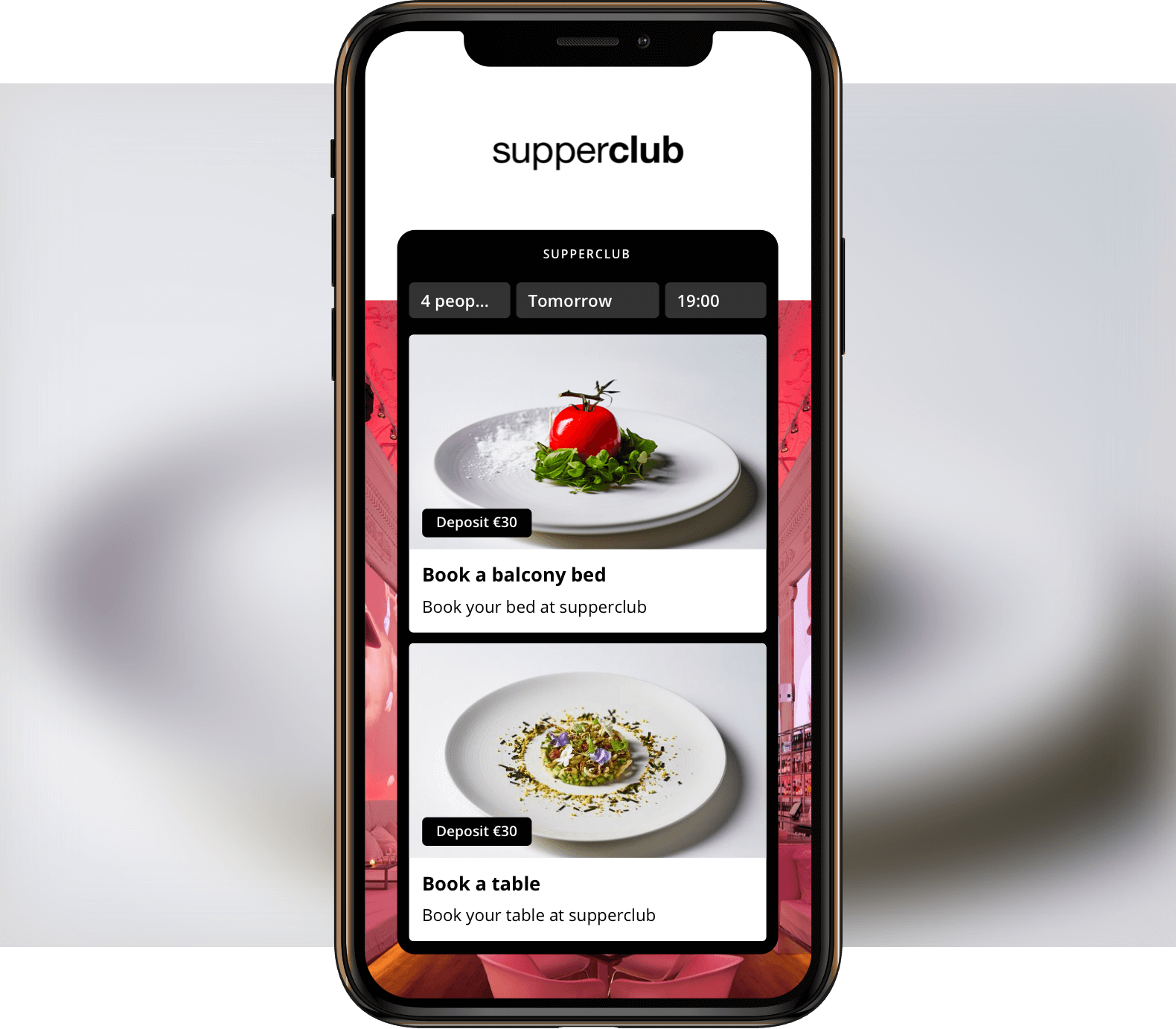 Here you can see two prepaid arrangements from the restaurant Supperclub. At Formitable we call these arrangements "Tickets".
Each ticket made with Formitable has its own URL link. If you want to guide your guests' attention to a particular event or special menu, just share this link on social media, your website, or in your newsletter.
As each ticket has its own link, you can even use paid online advertisements on Google AdWords and track the performance of your events in Google Analytics.
You can choose to showcase certain arrangements (tickets) in the Formitable widget on your website. This way website visitors will immediately see what your restaurant has to offer.
Do you want to keep your event exclusive? You can also hide your event ticket from the general public. With hidden tickets, only the people that receive the direct link from you are able to see and buy the ticket. This is for example what Café Caron did when they invited guest chef Sergi Arola and only wanted to invite close friends to the event.
Tickets created for one-time events will automatically be deactivated in Formitable after the event has passed. This way you never have to manually remove tickets of expired events.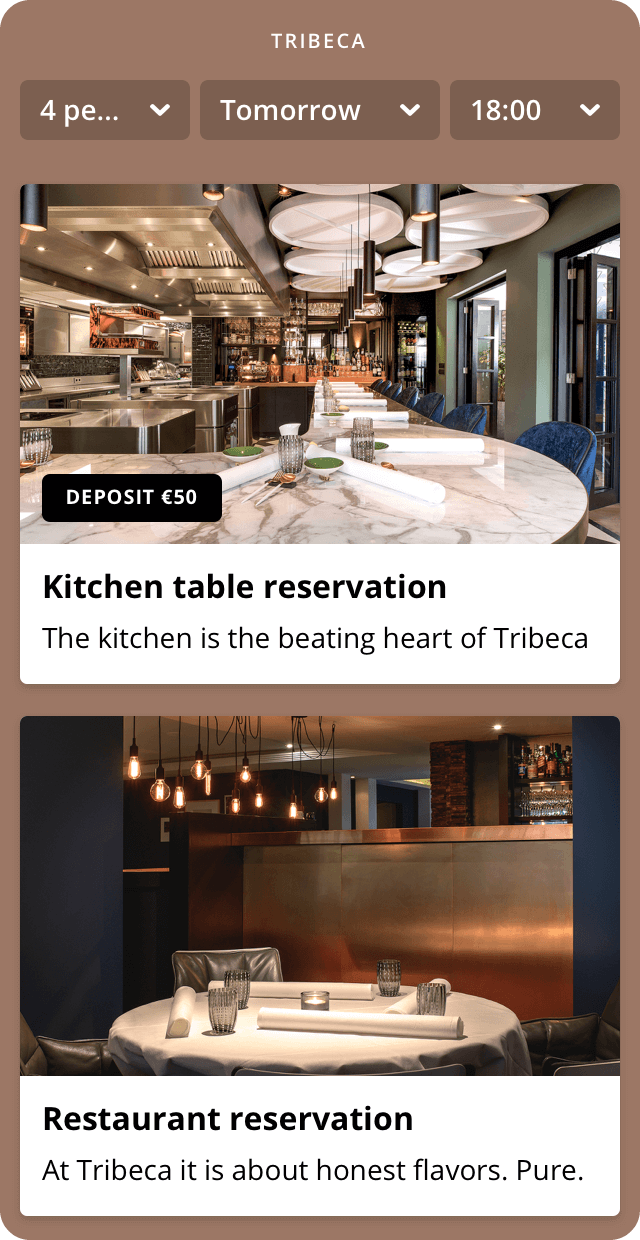 Are you already a client of Formitable? Start offering prepaid events today. A better and more modern way to serve your guests. Our Ticket Guide in the Formitable Help Center will help you to get started.
Are you eager to start using tickets and deposits, but are you currently using another reservation platform? Try Formitable 14 days for free.