Instagram lets you make a lasting first impression on your guests and helps you build a relationship with them. Sounds complicated and time-consuming? With the right approach, it doesn't have to be. Get inspired by these six best practices.
The Avocado Show always responds
A perfect medium to engage with guests, Instagram lets you have conversations with your followers. The Avocado Show is great at responding to comments, in the most personal and consistent way. It's no surprise their brand was a global brand and a social media sensation well before their restaurant opened its doors. People do appreciate a personal response. People do appreciate a personal response.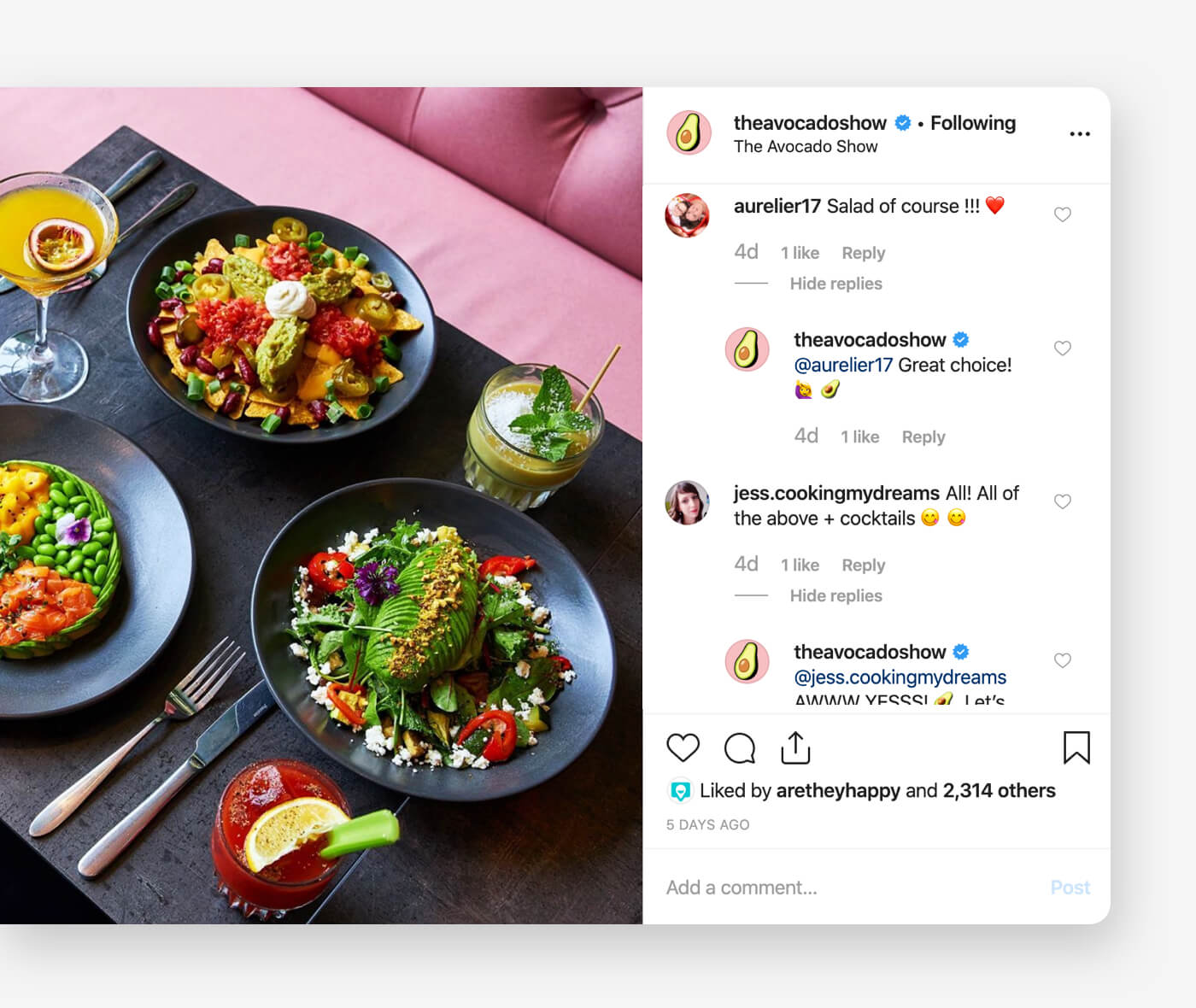 Mirazur has a light, accessible style
Combining humorous photography with emoticons, Mirazur has a light, accessible style for their posts. In 2019, this French restaurant ranked #1 in The World's 50 Best Restaurants list. Even though their food is out of this world, their Instagram feed feels very down to earth. As if they say: no matter how good you are, you shouldn't take yourself too seriously. This perfectly fits their brand.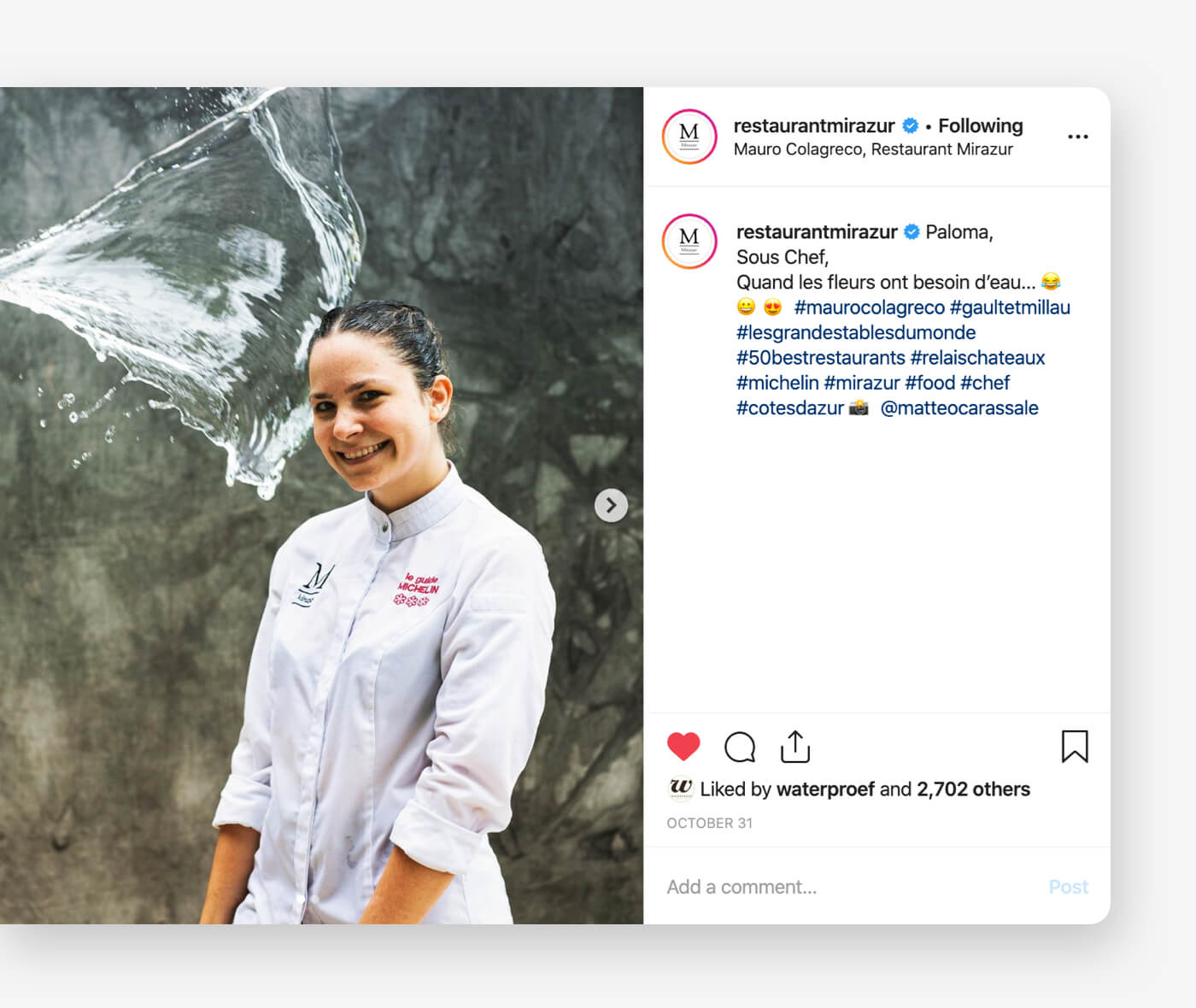 &moshik combines professional photos with reposts
&moshik fills your Instagram feed with the most luscious images. They treat their followers to the most stunning professional photos, supplemented with photos posted by other restaurants, bloggers, and food photographers. Reposting photos that fit your brand is done, although it never hurts to ask first.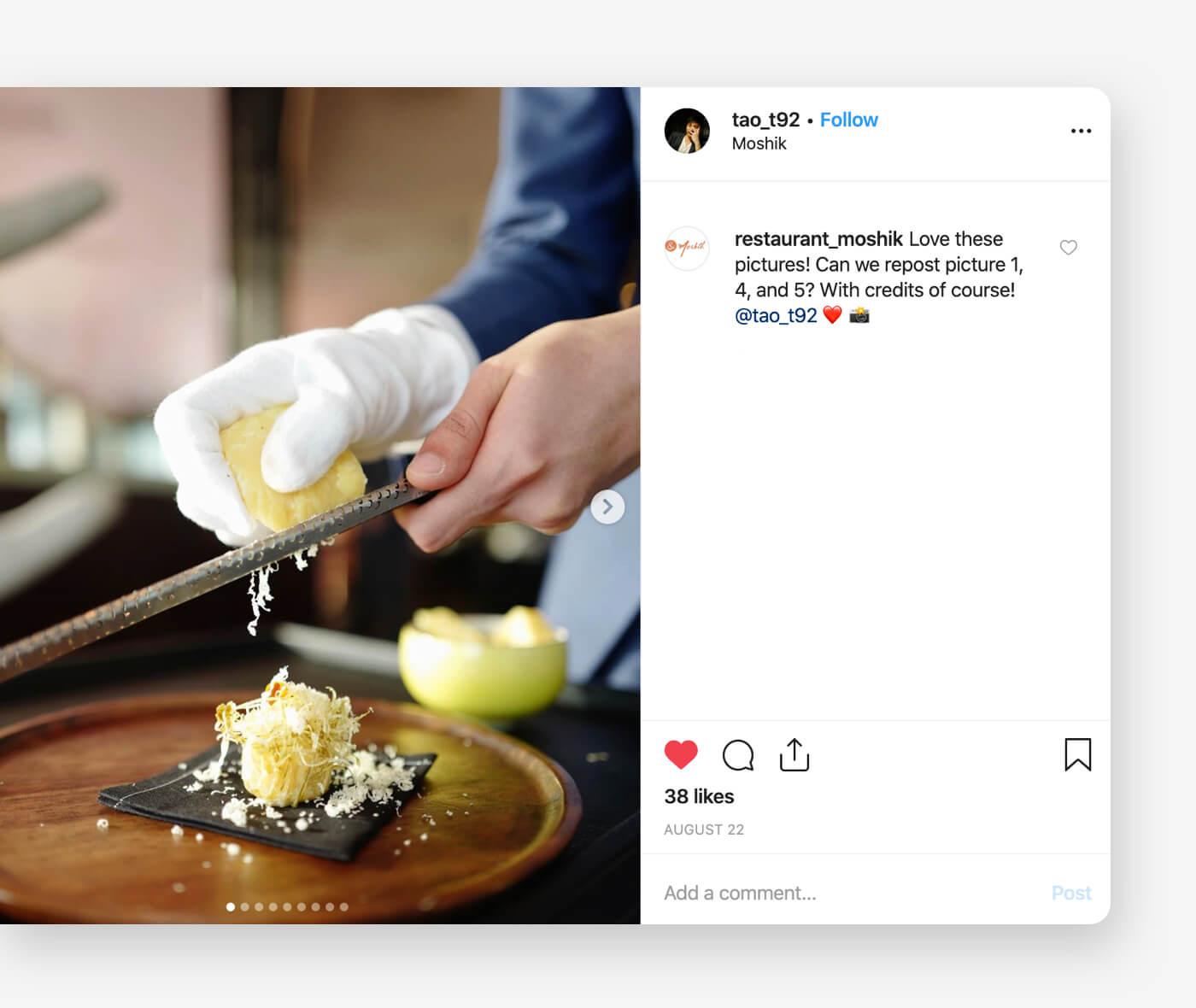 Sensi Group uses Instagram Story Highlights
Are you opening a new branch? There's no need to start all over with Instagram. You can use your existing Instagram account for all your restaurants, thanks to Story Highlights. Sensi Group has five restaurants, each with their own identity. By using a different Story Highlight for each one of them, followers are introduced to all Sensi branches at the same time.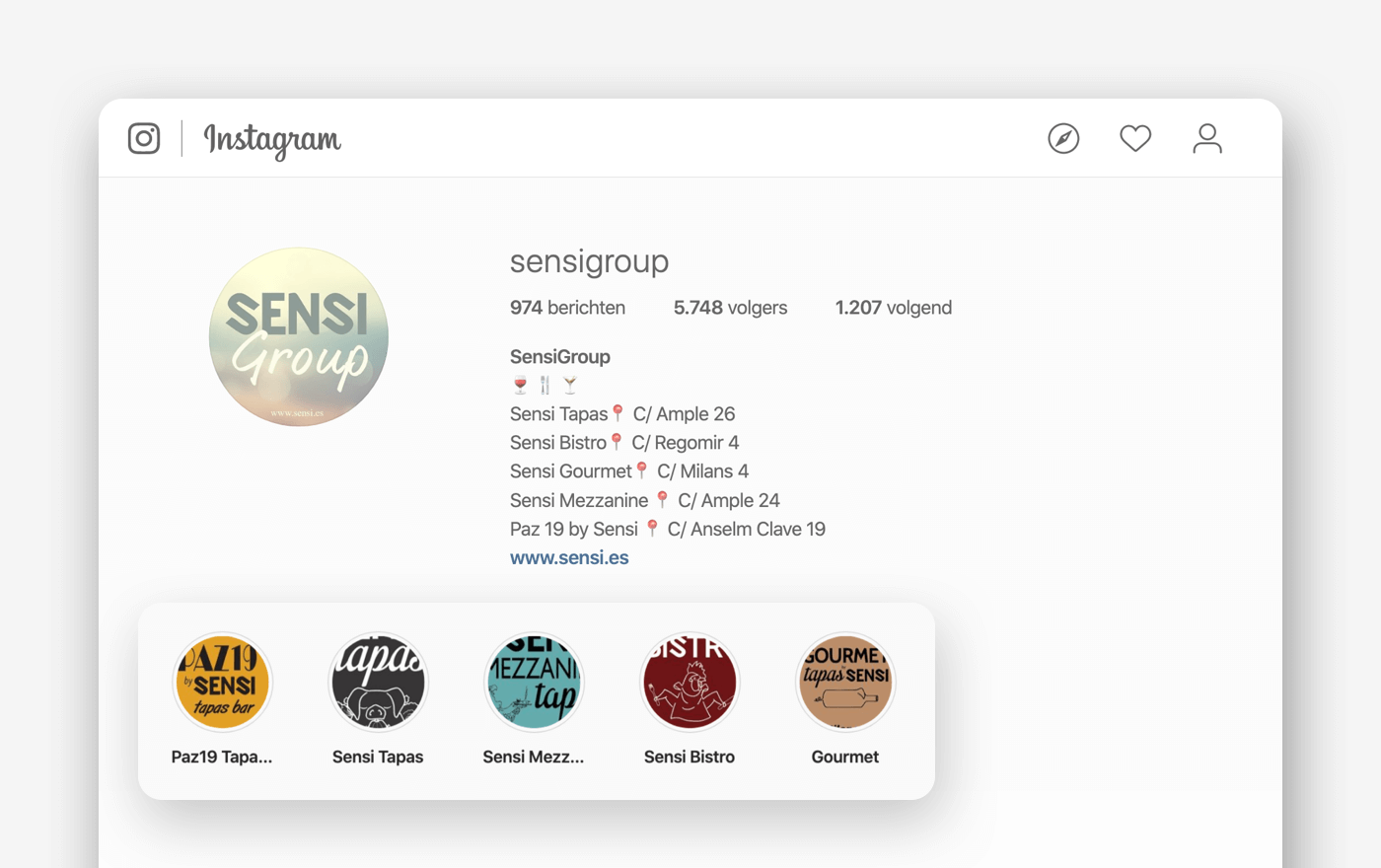 Fiko has a great bio
A good Instagram bio, such as Fiko's, shows visitors who you are and why they should follow you. A great bio compels people to take action, whether that means to visit your restaurant, follow your account, or click on a link. Tip: adding your reservation link to in your bio allows people to book a table when they're still mouthwatering from looking at your feed.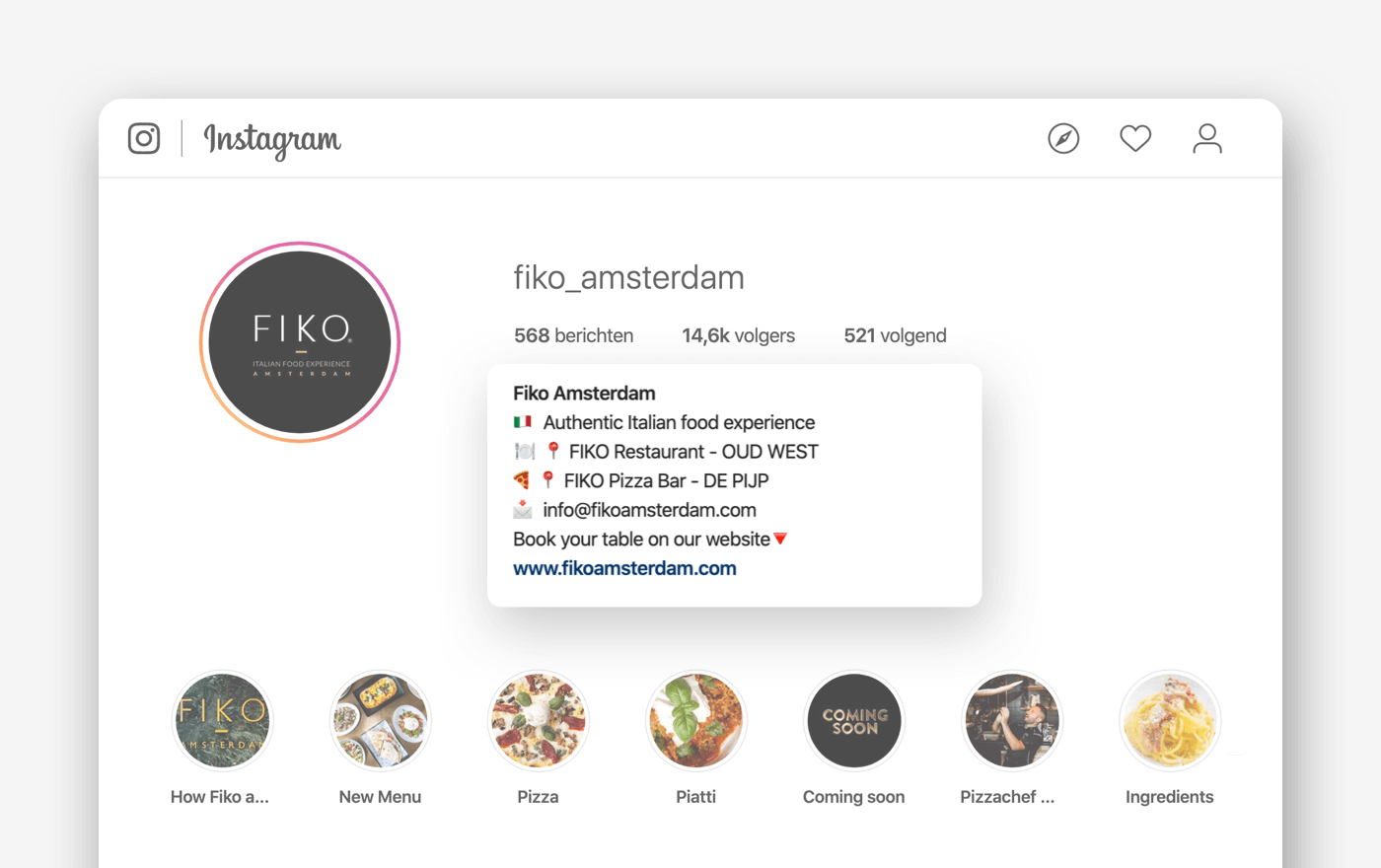 Balthazar's Keuken uses a smartphone
Balthazar's Keuken shows that you don't need the most expensive equipment for fine photos. In this tiny family-owned restaurant, father and son whip up a wonderful three-course menu with the products that they have been supplied that week. On Instagram, too, they work their magic with limited supplies: it's all smartphone photography. Good composition makes all the difference.