There are several reasons why every restaurant should turn their dining experience into a gift voucher. One of the reasons is, that it costs so little effort. Put a gift voucher onto your website and everything else happens by itself. Do you still want to get more out of your vouchers? These tips help you to get started selling more, smarter.
1. Use online gift vouchers alongside paper ones
Paper gift vouchers are nice to offer inside of your restaurant, but online vouchers can be offered 24/7 year-round. You can also easily tweak them according to the season or theme.
2. Offer gift vouchers in a range of values (including above your average check total)
There are always guests that want the most expensive. By offering more expensive gift vouchers, you create more upfront revenue. An expensive all-in package in the shop suddenly also makes all other gift vouchers appear a lot more affordable.
3. Offer events and special menus
Events and special menus add an extra incentive for website visitors to order. These specials are great to push slow days and get them talking about their experience. Have a look at Restaurant Moon, Amsterdam.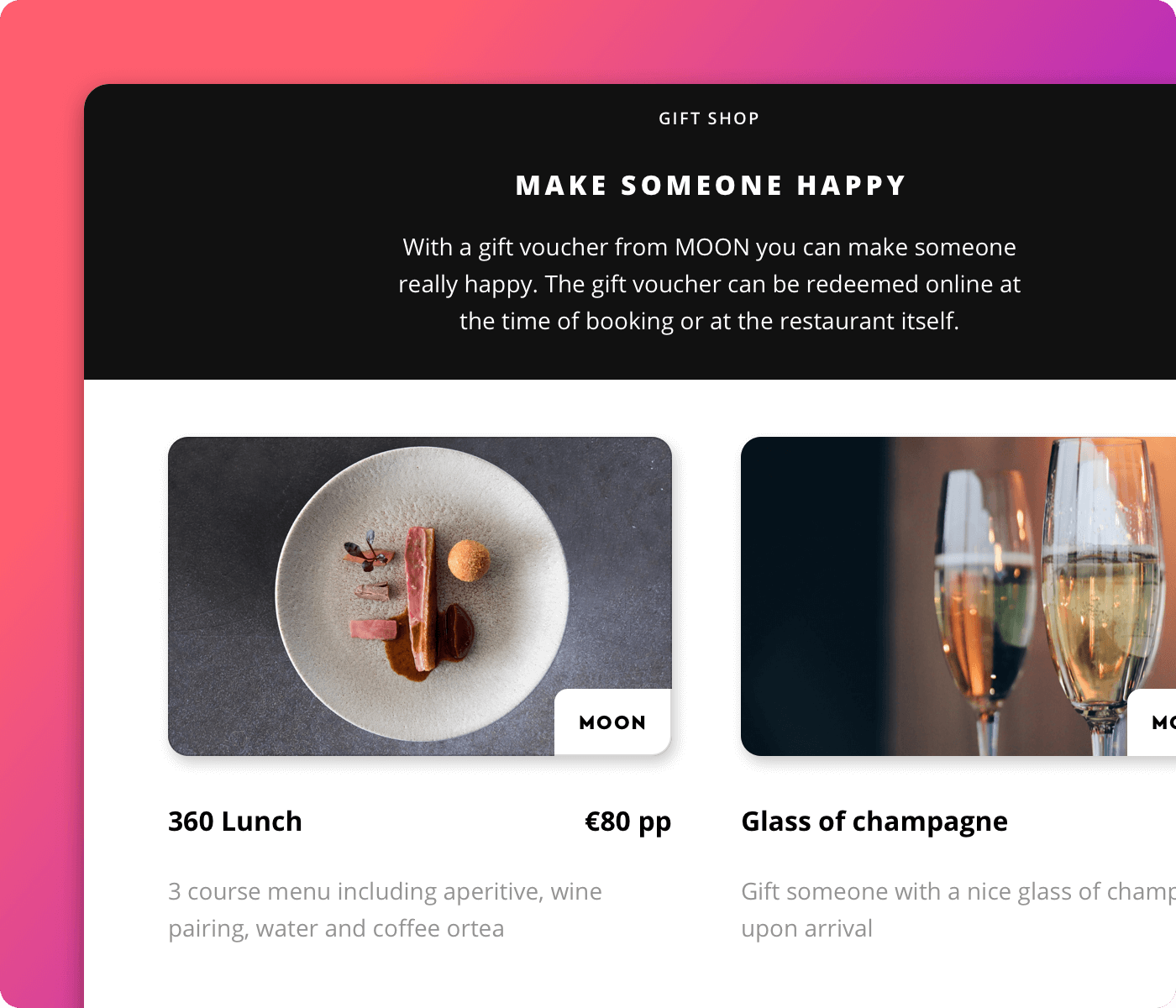 Lunch and upsells are also perfect opportunities for vouchers (Moon).
4. Promote your gift vouchers in a way that suits you
A little promotion never hurt anyone. Or consider adding a tasteful note on your menu. Around national holidays, include gift vouchers in your social media posts and your email marketing, alongside the special menus. Need sample texts? Check out our toolkit to promote your gift vouchers.

One thing you should always do to promote your vouchers: create a dedicated page for gift vouchers on your website. It is not only easier for your guests to find the page, Google will also index your gift voucher page. Have a look at Restaurant MOS, Amsterdam.
5. Reach out to regulars
Never underestimate the power of a personal recommendation. Consider setting up an automated email to promote your gift vouchers after someone has made a couple of bookings. That's how you turn your regulars into ambassadors.