The keyword "takeaway near me" is searched an estimated 117,000 times each month in the UK alone. In Holland, the Dutch equivalent is searched an estimated 36,000 times each month.

Almost all these searchers are looking to get a meal delivered to their home in the near future.

Having your takeaway restaurant appear prominently for a relevant "near me" search (that is one which is made by someone within your area of delivery) is therefore one of the best ways of getting a reliable stream of new customers.

But with the rise of ordering platforms dominating the front page of Google for food delivery related searches, how do you optimise your restaurant for the specific search "takeaway near me"? The following will explain exactly how to do this.
What does Google show when someone searches "takeaway near me"?
When someone searches the term "takeaway near me" they are presented with an interactive Google Map at the top of the page. This map is embedded with nearby takeaway outlets. The profiles of three of these outlets are also listed directly below the map.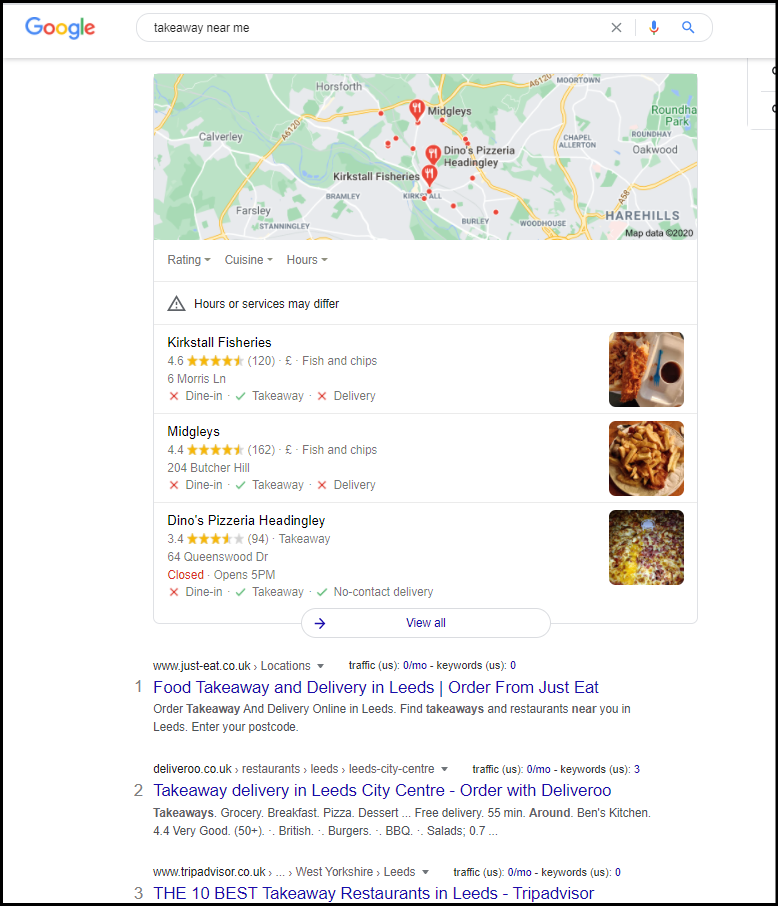 Below the map, we are presented with the "traditional" organic listings, as you would find for the majority of Google searches.
It should be noted that for searches around takeaways and other terms related to food delivery, the front page of the organic listings will be dominated by takeaway platforms and restaurant directories, rather than restaurants itself.
For now, Google gives preference to delivery in the organic rankings, and it is very difficult for an individual restaurant and takeaway to break into this.
You should therefore concentrate your energy on ranking well in the map and restaurant profiles at the top of the page. These both get the most clicks for these types of searches, and are within the reach of even an independent takeaway with no marketing budget.
You can optimise for this Google Map without any technical know-how. The three main factors that determine a takeaway's website ranking in the map for "takeaway near me" are:
The completeness of its Google My Business profile

The completeness and consistencies of its citations across the internet

Their click-through rate in comparison to their competitors for the same search.
Let's look at each of these factors in turn.
Creating a complete Google My Business listing
When Google displays a map with embedded takeaway profiles and a corresponding list of restaurant profiles, the profiles are of the Google My Business pages of the restaurants.
This means that the absolute minimum requirement to appear in the Google map for a "near me" search is to have a Google My Business listing.
Although having a Google My Business listing is a minimum requirement to rank in the Google Map, the search engine gives preference to listings that are fully filled out. This is because the search engine wants to give its users the most informative and useful results possible.
A fully filled out Google My Business profile will have more useful information to a searcher than an incomplete one, so if everything else is equal, Google will give preference to a completed listing.
There are a huge number of fields for you to fill out when completing your Google My Business profile. Try to fill out all the fields that you can. The most important fields for a takeaway restaurant are:
Your address and phone number

Your area of service (this will affect who falls into the "near me" catchment area)

A link to your menu

Photos of your food and premises

Your hours of operation

Attributes that describe what type of service you offer (eat-in, takeaway etc.)

A link to any ordering or

reservation platforms

that you use

Any

alterations to your operations

caused by Covid-19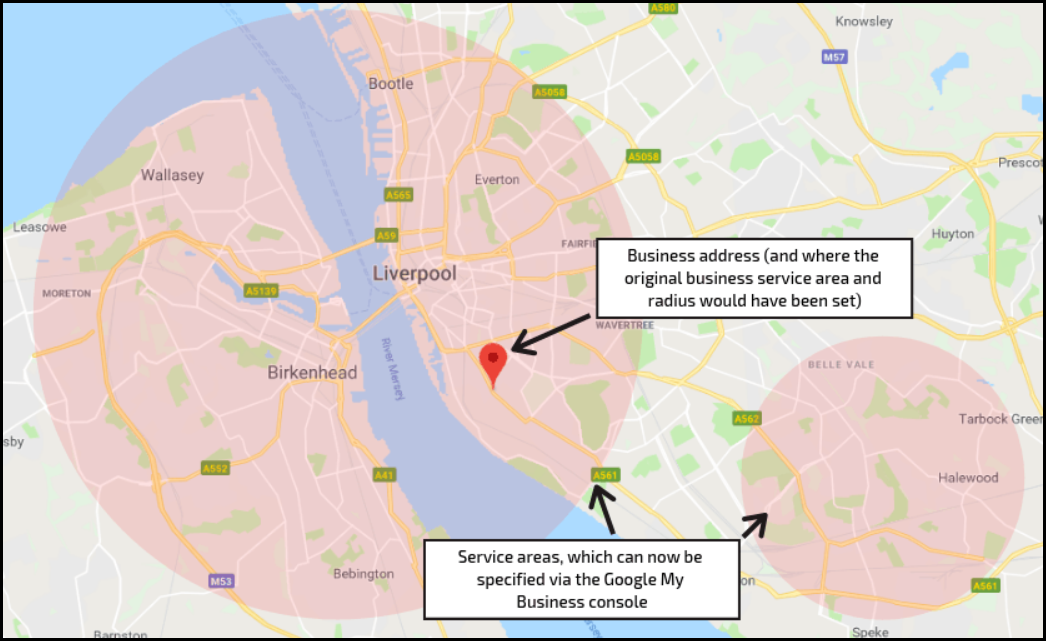 New fields pop up regularly on Google My Business, so make sure that you check in on your profile and keep it updated.
Having extensive and consistent citations of your takeaway
As well as having a complete Google My Business profile for your takeaway, Google also looks to citations of your takeaway across the internet when deciding what it should rank for a "near me"-suffixed search.
Citations
Citations refer to instances where your takeaway's name, address and phone number (NAP) are listed together.
Google uses these citations, along with your Google My Business listing, to confirm the identity and location of your business.
Given that the search engine does not want to show inaccurate results, the more citations that it has that confirm the identity and location of your business, the more confident it is in displaying your business for a "near me" search.
You can build out your citations by using directory sites. Directories will ask you to list your NAP, often along with a description of your establishment.
The most important point to remember when you build out your citations is to keep your name, address and phone number consistent across all directories. Google is not yet sophisticated enough to see "46 Baker Street" and "46 Baker St." as the same location. Even slight inconsistencies can cause confusion to Google as to where your takeaway is located, and as a result your location-based rankings could suffer.
You can check your existing citations by Googling the following:
"[your takeaway restaurant"} -site:yourdomain
So say your takeaway restaurant is called Tommy's Pizza, with the domain www.tommyspizza.com, you would Google: "Tommy's Pizza" -site:www.tommyspizza.com.
This will bring up all mentions of your takeaway, excluding one's on your own site.
Check through these manually, and see what they list as your address and phone number. For any instances that are incorrect (even slightly so), you should contact the website owner and ask if their citations can be changed.
Descriptions
Conversely, if directories ask you to give a description of your business in your listing, you should keep these unique. This is because Google will not index content that is completely duplicated.
Therefore if your directory bio is repeatedly copied and pasted from your website's content, Google will not index your newer listings and they will not count as a citation.
Maximising the click-through rate of your listing
The final main factor that Google considers when choosing who to give prominence to in the local map is the click-through rate (CTR) of the available listings.
CTR refers to the amount of clicks that a listing gets compared to its competitors for a specific search.
Again, the reason for CTR being a factor boils down to Google wanting to display the best results for a user's search. If one or two certain results are consistently being clicked on more often than others for a search, then Google assumes that these results are the best ones for the search in question.
Reviews
The most effective way to increase the click-through rate of your takeaway's listing is to collect a high number of positive Google reviews. People are more likely to click on restaurants with a high number of positive reviews than ones that do not.
As these reviews are displayed on the map listing for a "near me" search, having lots of reviews with a high average rating should entice more clicks.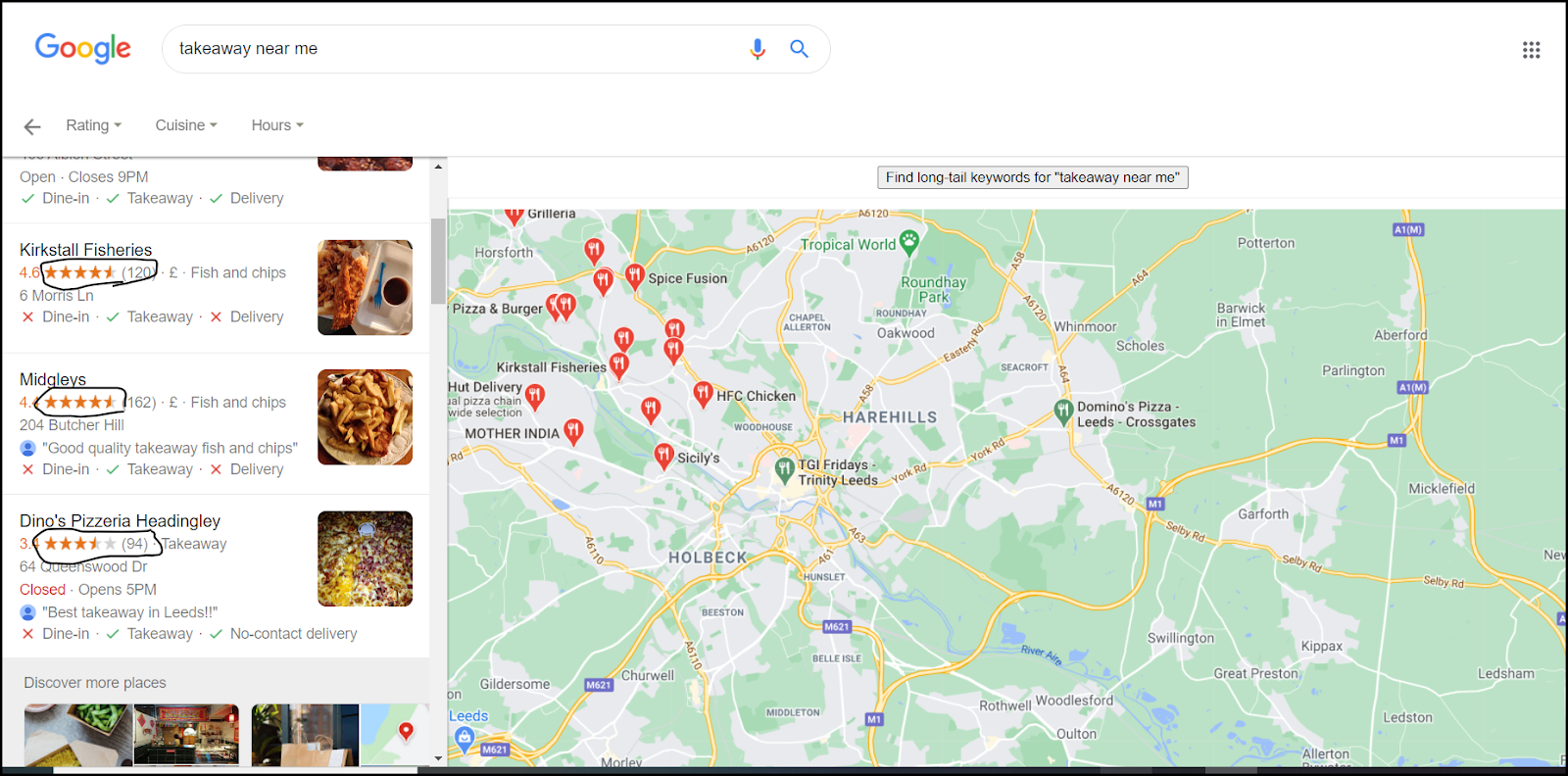 Photos
Again, fully filling out your Google My Business listing, and having high-quality photographs of your food on your listing should also increase your click-through rate, gradually making you more visible on the Google Map.
Wrapping up
With the rise of delivery platforms taking up most of the first page of the organic rankings on Google, achieving prominence for your most important keywords such as "takeaway near me" now involves achieving prominence in the Google Map.
Optimising for the Google Map really is as simple as completing your Google My Business listing, building out consistent citations, and maximising your click-through rate.
Doing these won't get you to the top of the map tomorrow, but over time their effects should be felt. It's well worth monitoring the number of clicks that your website gets for these types of searches using Google Search Console to keep track of progress.

This post was written by Oli Graham, the Marketing Manager for copywriting agency RightlyWritten.