Are you going to set up pick-up and delivery? It is good to think about everything that is involved. What can you arrange yourself and what would work better with a delivery partner?
Are you going to set up pick-up and delivery? It is good to think about everything that is involved. What can you arrange yourself and what would work better with a delivery partner?
Delivery: set up yourself versus a delivery platform
Do you choose to do your own delivery? Then you are actually setting up a new company. You need a business model, you have to hire delivery people, you have to arrange transportation and you have to have a good ordering app, and so on. Possible, but it is quite a challenge. You can also choose to team up with a delivery partner who has been doing nothing but bringing meals from A to B for years and has an army of delivery staff ready, plus an online platform that gives your restaurant huge visibility. Moreover, you can start immediately.
Join different platforms
There are several large delivery platforms. They all work under different conditions and in a different area, but they are all about the same thing. If you are just starting out, the more, the better. All platforms offer you an exclusivity discount, but this does not outweigh the benefits of working with multiple platforms. Set them up one by one and then dismantle where necessary.
More platforms = wide reach
Most people have a fixed order app that they use, or two at most. Can't they find you there? Then they order from another. So it is important to be widely visible.
More platforms = long reach
Delivery platforms are targeting a different target group. If you are on multiple platforms, you are visible to a wider audience.
More platforms = good comparison
If you work with more than one platform, you can compare the service, the order size, the costs and the other conditions. If you're not happy with one of the platforms over time, get it out of the mix.
Tip: negotiate contract terms
Negotiate tailor-made deals and ask for hard information about delivery times and customer satisfaction. Competition in the delivery service market is fierce. That gives you some leeway on contract terms.
Choosing a delivery platform?
We have listed the characteristics of the three largest platforms in the Netherlands in this overview article.
Pick-up: you can do this yourself
You can easily organize your collection service yourself. Put a takeaway shop on your own website. Choose a tool that allows guests to pay safely in advance, which allows guests to order a day in advance and which matches the appearance of your restaurant.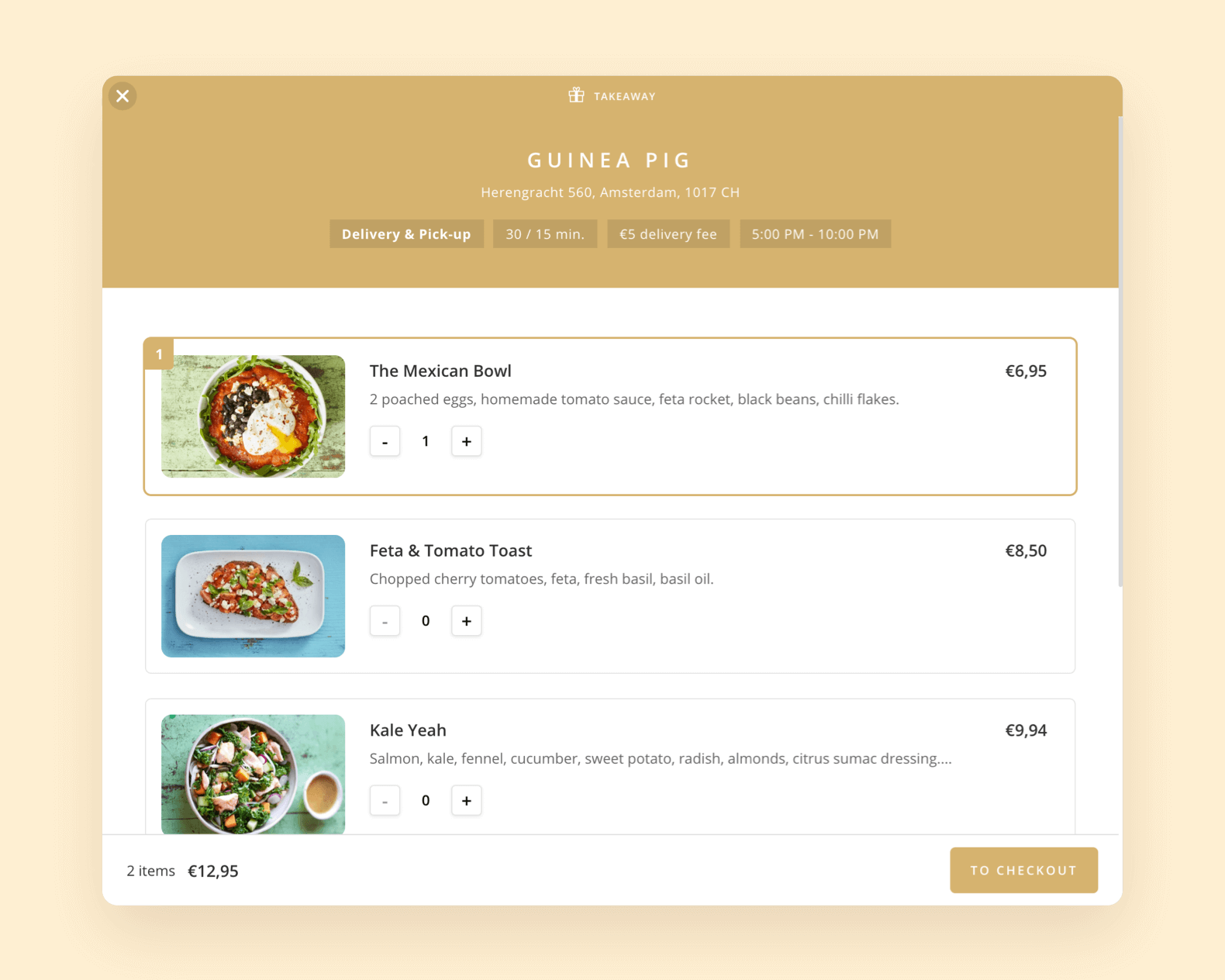 Having your own take-away shop saves you the commission that a delivery platform charges you per order and ensures that you collect the information from your guests, such as email addresses. This allows you to set up your marketing and make your business even more successful. Delivery platforms also collect that information, but don't share it with you.
Combining with a delivery platform is possible
You can also choose to offer your pick-up via your own website and via an order platform. Logistically you don't need such a platform, but you can reach many new guests (= more orders) and take advantage of the billboard effect, where guests come across your restaurant on such a platform, then visit your website and then order directly from you.
Important: don't forget your marketing!
The greater your reach, the more orders. If you haven't started collecting email addresses yet, start now. In this article you can read how to inform your guests quickly and well via your social media, your newsletter and your website. Including sample texts.