We are in the middle of a massive shift in the way guests discover and interact with restaurants. In this article we introduce five new standards for restaurants to rise up to, building valuable guest relationships and boosting profitability long-term.
But first, to predict the future, one has to understand something of the recent past. It's been well over 25 years since OpenTable was the first to bring restaurant reservations online. And in the years since, consumer platforms like OpenTable and TheFork became stronger and stronger.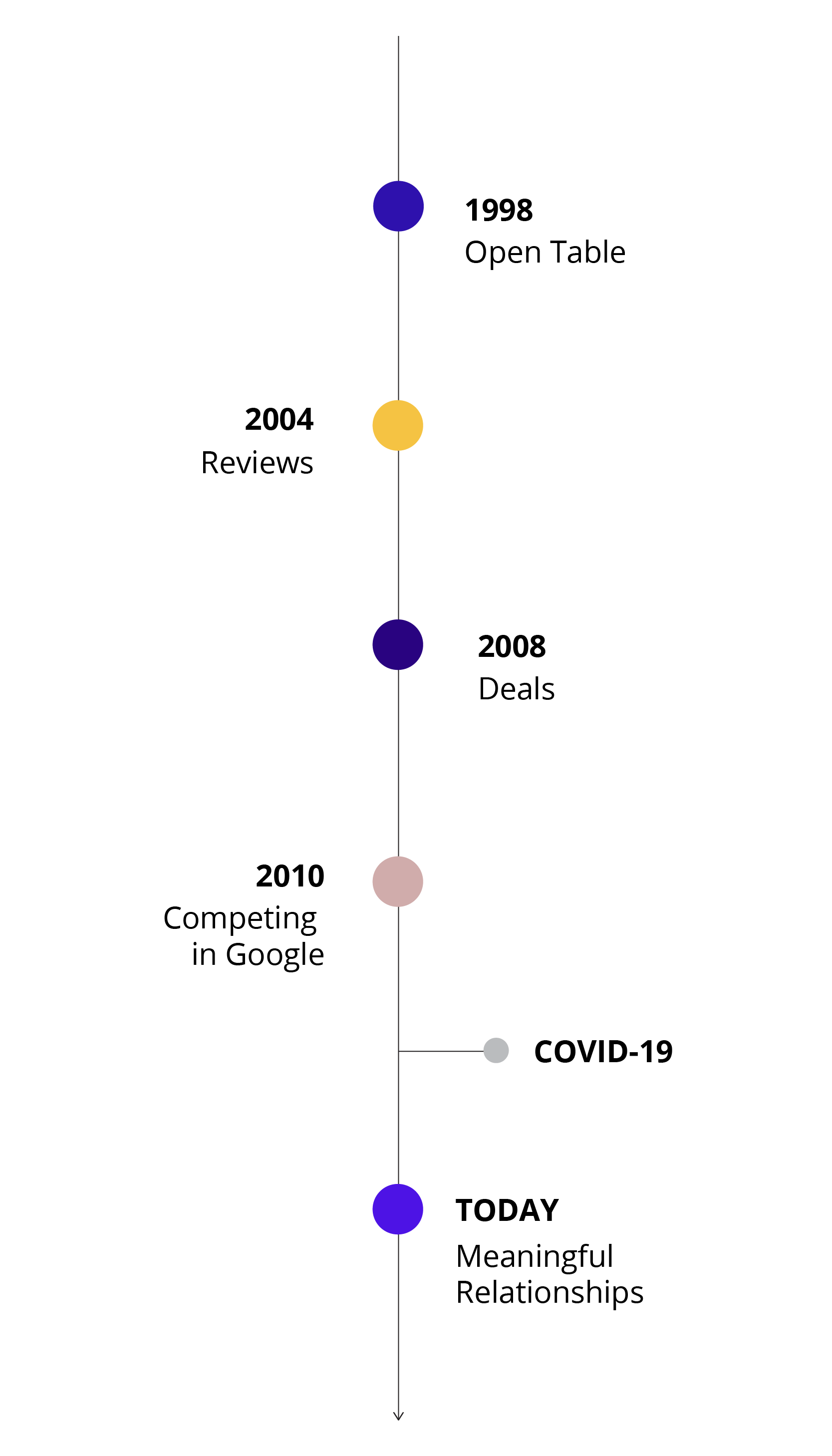 In the early days consumer platforms had three advantages:
Searching availability across multiple restaurants;

Simple online booking experience;

Loyalty to the platform (loyalty points were given).
For restaurant owners the loyalty aspect was worrying, but these platforms also helped bring in new guests. At first, the number of external reservations and restaurants' costs (a commission per reservation) was still balanced with their own free channels.

By 2004 consumer platforms started adding reviews on their restaurant pages. User-generated content was the new hype and drove massive traffic to the platform, while putting severe pressure on restaurants.

Then in 2008, Groupon launched and opened the market for yet another new online phenomenon: dinner deals. The restaurant industry flooded with deal websites, and restaurants got stuffed with guests who were hooked to hefty discounts.
"Consumer platforms that once helped restaurants were now stealing their traffic"
While reviews and discounts have been massive threats for restaurants, the worst was yet to come. Around 2010, reservation platforms discovered they could outperform restaurants (their own paying customers) in Google search. The consumer platforms that once helped restaurants (at least a little bit) were now stealing their traffic and competing directly with restaurants, and the odds were against them. Because nearly all restaurant visits start via a Google search, restaurant owners generally don't have the knowledge and time to optimize their website. Making it relatively easy for platforms to beat restaurants in Google Search results.

Unfortunately, up until today, there are still many restaurants that don't own their Google Search results. If your restaurant is still on a consumer platform, at least make sure to reclaim these 5 spots from consumer platforms in your Google Search results.
New, creative ways to serve guests
While consumer platforms became more powerful over the last years and were aiming for a monopoly, independent reservation systems offered an alternative. Restaurants pay a fair price for reservation technology and -generally- own their branding and guest data. While most restaurateurs believe that independent reservations systems are a better solution long term, it's hard to take the risk of losing reservations short-term and leave a consumer platform.

We believe that to be a reasonable doubt, because up until now:
Consumer platforms were still pretty powerful;

Reservation systems only offer an alternative, not a substitute.
Now, one year into the pandemic, we can see how Covid will permanently change the restaurant industry. The pandemic presents a unique chance for restaurants to find new, creative ways to serve guests. This article introduces five new standards for restaurants to rise up to, building valuable guest relationships and boosting profitability long-term.
1. Sell the experience
Covid has shown that restaurants are becoming genuine boutique brands. Guests behave like fans, and they want to interact with you, identify with you, and buy from you 24/7.
When the first lockdown hit, guests massively started buying

gift vouchers

to support their favorite local restaurants;





During the lockdown, guests have spent their money on

exclusive takeaway

(sometimes including experience enhancing tableware, Spotify playlists, and personal videos from the chef) and other kinds of deli products from restaurants like homemade sauces, freshly baked bread and even merchandise;





After the lockdown, we've seen a massive

variety in

new types of reservations

like, grand re-opening events, early-bird deals, exclusive chef's tables, fixed menus, full experience menus (including wine pairings), etc.
If you start seeing restaurants as a brand and change the perspective from selling reservations to selling brand experiences, a wide range of opportunities opens up to create exceptional relationships with guests and generate more revenue.
2. Rethink time and space
Social distancing guidelines are likely to stick around for quite some time, causing many restaurants to make permanent changes to their opening hours and dining spaces.
Opening hours & availability
We see two main changes in opening hours:
Due to regulations and curfews, dinner shifts now start earlier (sometimes just 30 or 60 minutes, which creates enough space for a second shift).

To fill the lost revenues gap, restaurants are now open on previously closed days (often Sundays and Mondays), and sometimes even holidays.



It's interesting to see the element of time and availability being stretched. Though we do encourage restaurants to optimize revenue by diving into their data and keep experimenting with their opening hours, it also provides quite some challenges not to be underestimated; like staffing, personal stress levels, and the stamina to just keep going.

Space
Depending on the physical space, segment, and location, restaurants face different challenges and opportunities. Therefore we see a wide variety of experiments with (inside and outside) areas.
Some examples:
Fewer bar seats, more room for takeaway

Fewer open seatings, more shielded areas

Fewer group tables, more tables of two and four

And definitely, more outdoor tables, if you have the chance
Outdoor dining is arguably the most significant factor in guests returning to restaurants. If you're lucky enough to own a terrace or garden, it will be your best bet to recover from lost revenue. If you don't have the opportunity yet for outdoor dining, we hope government regulations will allow you to turn that parking lot or grassy area into a cozy outdoor dining space (and as the weather cools, you're allowed to find creative ways to maintain outdoor dining for as long as possible).
3. Working in shifts is not a luxury
Sometimes great, yet impactful ideas need a crisis to breakthrough.
Driven by a maximum number of guests allowed in restaurants after the first lockdown, restaurateurs discovered that working in shifts was not as bad as they thought it would be. Traditionally, double shifts have a bad reputation. Especially in the fine-dining segment, a fixed end time is perceived as inhospitable and a restaurant atmosphere killer (hurdles of people walking out after the first shift, and in for the second seriously impacts a restaurants' vibe).
But as it turns out, it's not that black or white.
"Technology makes it easy to double tables more organically"
For starters, it has become apparent that the perspective of guests has changed significantly. At least most of us now understand that restaurants need to optimize their revenue on busy nights. Key here is communication and expectation management. Explain which days of the week you work with double shifts (and which days are still open for regular seatings), and clearly communicate an end time to guests who book the first shift.
Secondly, there's more than one way to work in shifts. Yes, you can go for the "all in, and all out" method, but technology makes it easy to double tables more organically. You can set different start times, work with a 'bridging shift' to connect the first en second shift, or you can even let go of control and automatically fill the gaps in your schedule with Squeeze.
Working in shifts is not a luxury anymore for the most popular restaurants; it's necessary to optimize your revenue on the nights that the demand for your restaurants is at its peak.
And if you still value your guests' possible negative opinion over your revenue, comfort yourself with the idea that with double shifts, you can make guests happy. Instead of assuming this could be egoistic or arrogant towards your guest, we witness it's the opposite and very thoughtful to offer more guests a chance in times of scarcity.
And for those guests who don't understand or don't want to, offer them the late shift or invite them to come in on a weekday and dine all evening long.
4. No more no-shows
The show must go on, but the no-show must go.

Ever since restaurant Alinea started selling tickets in 2014 to avoid no-shows, we've been a fan and inspired to fight the problem ourselves. Obviously, it is a huge misconception to believe it's OK not to show up for a reservation. Restaurants are the biggest live entertainment industry in the world, and they deserve to know who's coming for the evening show. So selling tickets isn't that strange, right? Especially if you can get your money refunded when you cancel in advance.

Formitable introduced prepaid reservations in The Netherlands and Belgium in 2017, and slowly but certainly, more restaurateurs got convinced. First on weekends, for group reservations and special events, later on weekdays too. We advise restaurateurs to choose a setup that feels right for them, not only when it comes to which days and times to ask for a prepayment, but also for the amount and the refund period (the period guests can cancel their reservation and automatically get their money back).

Even though we are an advocate of prepayments (it's simply the cleanest deal between a buyer and a seller), we offer restaurants different ways to prevent costly no-shows. Because in the end, it doesn't matter how you do it, as long as we take Covid as the ultimate opportunity to beat no-shows at restaurants.
5. Own your marketing
When the first lockdown hit us, restaurants immediately became aware of how much they knew and didn't know about marketing. While Formitable is built 100% DIY (Do It Yourself — meaning you actually can do everything yourself), marketing efforts like putting a message on your website and sending an email campaign to guests, weren't at the fingertips of our users.

Restaurants had to become marketing experts within just a few months.

These months of self-education were challenging for our team and our users, but it's a huge gain long term. Because the foundation for growing a restaurant successfully with marketing is to let passionate people control the buttons. That means you, someone from your team, or someone who truly understands what you do and whom you trust in leveraging your brand's value (this could be a freelancer, agency, or just a friend of the restaurant).
At Formitable, we don't believe in middlemen and consumer platforms who are not authentically passionate about your restaurant, who will commoditize your unique brand into the lowest common denominator of what they stand for, and plain simple are just in it for the money. We believe there's no one size fits all restaurant marketing solution, because every restaurant has its challenges and unique story to tell (and it might surprise you how many of your guests want to hear that).
With the right team, tools and know-how, you can do a lot to strengthen your guest relationships and online brand. Own your marketing, and you own the future growth of your restaurant.
Conclusion
Restaurants are becoming genuine boutique brands, and guests are behaving like fans. They want to interact with you, identify with you and buy from you 24/7. Reservations are just the beginning.

Optimize revenue by experimenting with opening hours and table plans.

Working in shifts is not a luxury anymore for the most popular restaurants; it's necessary to optimize your revenue on the nights that the demand for your restaurants is at its peak.

No-shows must go.

The quickest way to grow your restaurant is to own your marketing. Let the passionate people control the buttons. That means you, someone from your team, or someone who truly understands what you do and can leverage your brand's value.

Restaurants can't stay stagnant. They must always be looking for ways to innovate. Rise up and learn from Covid to build valuable guest relationships and make more profit in the future.
Ready for take-off?