Formitable Product Updates
The latest product news and improvements of Formitable. Because just like you, we always strive to improve the experience that we deliver.
Promotion codes (v3.1.5)
11-05-2021

🏷️ Grow your audience with promo codes (v3.1.5)
Read how to set up promotion codes here.
Want to promote your tickets, takeaway or gift vouchers? With the new promotion codes function you can create discount and give-away codes, communicate and promote them, view whether guests used a code, and add codes to a reservation manually. You can create three types of promotion codes:
A code with an amount (for example, €5 discount on every takeaway order above €50).

A code with a percentage (for example, 10% discount on your bill if you come for lunch on a Monday).

A code without amount or percentage (for example, a free glass of champagne for bookings before 6 PM).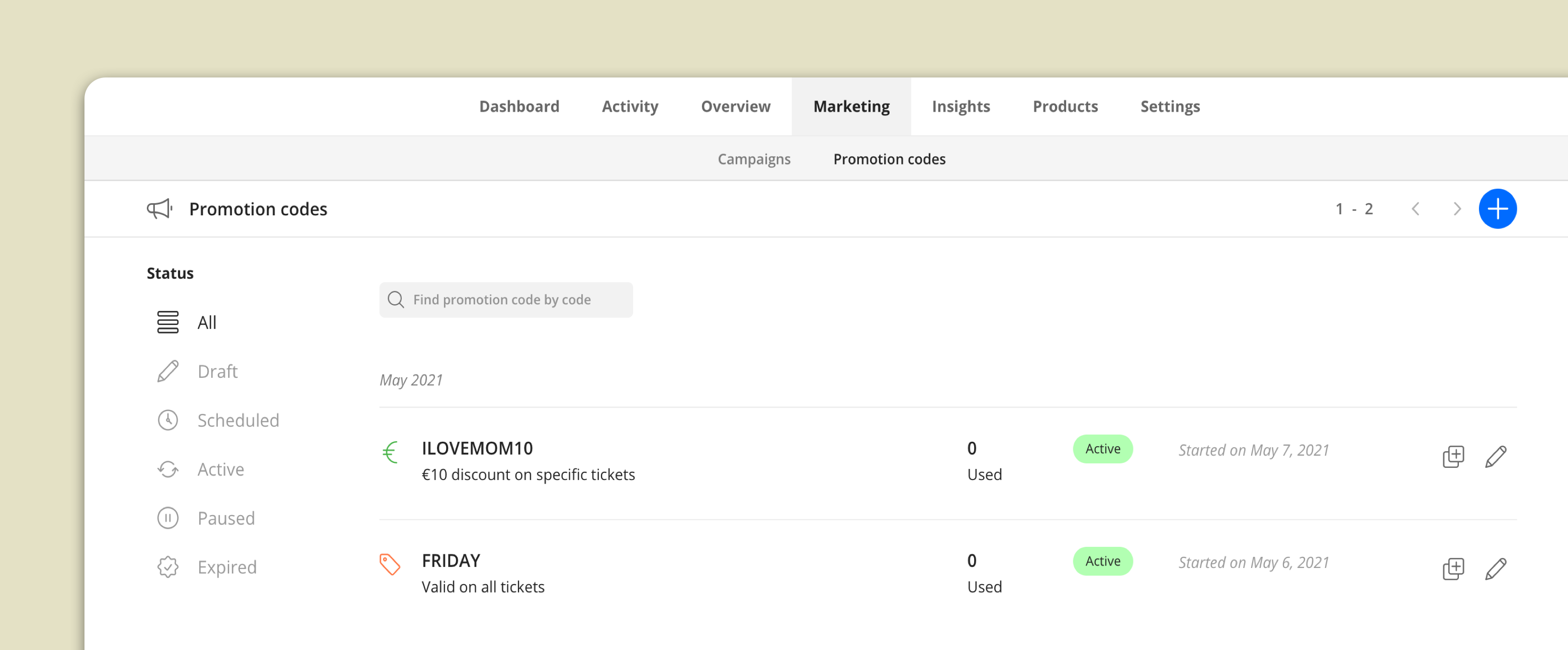 Other possibilities with promotion codes:
Keep track of your active promotion codes and see how often they are used under Marketing > Promotion codes.

Run a campaign by setting a start date and end date for a promotion code.

Enable or disable promotion codes, so you're able to restart a previous campaign in seconds.

Create scarcity by limiting how often a promotion code can be used.

Create unique promotion codes by setting the limit of a promotion code to 1.

Promote your promotion codes in an email campaign by adding it to a campaign as a content block.
⬇️ Product categories at the top of your takeaway widget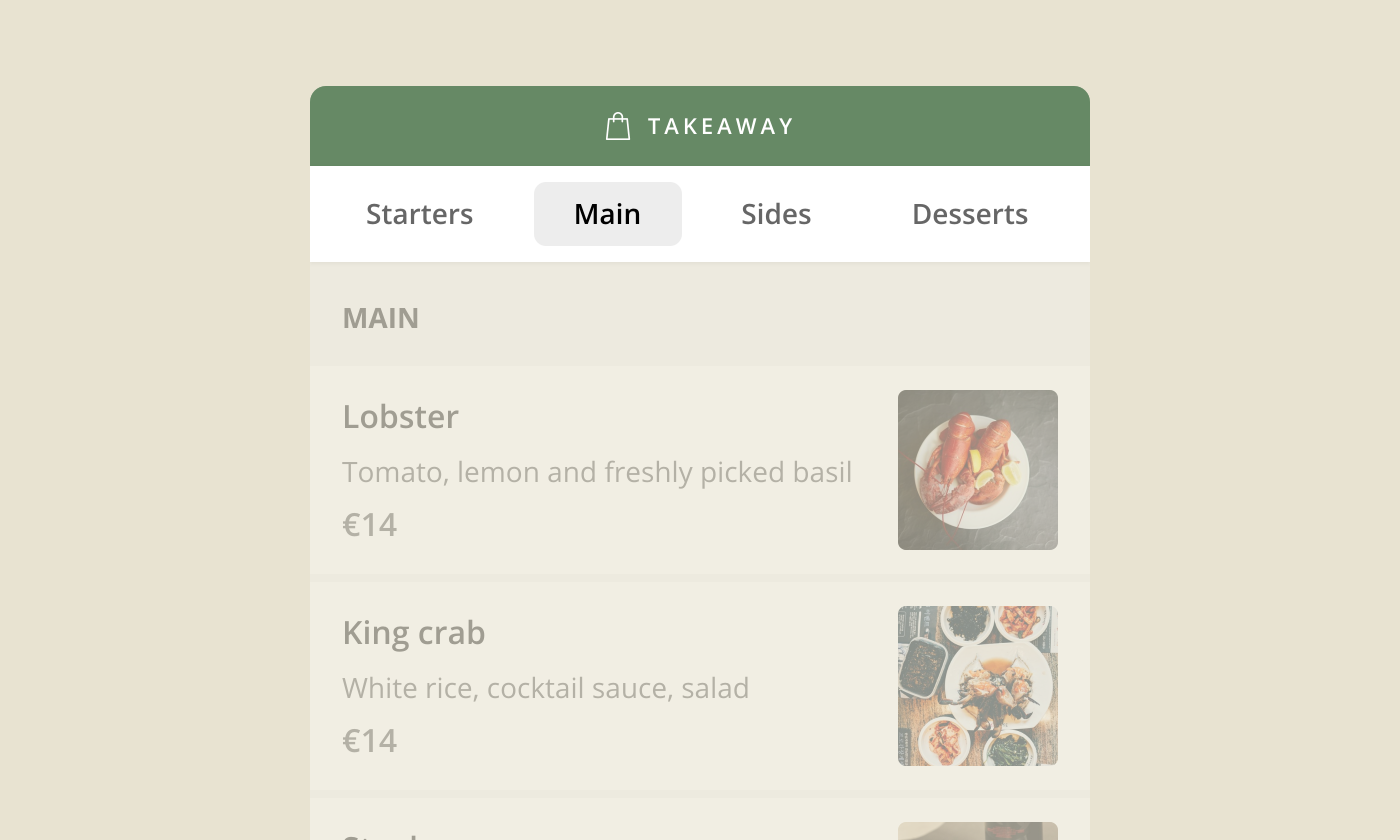 Let guests navigate through your takeaway menu effortlessly. From now on, your takeaway widget will show your product categories at the top. They can quickly navigate to the section they want to order from by clicking on one of the categories.
Other improvements & changes
MEWS integration:

* Made sure that products that are added to a booking in MEWS after someone has checked-in into the hotel also get synced with Formitable.
* Made sure that products that are set on Per Person Per Night in MEWS will be added to the right day in Formitable.

Lightspeed POS:

* Added Promotion Code 'support' by re-adding the discounted amount back to the payments that get sent to Lightspeed.
* Fixed bug where orders where the address was 25 characters or longer would not go through to Lightspeed.

Messages that are cut off (and therefore not readable) in Activity will now expand if you click on them.
Solved an issue where a shift created on the last day of the week would show up in the 4th week of the month instead of the 5th week.
Solved an issue

where the booking duration would change when opening it from the overview.
Stripe no-show fee (v3.1.4)
20-04-2021
❌ Prevent no-shows by saving credit card details and charging it in case of a no-show. (v3.1.4)
💳 From now on, you can set a 'no-show fee' on your tickets. You can decide how much you want to charge in case of a no-show. If you activate this for a ticket, a guest has to give their credit card details when making a booking. If they don't show up, without letting you know, you can charge the no-show fee on the credit card of the guest and flag them as no-show. This feature is currently still in closed beta. If you're interested in preventing no-shows with Stripe, please let our support team know via the chat.
👩‍👩‍👦‍👦 You can charge a whole group or a part of a group. You can decide how many people you want to charge and issue the charge yourself directly from Formitable.
Other improvements & changes
Extended the availability window in Reserve with Google up to 90 days
Fixed bug where, when a new Table Group was created and attached to a table, you would have to attach it again for it to stay.

Fixed bug where it seemed like no payment method got linked during Boarding after paying €0,01.
Stripe, Mews & Formitable in French & German (v3.1.3)
02-04-2021
🤝 Integrations with Stripe & MEWS
We are now integrated with a new payment service provider and property management system!

💳Use Stripe to handle all the online payments of your tickets, takeaway and giftvouchers. This integration is currently still in closed beta. If you're interested in starting with Stripe, please let our support team know via the chat.
Read more about the Stripe integration here.
🏨Use the MEWS integration to automatically book tables in your restaurant for guests that book certain packages and synchronize guest data and notes between MEWS and Formitable.
Read more about the MEWS integration here.
🇫🇷🇩🇪 Formitable in French & German
From now on, you can change the interface of Formitable into French or German. You can change the language for your staff members in the user settings.
Other improvements & changes
If no pre-payment is asked for a Ticket in the Widget, the message 'no deposit required' is removed

Renamed '

Product availability' to 'Product exceptions' in the Takeaway settings.

Added multiple new functions to the reservation import function for new restaurants that are starting with Formitable.

Fixed a bug where upgrading your subscription in a Shift settings window won't enable new features (like Waitlist).
Fixed a bug where a Review in the Notifications would have 'Bounce' as title.
Waitlist, Mail segments & more (v.3.1.2)
16-03-2021
⏳ Avoid open spots with Waitlist
You don't have to deal with empty tables on popular shifts. Fill your waitlist online and (automatically or manually) notify guests when a spot opens up. You can now set up a waitlist per shift, and prepare your restaurant for a great re-opening.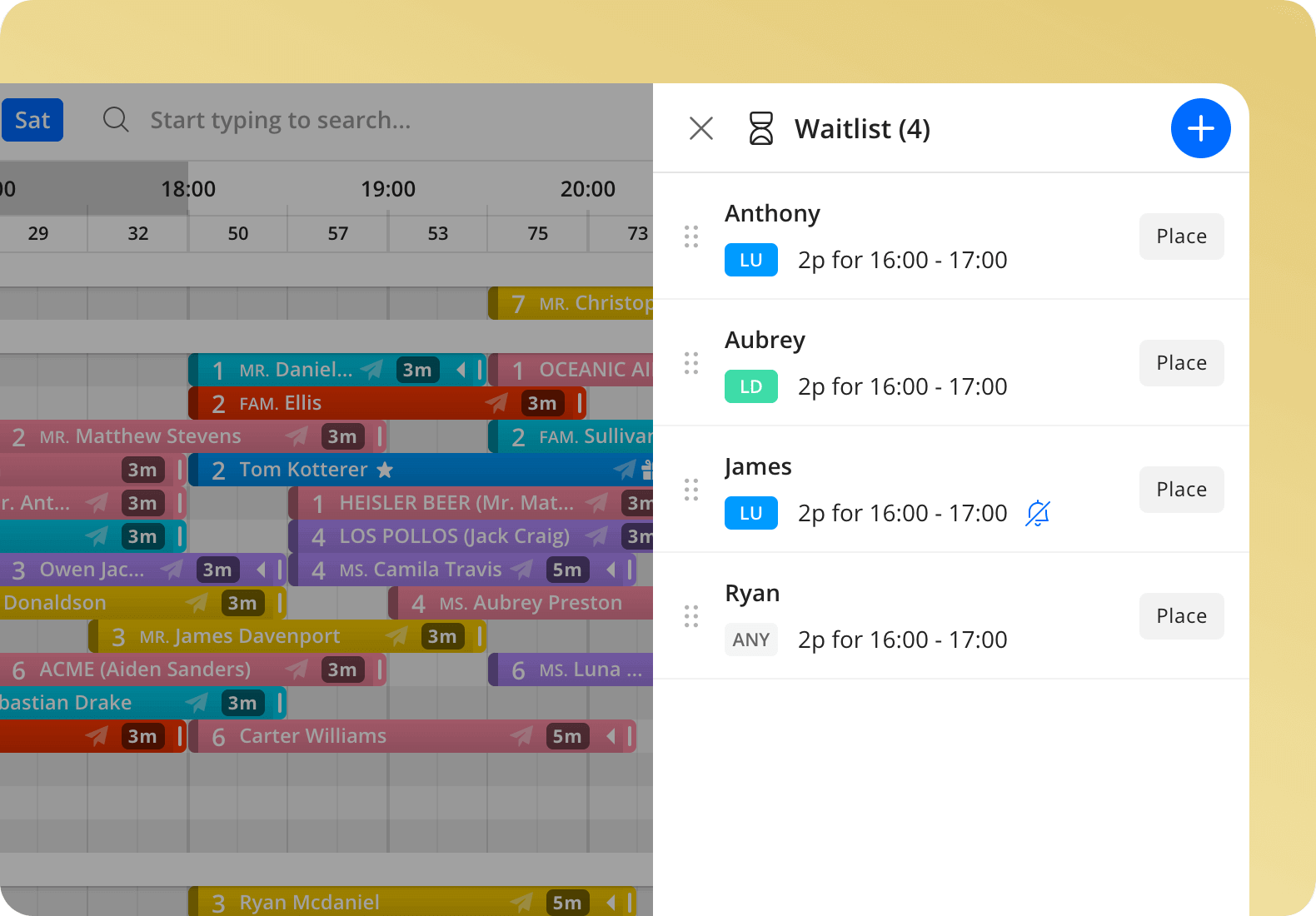 🎯 Make e-mail campaigns more personal with segments
Ever thought about sending a specific newsletter just to your takeaway guests, informing them about your new menu? When it comes to communicating with your guests one size does not fit all. The more tailored your e-mail campaigns are, the better your results will be! Relevant content is not only opened more frequently but the chances are also higher that guests will act upon your call-to-action.
To help you send the right newsletter to the right guests, you can now use segments to pinpoint your audience. With segmentation, you are able to send e-mail campaigns to specific groups of guests that:
… haven't visited your restaurant in the last 6 months or longer

… have purchased one or more gift vouchers

… have made one or more reservations in the past

… have ordered one or more takeaways

Or a combination of the above
Start segmenting your mail campaign audience for better results >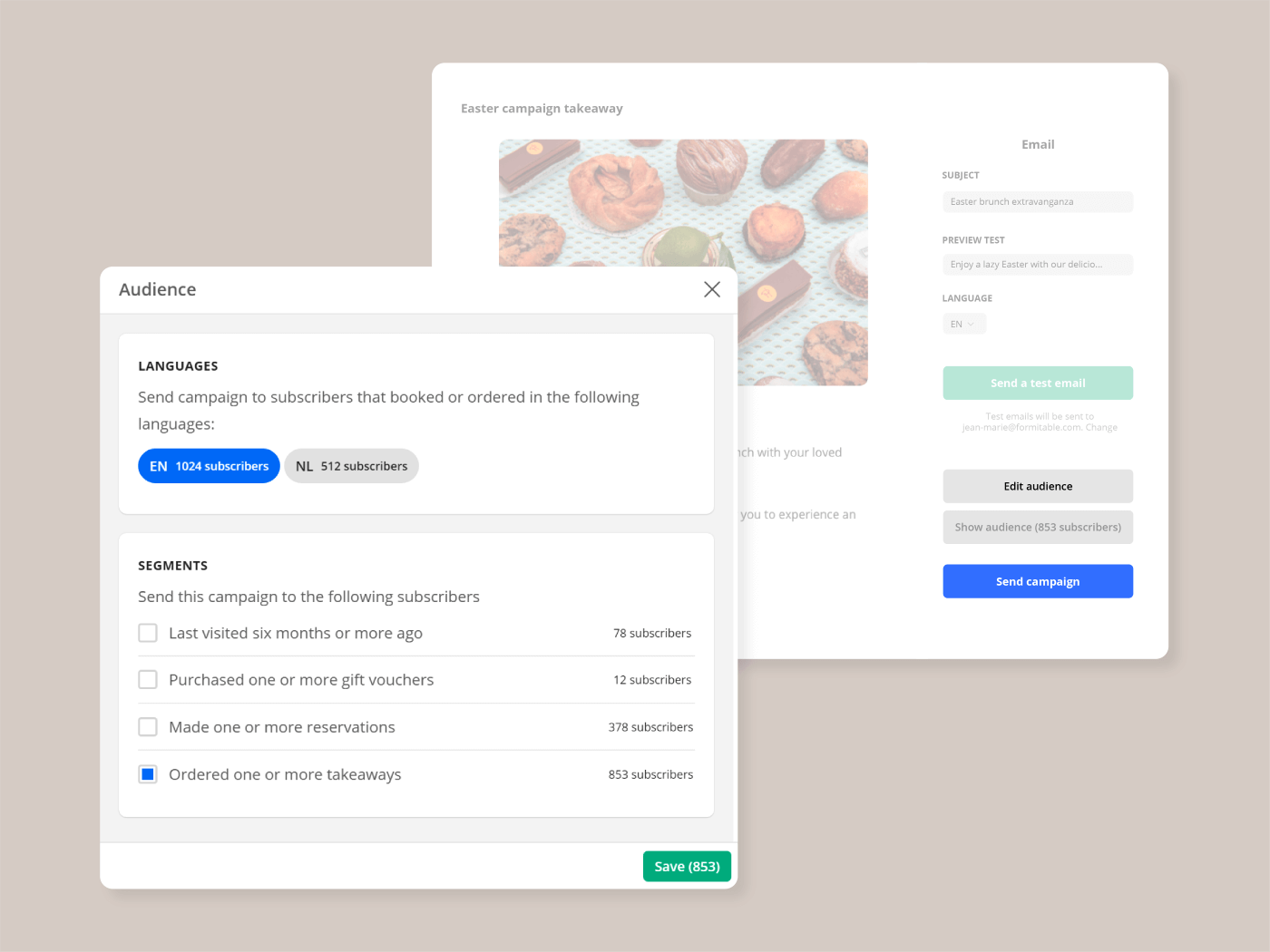 🚦 Use Channel Manager to fully control your booking channels
Are you using different booking partners like SocialDeal, Heerlijk, or Reserve with Google to get more reservations? You can now manage which shifts are available for each booking partner individually. How can you use this:
Show terrace and last-minute reservations only through your website widget?

Show a prepaid early bird special through Heerlijk

Ensure all bookings from Reserve with Google are placed a day in advance

Send a special deal for your VIPs in your newsletter that can't be booked any other way
The new Channel Manager gives you full control over your availability!
Change the availability of shifts for your booking channel >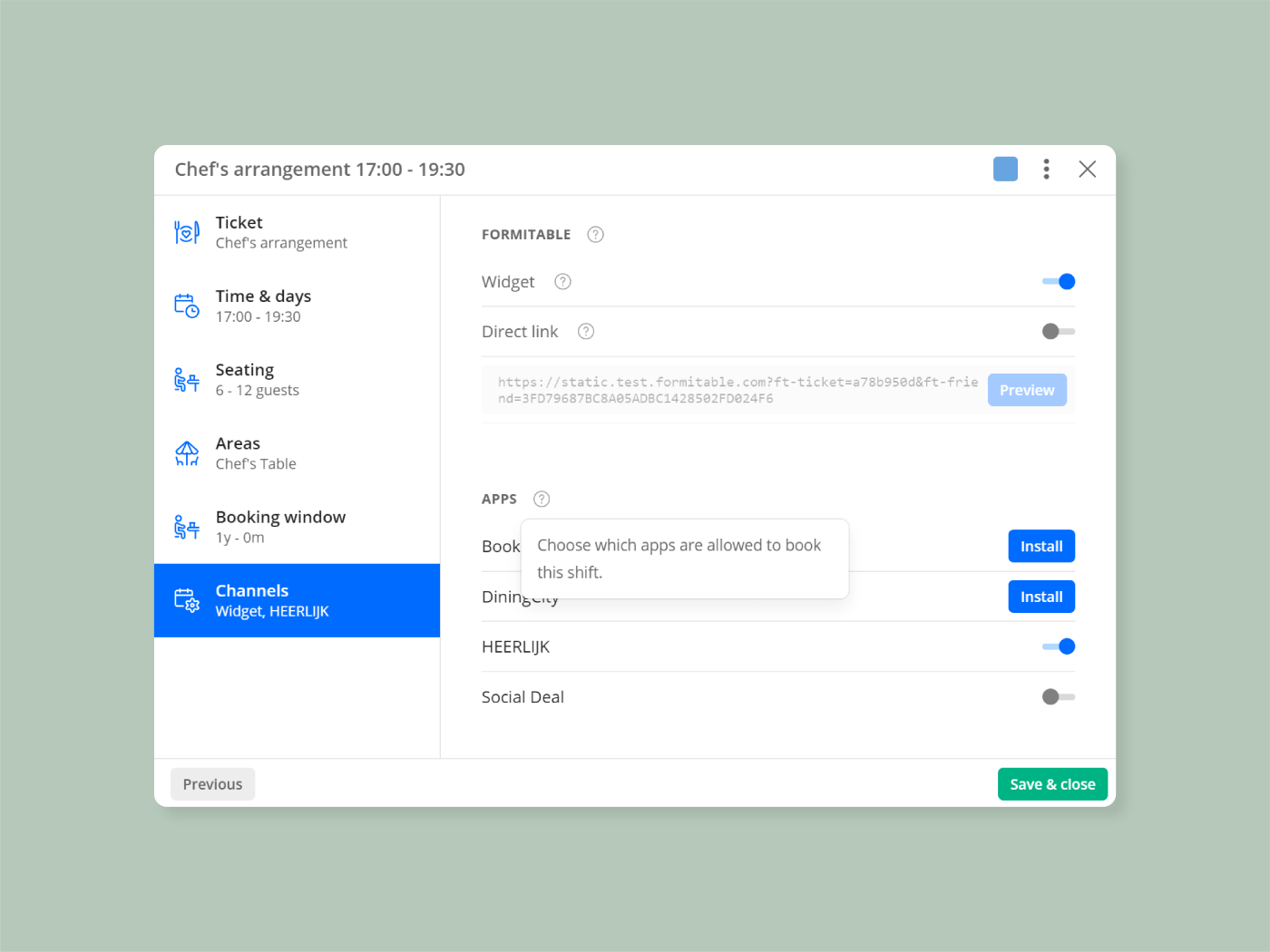 Other improvements & changes
Added the possibility to send reminder emails to guests for their reservations up to 30 days in advance.

Added a duplicate button for Google Post campaigns allowing you to quickly make a copy of an earlier Google Post.

Added clearer instructions on how to import newsletter subscribers for mail campaigns.

Solved an issue where special characters (like é) were not shown correctly on Apple Mail on some iPhone models.

Solved an issue where in some rare cases takeaway orders for the same day could not be placed shortly after midnight

Users that receive mails from the

Notify Me app

for several different restaurants are now guided to the specific restaurant when clicking the link in the mail.

Fixed a bug where in some cases a previous reservation would be opened instead of the desired one.

Implemented some feedback from beta testers for the Waitlist functionality.

Limited the maximum number of guests for a single table or a single table group to 50 guests.
Dutch Formitable Interface (v.3.1.1)
23-02-2021
Formitable in het Nederlands! 🌷
The day has finally come that the interface of Formitable is fully translated into Dutch! Want to work with Formitable in Dutch rather than English? You can change the language for your staff members in the user settings.
Other improvements
Added the possibility to make the widget gender-neutral. Disable asking for a title/pronoun in your feature settings.

Added the ability to undo a newsletter subscriber import.

Fixed a bug where Takeaway product groups were not saved in Danish, Norwegian, or Swedish.
Instagram Shopping, Google Posts & various improvements (v.3.1.0)
26-01-2021
Sell directly on Instagram
It has never been more important to engage with your guests and establish a strong presence online. That's why, as of today, we have integrated with Instagram Shopping. By setting up this new integration you can tag Formitable products in your Instagram Posts and Stories. Tapping these tags will lead your followers straight to the Formitable shop on your website. Hello takeaway revenue boost!

Set up Instagram Shopping integration >
Promote products in Google search results
With Google Posts you can promote your products in your Google My Business profile. Google Posts is the perfect way to increase visibility on Google and Google Maps. Also, Google is a big fan of businesses that regularly update their Google My Business profile and will reward them with a higher search ranking. So start posting today!

Set up Google Posts integration >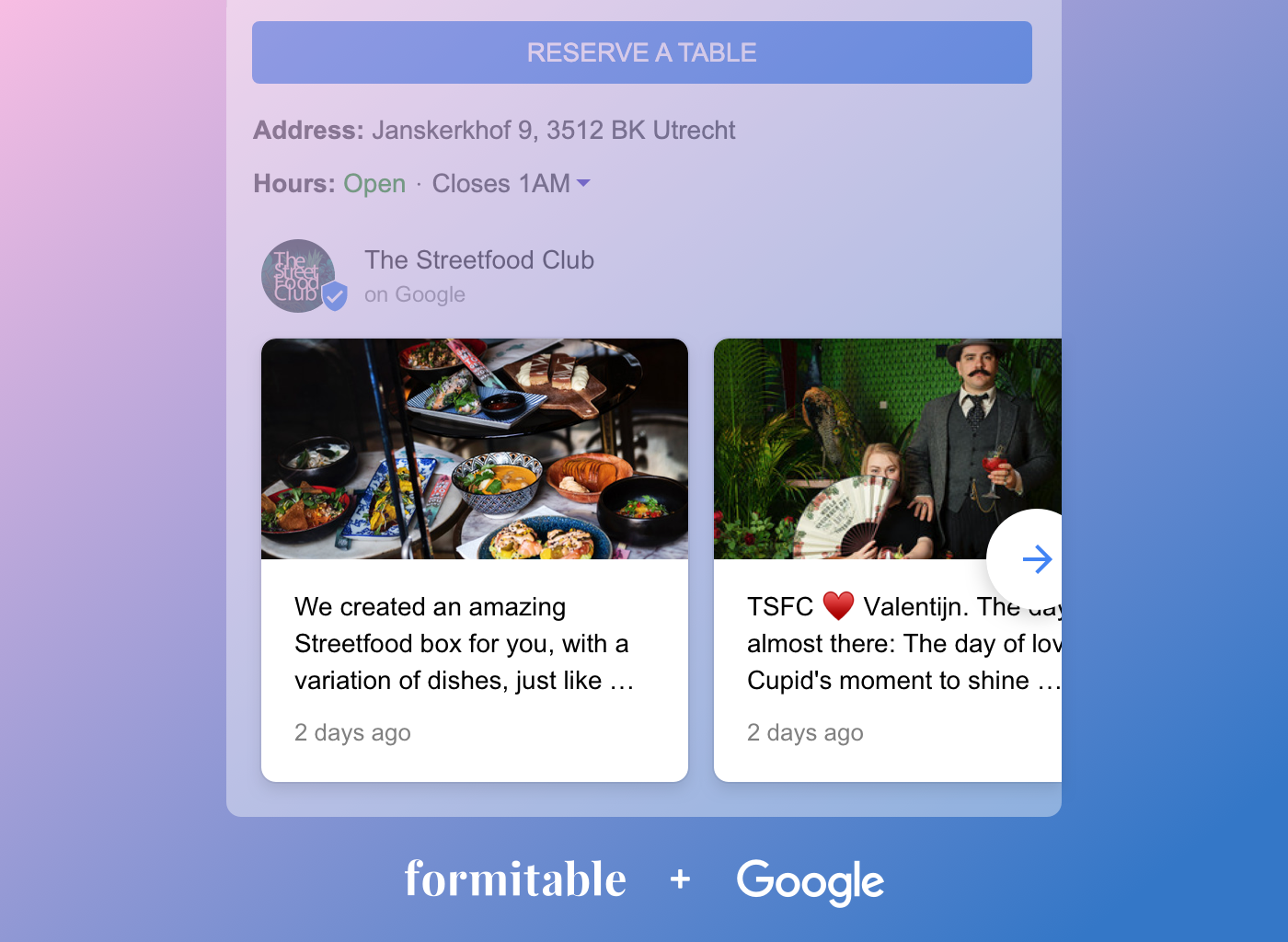 New design Campaigns page
The design of the campaigns section, reservation overview, and reservation details have been improved. This makes it easier to manage different kinds of campaigns, as there are now three types of campaigns: Email, Google Post, and Website pop-up campaigns.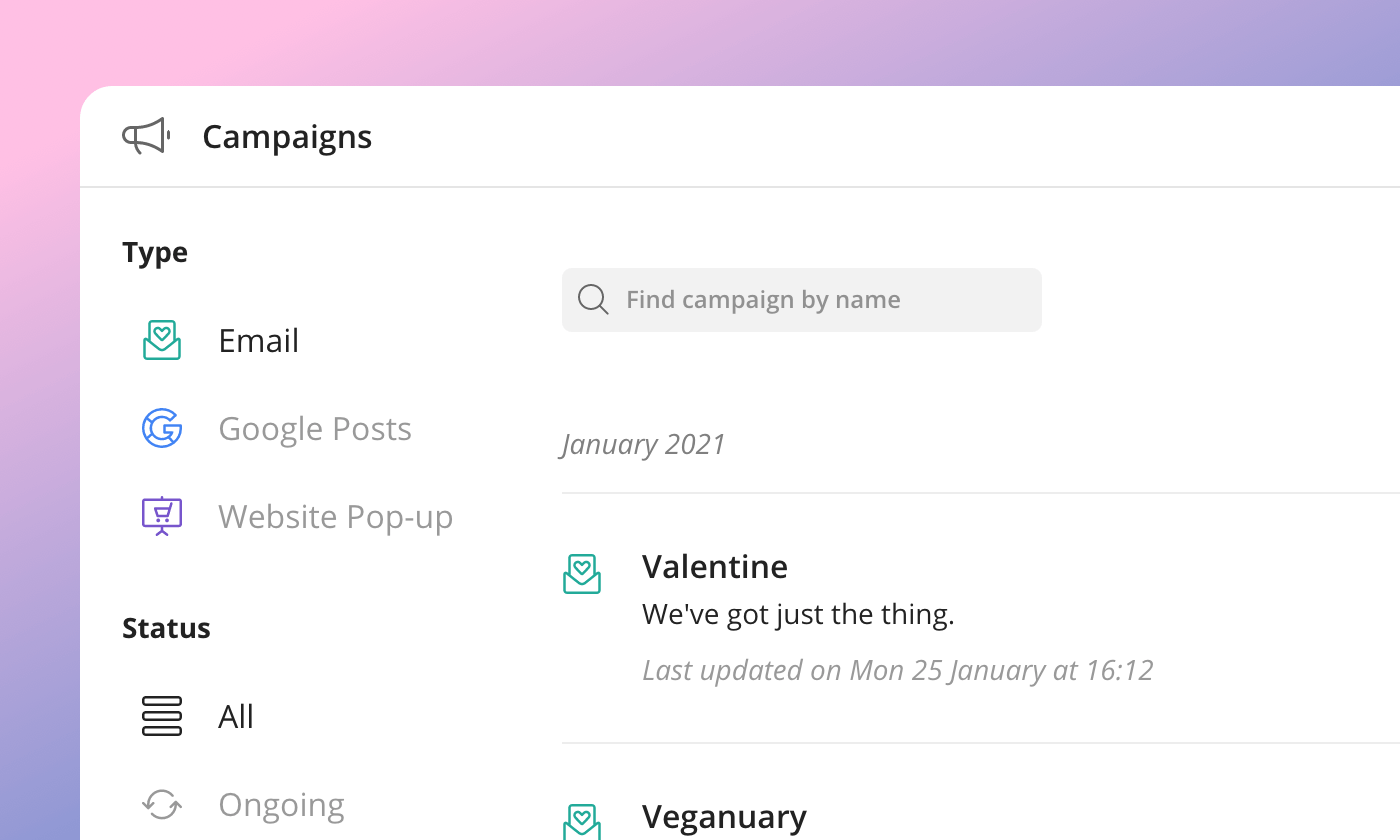 Other improvements
🌐 Added browser language detect. Update your website script or Wordpress plugin and your website visitors will automatically get the Formitable reservation widget, gift voucher shop and takeaway shop in their own language.
⌛ Added end time to manual reservations. You don't have to drag the end time anymore to make reservations shorter or longer.
📅 Moved the Website Pop-Up to the Campaigns section and added an end time so you can schedule your pop-ups.
🖨️ Added a date picker for the print functionality allowing you to print days further in the future.
💬 Improved the message to guests for Takeaway products and their availability to make it more clear when they can be ordered.
🤓 Added endpoints in the Public API for Orders, Reviews, and Messages. Added functionality to the Public API to accept and reject options.


Bug fixes
Fixed a bug where delivery costs were included in the minimum order amount for Takeaway orders.
Solved an issue where days that were closed for Takeaway would still appear in the widget when custom Product Availability for Takeaway products was used.
Fixed a bug where Takeaway products with custom Product Availability sometimes showed past dates in the widget.
Solved an issue where the filters for takeaway orders were not shown on some iPhone models.
Solved some issues with excel imports of mail campaign subscribers.
Fixed a bug where the page would not refresh after upgrading the restaurant subscription.
Fixed an issue where ticket gift vouchers with only private shifts would show an error in the widget.
Solved an issue where a Save button was not shown on certain mobile devices.
Promote a specific takeaway product & more improvements (v.3.0.14)
24-11-2020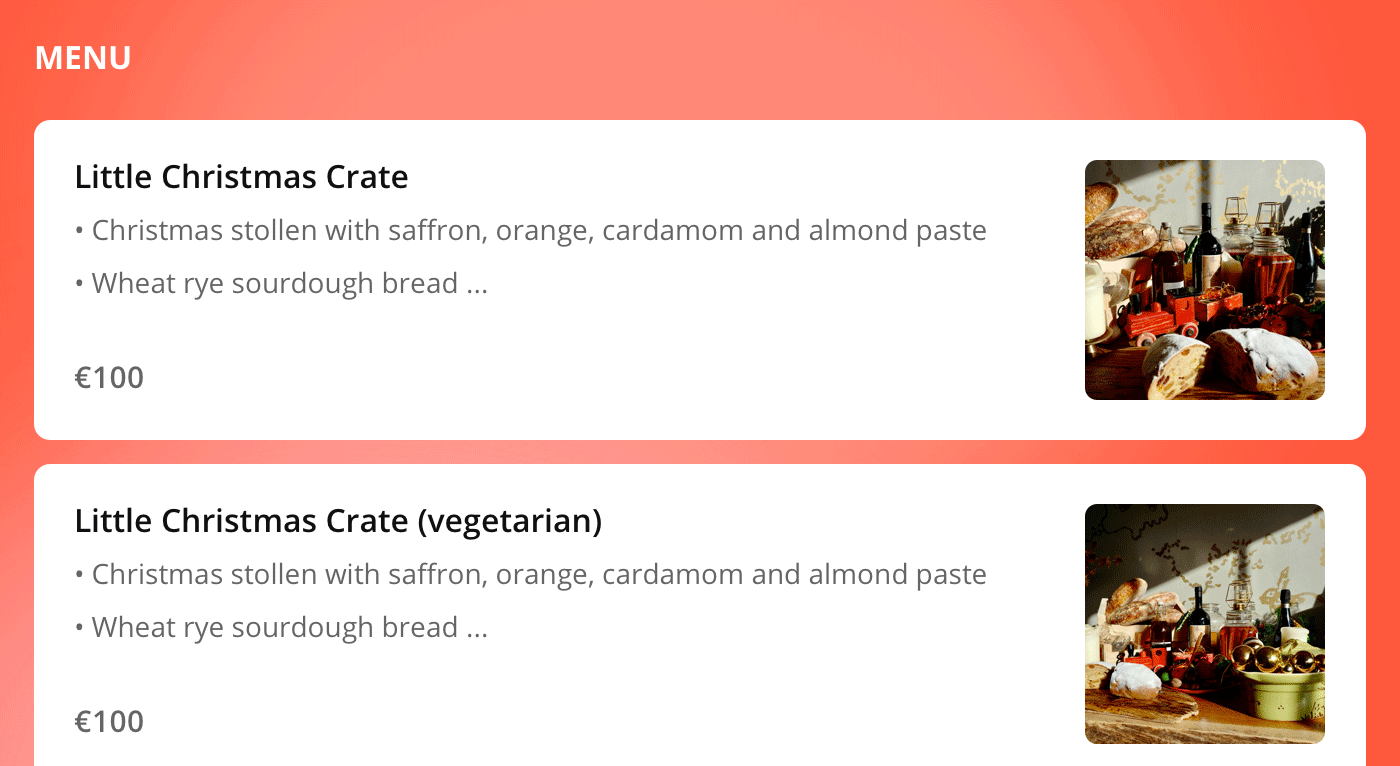 Put takeaway specials in the spotlight 🥡
Give your takeaway specials the attention they deserve. You can now send your guests instantly to one specific product in your takeaway shop. Just like you are used to with your tickets. You can do this with Formitable's Promotional Pop-up, a direct link on social media, an interactive button on your website, or in an email campaign.
Add photos to your mail campaigns
💌✨
Make your email campaigns even more visual! Next to the pictures of your tickets and takeaway products, you can now also add your own photos. Just add a new content block and upload the photo you want to include. Don't go overboard. Focus on making effective campaigns that sell.
Webhook management
It is now possible to manage your restaurant's webhooks in our Public API. We have added a Webhook endpoint to GET, POST or DELETE your webhooks.


Other improvements
Custom takeaway product availability (v.3.0.13)
18-11-2020
Customize settings for takeaway specials
🎄🎁
Want to offer a special takeaway product at different times than your normal takeaway? You can now set custom pickup and delivery times for specific takeaway products. It is also possible to ignore your regular maximum number of orders per timeslot. Perfect for your Christmas takeaway special. Overrule your normal takeaway settings for specific products in the Takeaway Product Availability section.
Other improvements
Slightly improved the look & feel of the takeaway section in the widget, especially on mobile devices. The top of the product description will now be scrolled into focus.
Added instructions to guests for takeaway specials in the widget when the product is only available on another date. We encourage them to change the pick-up/delivery date in order to increase conversion.
Change the minimum length of zipcodes for the takeaway delivery area to 2 characters. If you enter "10" as a zipcode in your takeaway settings, all zipcodes starting with "10" will be allowed. E.g. 1000, 1001, ...1099. This helps you to cover more ground with fewer steps.
Plus, a few other little bug fixes and improvements.
Takeaway reviews & various improvements (v.3.0.12)
04-11-2020
Guest feedback on Takeaway orders 💌
Just like with reservations your guest can now tell you what they loved about your takeaway experience. Find all reviews from reservations and takeaway orders in the Insights section and adjust your feedback request here.
Takeaway Product Options in Lightspeed ⚡
Fully synchronize your takeaway menu and all product options between Formitable and Lightspeed. You can now link each takeaway product option in Formitable to the corresponding one in Lightspeed. Synchronize your products here.
Overview of your gift vouchers 🎁
Curious how many of your gift vouchers are still open, already redeemed or about to expire? Export an overview from your Gift Vouchers product page.
Bug fixes and other improvements
Added Products Options to the Takeaway export for your administration and stock-keeping.
Links in Takeaway product descriptions now open on a new page instead of in the widget.
Solved a problem where the expired order times in the Takeaway module would impact the same weekdays in upcoming weeks.
Solved some visual issues of the Takeaway shop on different mobile devices.
Fixed an issue where special characters in campaign emails would not be shown correctly in Microsoft Outlook.
Plus, a few other little bug fixes and improvements.
Product Options for Takeaway (v3.0.11)
22-10-2020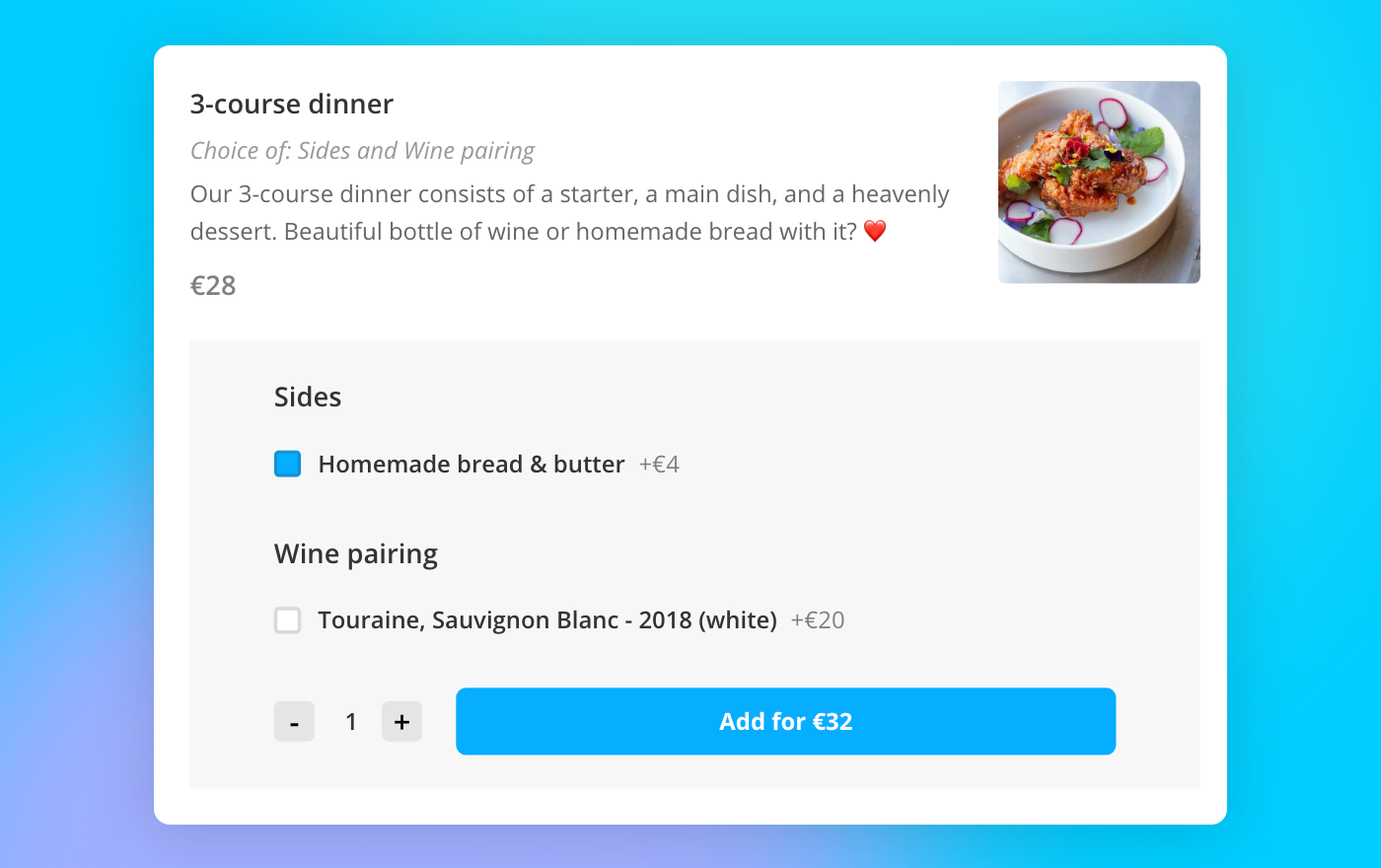 Product Options for Takeaway
Offer guests different choices for set menus or let them add different elements to their dish. Guests can now customize their takeaway order! An upsell opportunity for you, more freedom of choice for your guests. It's a win-win!
Add all possible extras, choices, and supplements to your Takeaway shop.
Other improvements
Added shopping cart to view and edit takeaway order before checkout.
Added click on product image to view larger version.
Updated the design of the takeaway confirmation emails.
Added takeaway comments to the order overview.
Added takeaway comments and production options to the Notify Me email.
Fixed a bug where custom buttons in the Promotional Pop-Up were reset in some cases.
Added a filter to the Lightspeed Takeaway integration. Archived and deleted products from Lightspeed no longer show up in Formitable when synchronizing products.
Lots of small improvements & fixes (v.3.0.10)
14-10-2020
Various improvements
We have added a feature so you can (temporarily) allow changing prepaid reservations for the guest regardless of the refund period. (Find the guide here in section 3)
Added the possibility to remove personal data in case a guest wants their data removed.
Improved the way the Formitable widget is shown on mobile WIX websites.
Included the restaurant address in the 'Add to Calendar' button that is included in the confirmation mails for more accurate directions.
Added support for Apple Pay as an additional payment method.
Only payment methods that are accepted by Mollie in a specific country are now selectable.
Different bug fixes
Fixed a bug where private shifts would sometimes be included in determining the length of a reservation.
If the duration of a reservation was changed manually and saved, the length will no longer be adjusted when opening the reservation and selecting another ticket or table.
Fixed an issue where importing email subscribers could lead to duplicates.
Solved an issue where deleting a ticket image in the mail campaigns would delete the original image from the ticket.
Fixed a bug where promoting a ticket would sometimes copy the email campaign.
Revenue in the email campaign report no shows the local currency.
It is no longer possible to select payment methods that can not be processed in real-time, e.g. bank transfer.
Takeaway product availability & little improvements (v.3.0.9.1)
02-10-2020
Offering takeaway products on special days
Allow guests to order a Christmas special, while still offering your normal takeaway in the meantime. We have added the possibility to select on which days specific takeaway products will be available for sale. Start offering a Christmas takeaway special. 🎄
Other improvements, mostly COVID-19 related
Added the possibility to sort your reservation insights by party size and creation date. This helps you to make better-informed choices in case you need to cancel reservations.
Enabled the seated bar in the overview by default for everyone, making it easier to track how many guests you have in the restaurant.
Fixed an issue with email replies from guests that could not be processed in Formitable.
Auto ticket selection, duplicate reservations, promote your tickets (v3.0.9)
23-09-2020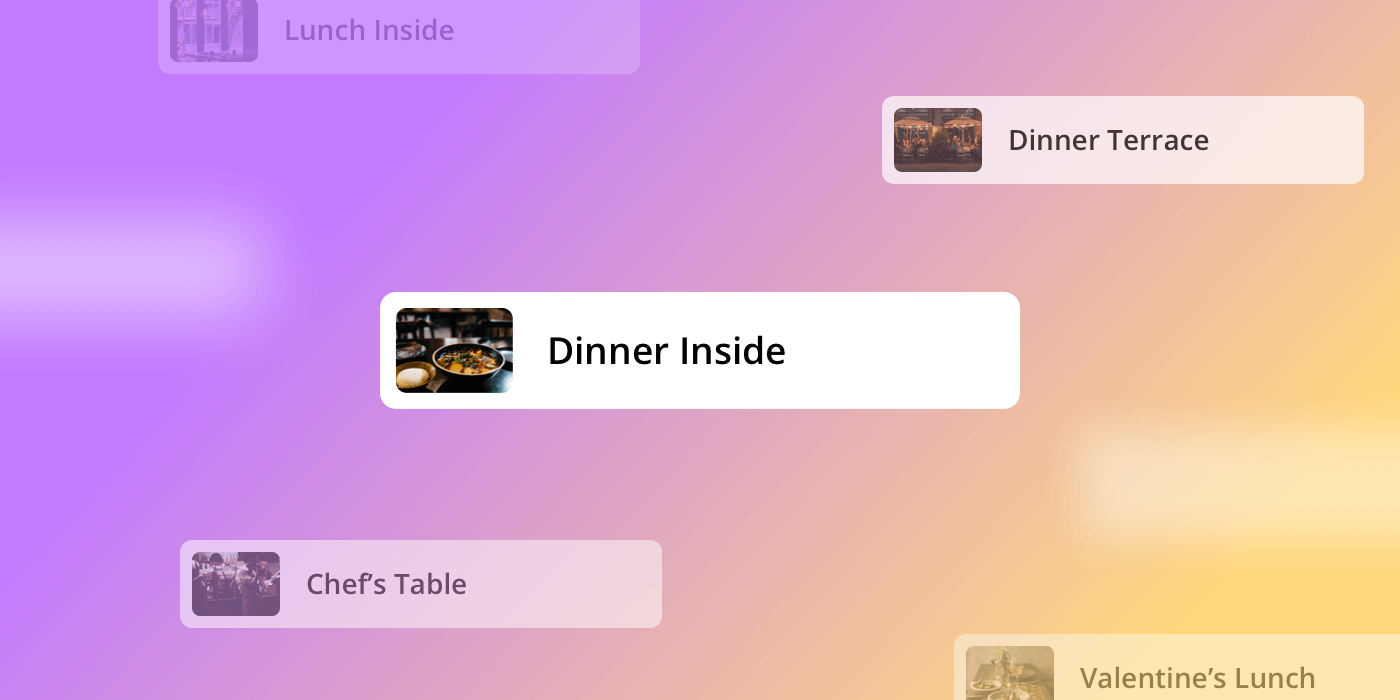 Automatically select the best ticket
Instead of just giving you ticket suggestions, Formitable can now also select the right ticket for you automatically. Tickets will be selected based on the table, time of day, and all other shift settings. You can easily turn this feature on or off in the settings.
Quickly copy reservations
Easily duplicate reservations for your loyal guests and VIPs. The duplicate button creates an exact copy of a reservation and takes over all information from the original booking. Find the copy button in the reservation details. 📋
Instantly promote your tickets
The new 'promote' button makes it easier than ever to promote your tickets with just a few clicks. We create an email campaign for your special arrangement, you hit 'send', and the mails fly out to your audience. Find the new promote button in your Shifts view. ⚡
Takeaway orders 100 days in advance
Accept takeaway orders up to 100 days into the future. Yes, exactly - you can already start taking orders for Christmas takeaway boxes now! 🎅
Gain more newsletter subscribers
Email marketing is a numbers game! We have added a 'subscribe to newsletter' button to all confirmation emails to help you collect more subscribers for your mail campaigns. Increase your mailing list reach with these tips.
Other improvements
Improved the layout of the reservation print functionality in the overview.
Reservations placed manually by you now automatically get the specific ticket color.
Solved an issue with the re-send mail button in the reservation details.
Fixed an issue with the number of guests to arrive in the bottom bar of the overview.
Fixed an issue with the number of guests per ticket in the bottom bar of the overview.
Solved an issue in the Lightspeed POS takeaway product synchronization.
In case two reservations overlap, the reservation details now show the reservation ID of the other booking.
Improved various small aspects of the layout and night mode.
Non-EUR currencies & longer takeaway pre-ordering (v3.0.8)
01-09-2020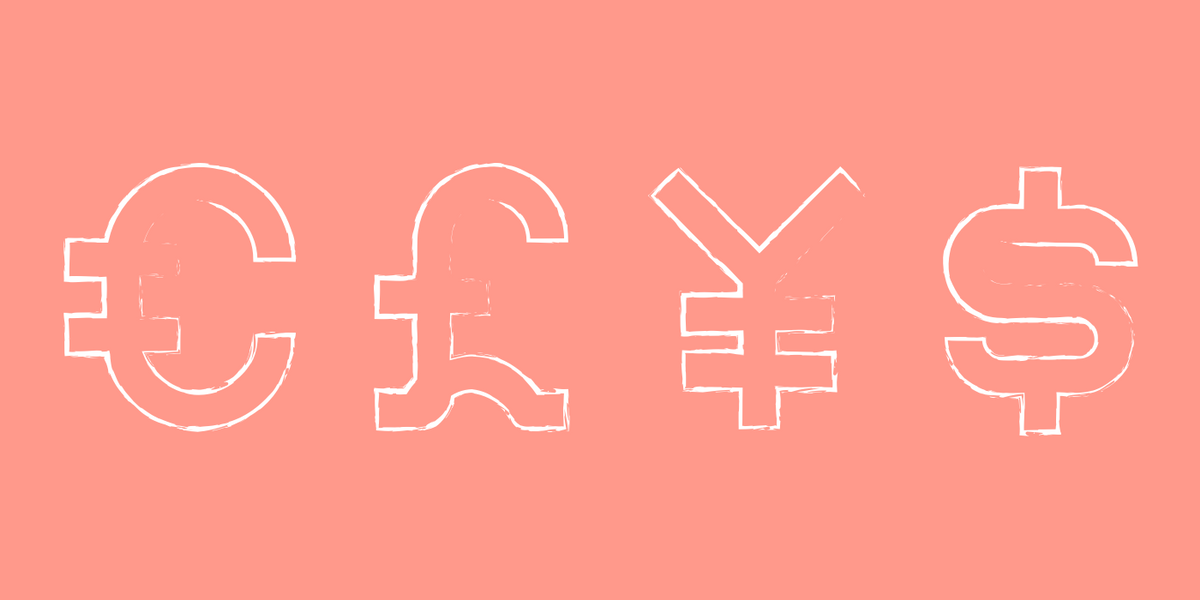 Supporting all kinds of non-euro payments
Is your restaurant situated outside of the Euro-zone? British pound, US dollar, or Danish krone. It is now possible to also accept payments in 29 different non-EUR currencies on your website. Find an overview of all supported currencies here. 💸
Accept takeaway orders up to 2 months in advance
Up until now you could accept takeaway orders a week in advance. We now make it possible to accept pre-orders for up to two months upfront. It might still seem a bit far away, but did you already think about what your restaurant will be offering for Christmas? 🎅
We also added the possibility to close specific days for takeaway orders, the same way you can close your restaurant for accepting online reservations.
Other improvements
Reserve with Google

now works for all countries and time zones around the world.

Shifts with a single timeslot will now be shown just as 19.30, instead of 19.30 - 19.30.
We updated the Formitable WordPress plugin to accept more languages.

Improved the way tables are sorted in the

Sync POS table

function making it easier to link the tables for POS integrations.

When guests reply to email campaigns their replies will now be received on the restaurant's email address.

Fixed an issue in the widget where the number of guests was reset when guests go back and forth during the booking process.

Fixed an issue in the list view in case two tickets with the same name were used.

Plus, a few other little bug fixes and improvements.
Ticket colors & new app store (v3.0.7)
26-08-2020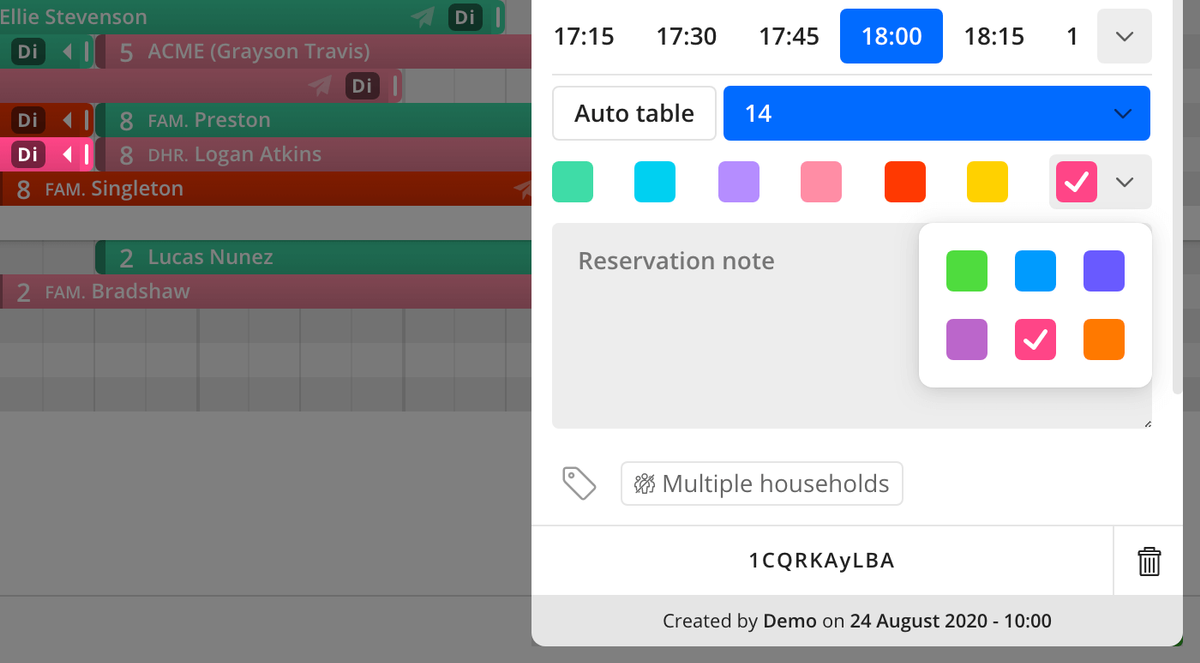 Assigning ticket colors
Quickly see in the overview which guests have booked which arrangement by assigning colors to different tickets. All reservations made with this ticket will show up in the desired color in the overview. Read more here and start coloring your tickets! 🌈
Re-design of the app store
We have given the Formitable app store a well-deserved facelift. It's now even easier to find the integrations that you need to make your daily workflow more efficient.
Analytics module
We have added 2 optional settings to the Analytics module (default: false):

disableGoogleTracking

: disables tracking of all events for Google Analytics.

disableFacebookTracking: disables tracking of all events for Facebook Pixel.

We have added an extra variable productType exposed in the Data Layer of GTM for tracking for specific products.

Fixed some incorrect tracking events for Takeaway add-to-cart and checkout events.

Read about this and more in the updated Analytics module documentation.
Other improvements
In case an email message from a guest can not be processed, you will now be informed with an error that there was a message.

Solved an issue where in some rare cases reminder emails were not scheduled correctly.

When opening the overview on today it will jump to the first reservation of the day.

Plus, many other little bug fixes and improvements.
Maintenance & stability (v3.0.6)
20-08-2020
Overall increased stability
We have made several technical improvements to make Formitable run even more stable and reliable.
Subscriptions, Lightspeed + takeaway, Improvements (v3.0.5)
28-07-2020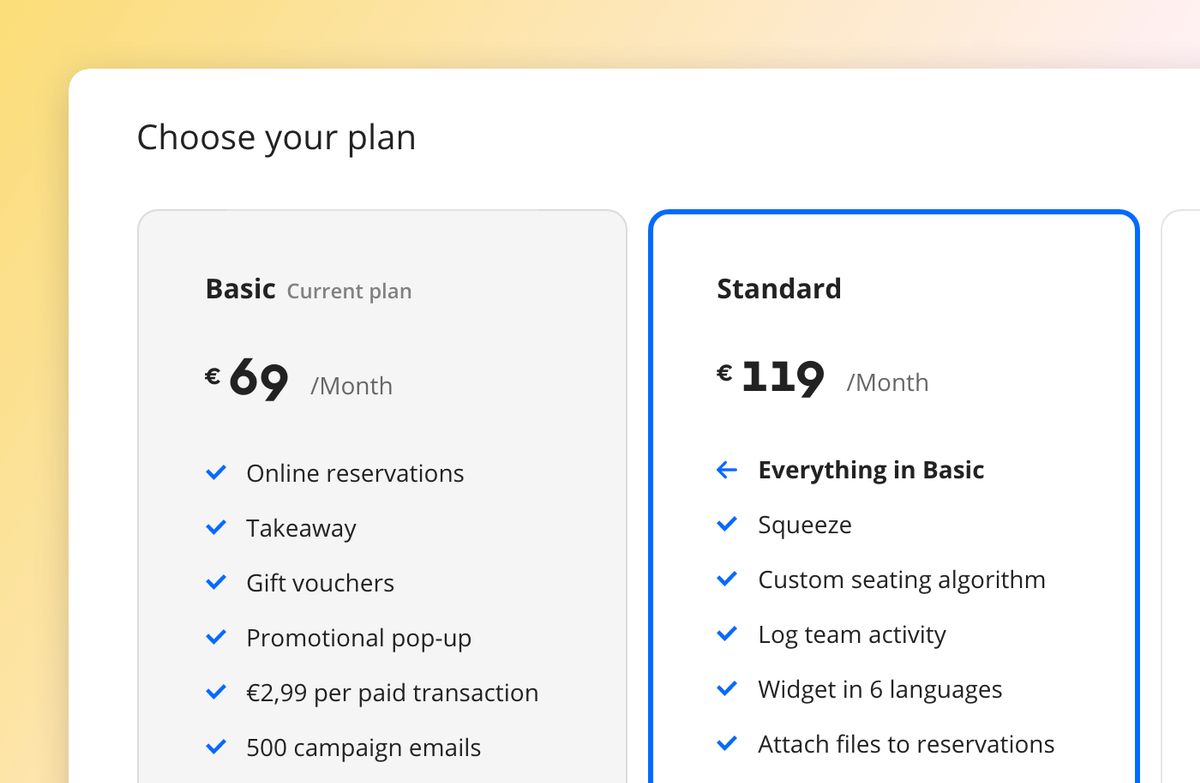 Quickly change subscriptions
Quickly change to the Formitable subscription that works best for your restaurant. No need anymore to get in touch with your account manager. You can now choose the subscription yourself in the billing section.
Takeaway integration with Lightspeed
For a more seamless workflow synchronize your Formitable takeaway offering with your Lightspeed POS. This feature is still in beta, but you can already try it!

Other improvements
Widget
Faster loading times for the widget.
Improved the booking experience for guests using iPhones and Firefox browsers.
Fixed an issue with the widget were in some cases the calendar messages were not shown.
Restaurant settings
Rearranged the setup settings page to let you access frequently changed settings quicker.
Added the possibility to synchronize the tables with your POS system on mobile devices.
Fixed an issue where restaurants with multiple profiles for payment provider Mollie were not able to switch between profiles.
Partners & developers
Added min. and max. party size to the Public API GET tickets call. Making it easier for developers to receive the min. and max. number of guests for each ticket.
Added new Public API search call to ask for available products for a timeframe and party size.
Various topics
Fixed an issue where in some cases reminder emails were not always rescheduled properly if a booking was rescheduled by guests.
Solved an issue where attachments with commas in the file name were not accessible.
Emails now also get send to guests with mail addresses that end in "_" and "-". Like guest_@gmail.com or guest-@gmail.com
Added the possibility to specify the preferred language for newsletter subscribers when importing them with the campaign feature.
Added tickets to the day statistics in the overview list view.
Plus, all kinds of other small little bug fixes and improvements...
Improved availability & Untill fix (v3.0.4)
24-06-2020
Faster, more stable and reliable availability
Seating guests efficiently in your restaurant ensures profitability. To comply with government restrictions, restaurants used all kinds of combinations of fixed end times, reservation gaps, and different limits on shifts and areas. We have completely restructured the way Formitable calculates the availability of free seats in your restaurant. Your availability is now generated quicker and even more reliable than in the past.
Untill POS integration
Fixed an issue for tables not being synchronized properly.
Fixed an issue where Formitable would checkout a reservation that was replaced to a table with an open receipt.
COVID-19 related improvements (v3.0.3)
27-05-2020

Reservation gap
Need some time to properly clean the tables between guests? We know that you take hygiene in your restaurant seriously - especially in these times. Set up a reservation gap of 15, 30, 45 or 60 minutes between reservations in your shift settings.
Household size questions
As required by the Dutch RIVM guests from multiple households need to keep a distance of 1.5 meters. While booking groups of 3 or more guests can now indicate if they are coming from one or multiple households. In case you can not facilitate reservations from multiple households, you can also decline these reservations automatically.
Other improvements
Solved an issue that prevented takeaway orders from being placed shortly after midnight.
Improved the calculation of availability when an area limit is used.
Improved usability of Formitable on Safari browsers, especially for drop-down menus.
Improved the newsletter unsubscribe dialogue in the widget visually.
Improved the night mode for various new features.
Changed the text in option emails to make them more clear when the reservation is changed by the restaurant.
Fixed some rare cache issues where all pages in Formitable would stay blank.
Plus, some other small bug fixes.