Formitable Product Updates
The latest product news and improvements of Formitable. Because just like you, we always strive to improve the experience that we deliver.
Tags & Italian (v3.3.5)
22-12-2021
🏷 Adding tags to Tickets
From now on you are able to tag your tickets. This will help categorise your tickets for the Table app and will be used in other upcoming marketing features. To start tagging your tickets, head over to your Products page.

🇮🇹 Formitable in Italiano!
The interface of Formitable is now fully translated in Italian. From now on, your guests will be able to use the widget in Italian. Want your team to work with Formitable in Italian rather than another language? Change the language for your users in their User settings.
We have some lovely Italian disco for you to celebrate!
👍 General improvements
When you share a link to one of your tickets to someones phone, we will first check if someone has the Table app installed on their phone. If so, the ticket will open in Table. If not, it will open your website.
Made it easier to add more languages in the future.
Phone numbers (v3.3.4)
10-12-2021
☎️ Create a guest profile based on a phone number
Every restaurant has regular guests that prefer calling instead of making an online reservation. For those guests, we added guest profiles based on phone numbers.
From now on, when you enter a reservation without an email address (only a phone number), a guest profile for that guest will be created. Next time they call you can find their guest profile by providing their name or phone number when writing adding the reservation.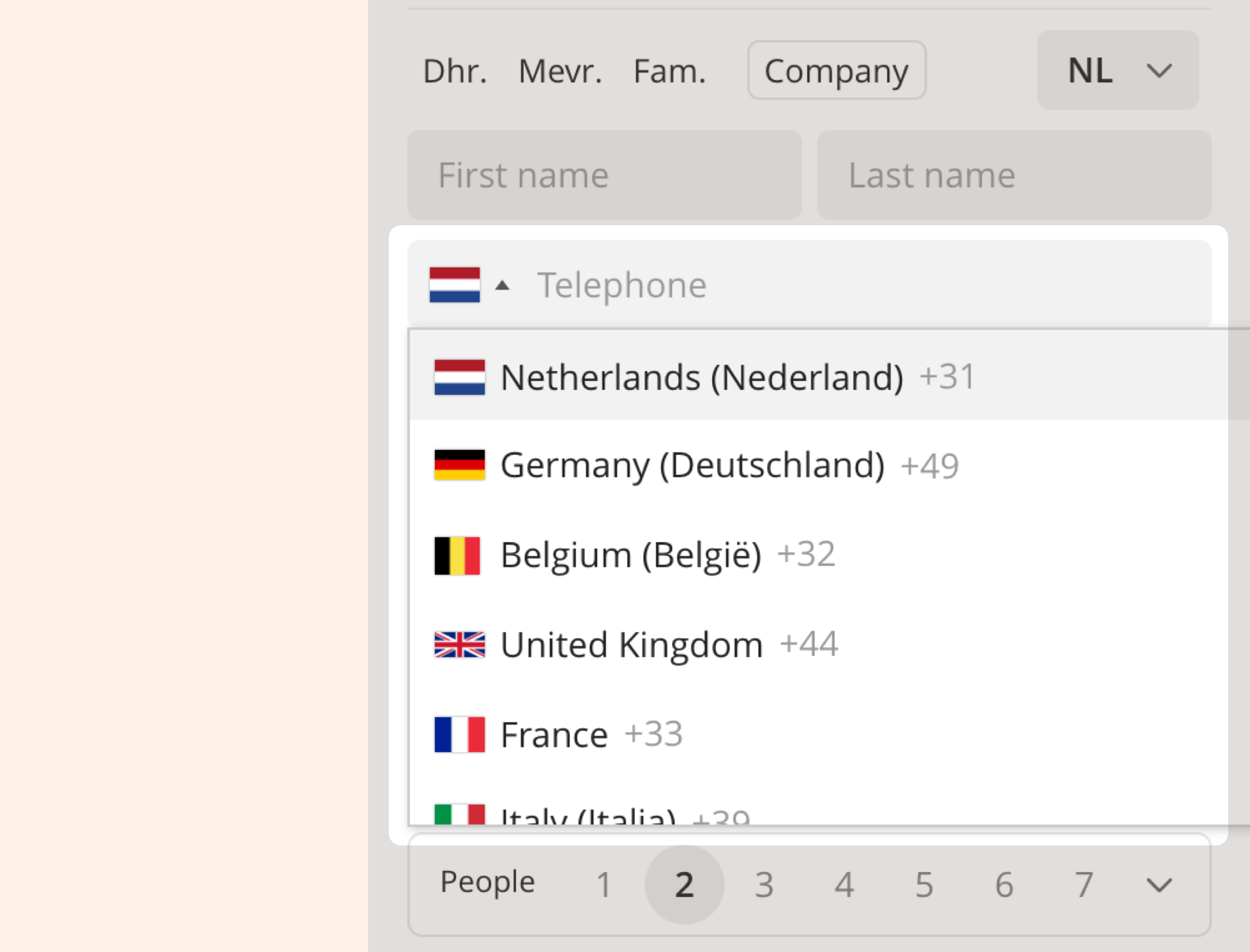 ✅ Never add wrong phone numbers again
To prevent adding wrong phone numbers, we now added phone number validation when adding a new reservation in the Overview. This will prevent the creation of multiple guest profiles of the same guest and make sure you always have the correct number to call.
👍 General improvements
Improved searching guest profiles in Insights > Guests.
Added a red marker in the List View to easily see where you are during the day.
Added a way to send custom confirmation test emails to yourself. So you are able to check if the email you're sending out looks right.
Added icons to indicate if a reservation was made via Instagram or Facebook.
If a guest tries to make a reservation, fails, and makes a second reservation, we won't send out a cancellation mail about the first failed reservation anymore.
Installing an app will now automatically bring you to the settings page of that app.
Updated the widget to be able to interact with Safari on iOS 15.
Customisation (v3.3.3)
24-11-2021

📩 Send custom confirmation emails
Want to tell your guest about a special requirement for your group ticket? Or maybe they need to know what to expect from your New Years Event?
You are now able to send custom confirmation emails for each of your tickets. Go to Product > Tickets, select the ticket you want to add additional information to and add everything that a guest should know under the new Email section.
❓ Customise the questions asked in your widget

Don't want to ask your guests for their dietary wishes while they are making a reservation? Since you will ask it during the night anyway? From now on, you're able to customise the question asked in the reservation note. This way you can steer your guests to add important information or leave out unnecessary information while they are making a reservation.
You're also able to give your newsletter sign-ups a boost by customising the question next to the newsletter subscription checkbox. You can promote events, let guests know of upcoming discounts or offer them deals on your takeaway when they sign up for your newsletter.
Go to Settings > Widgets to check out these new customisable features.
👍 General improvements
When a Guest does not have enough funds for the no-show fee, a more detailed error will be shown when trying to no-show said Guest.
If the difference between the Reservation Details and the Guest Profile's name is just uppercase / lowercase differences, it will not show up as a difference anymore.
Hovering over the entire bar in the Overview will now show the Booking Preview instead of when hovering over just the name of the guest.

📲 Turn guests into regulars with our Table App
Formitable's newest marketing feature for your restaurant: Table (www.table.app). The app where foodies can follow your restaurant, discover new experiences, and easily book tables. Everyone in every Formitable plan will now be able to:
Publish experiences directly to guests' pockets, as tickets and availability will be exactly as designed in Formitable.

Be visible as a brand where foodies are, as regular guests will be the first to know about the newest experiences.

Directly track incoming reservations and changes, check how many guests follow the restaurant on Table, and see which guests follow you via guest profiles (only in Standard and Pro).

❤️ This is the key to building meaningful relationships with guests.
The most important users of Table will be your regular guest and avid fans, so we'll be showing off Table through a couple of channels:
Download Table buttons & QR code in the Thank You page. At the end of making a reservation in the widget, guests will be promoted to follow your restaurant on Table.

Manage booking via Table in the Confirmation and Reminder emails. After making a reservation, the automatic emails sent to guests will now hold a button to change or cancel the reservation via Table.

Featuring Table in the website pop-up. Let your guests know that you are one of the restaurants that are featured on the Table app via our pop-up campaign.

Show off your restaurant in Table by taking pictures of the app in your beautiful space, and posting them to social media. Encourage your followers there to also follow you (and book with you) on Table.



Download Table here and check out how your restaurant looks!
Want to adjust your profile, tickets or availability? It is all connected to your settings in Formitable, but if you are stuck consult our Table optimization guide.
Instagram Reserve (v3.3.2)
10-11-2021